SEO is an amazing channel for B2B marketing.
It allows you to drive hundreds or even thousands of qualified leads to your website, all without spending thousands or tens of thousands on ads every month.
To get such amazing results, though, you'll need the help of a B2B SEO agency.
Which brings us to this article - we'll teach you all you need to know about hiring a B2B SEO agency, including:
So, let's get started!
To make this article as helpful as possible, we vetted some of the most reputable B2B SEO agencies out there, and picked the ones with solid credentials for this list.
We picked agencies that have:
Proven B2B SEO case studies
Good reputation and strong web presence
Past experience working with B2B clients
Glowing client testimonials
9+ Best B2B SEO Agencies
#1. Apollo Digital
Let's start with us!
Apollo Digital is a full-service B2B SEO agency. We have over 6 years of experience in SEO, and we've delivered amazing results in several industries, including B2B, SaaS, B2C, E-commerce, and others.
Some of our top achievements include growing a B2B SaaS company from 0 to 200,000+ monthly organic traffic in 2 years.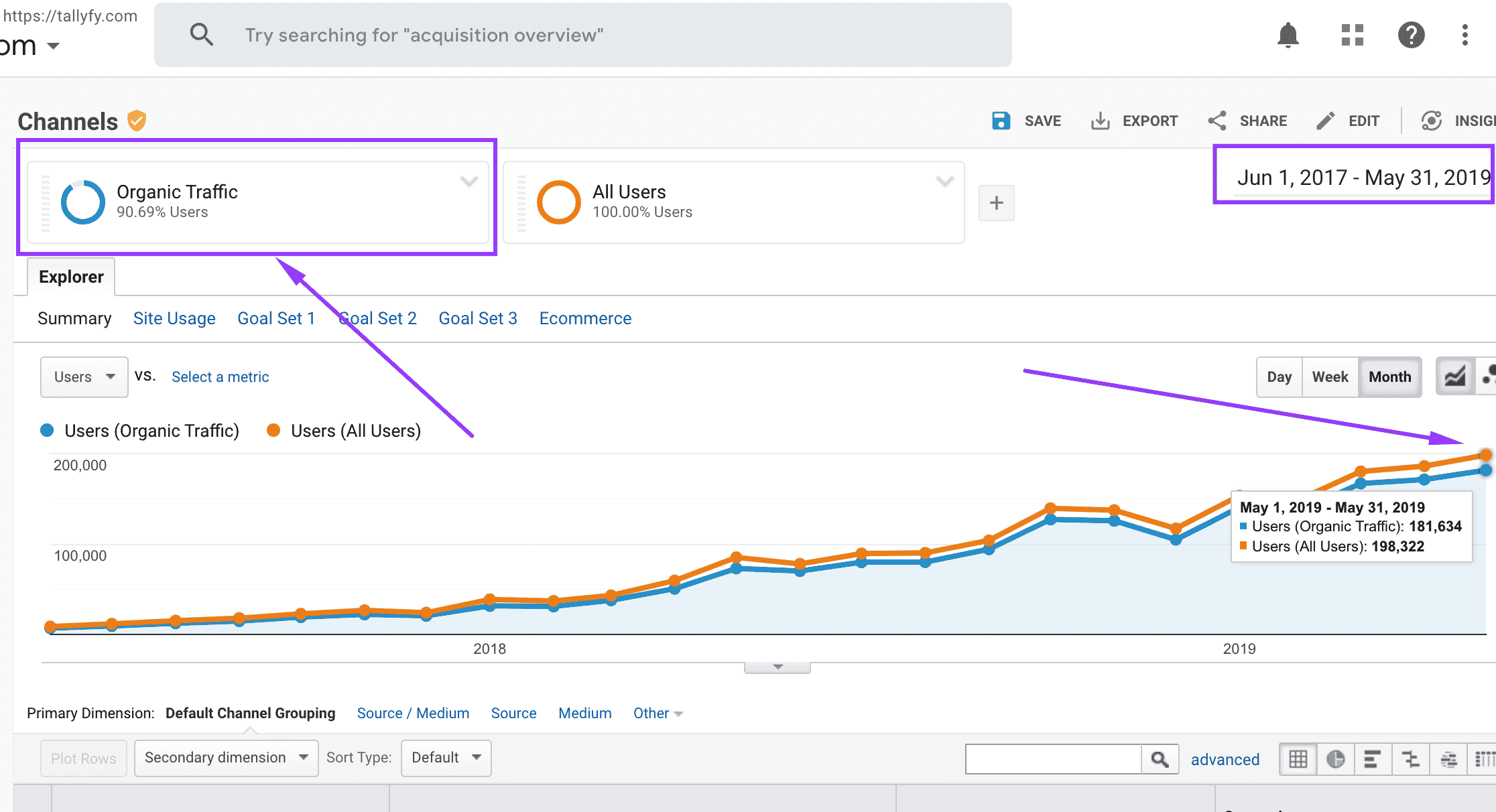 We've also helped grow an HR tech startup from 1 to 1.9 million monthly organic traffic per month: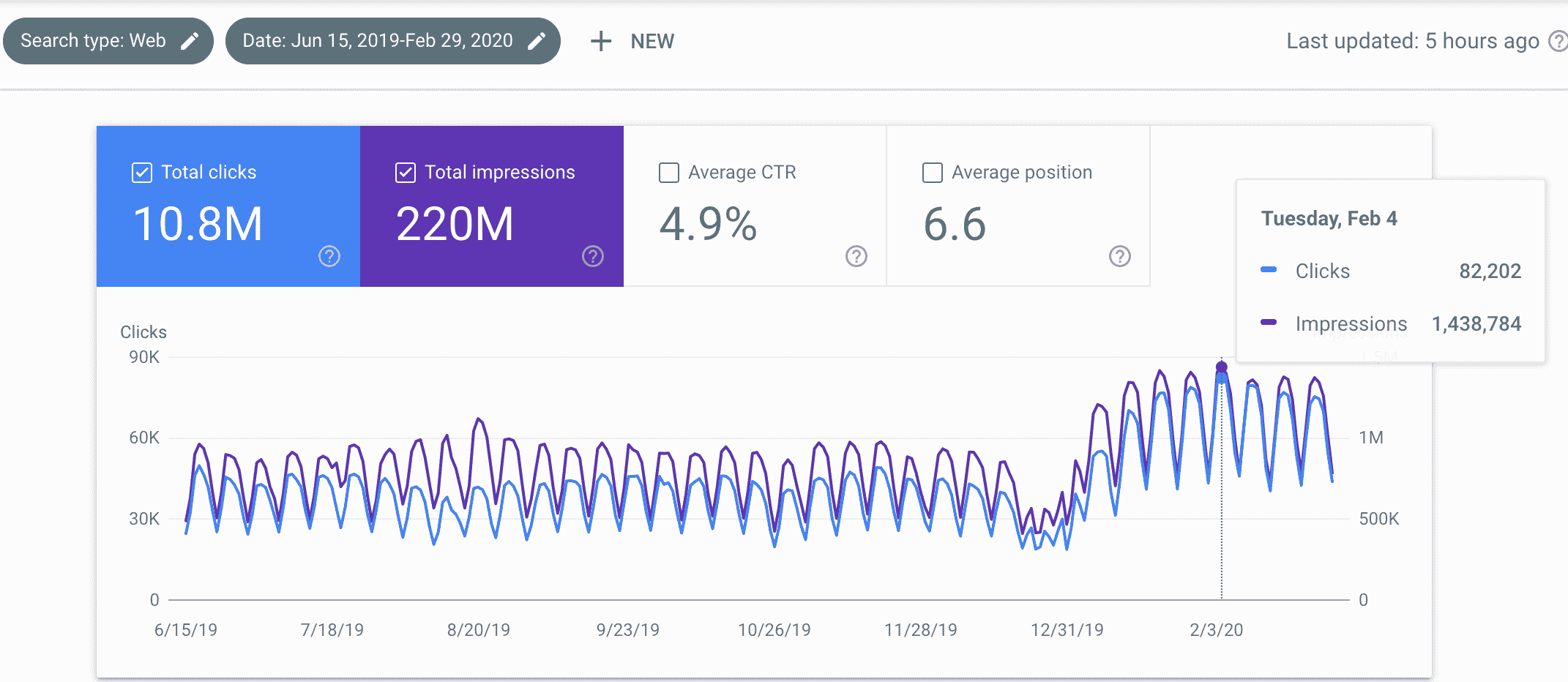 And on top of that, we put our money where our mouth is with our very own marketing blog.
We started the Apollo Digital blog in January 2020, and managed to grow it to 3,000 monthly organic traffic within the year.
B2B SEO Case Study: B2B SEO Case Study - 0 to 197,514 Monthly Organic Traffic
Notable B2B SEO Clients:
Deskera
Blissfully
RedSwitches
Want to work with us? Get in touch now for a free strategy call!
#2. Content Distribution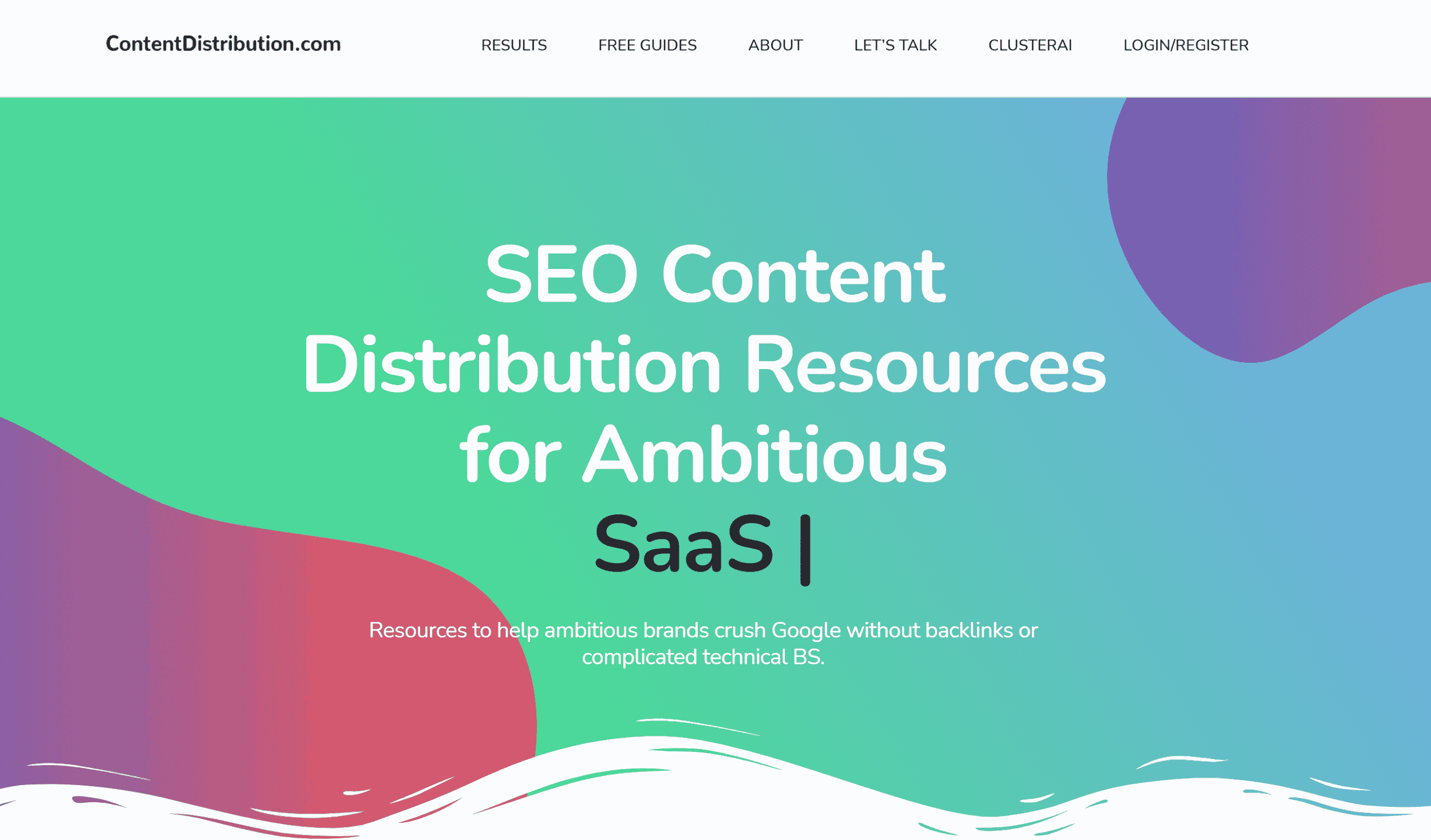 Content Distribution is a content marketing and SEO agency that works with clients in the B2B and e-commerce industries.
Some of their top achievements include growing a website from 0 to 273,000 in only 14 months, as well as another website from 0 to 100,000 within a year.
B2B SEO Case Study: The #1 lever to drive the fastest SEO results is publishing velocity
Notable B2B SEO Clients:
#3. Mike Khorev
Mike Khorev is an SEO expert with over 10 years of experience in the industry. His clients are mainly in the B2B, B2C, and SaaS industries.
Mike offers all sorts of SEO services, including:
Keyword research
Technical SEO audit
Link-building
And others.
One of the things that makes Mike stand out is his "SEO Breakdown" of some of the most popular and successful companies worldwide, including BuildFire, Time Doctor, and others.
#4. Straight North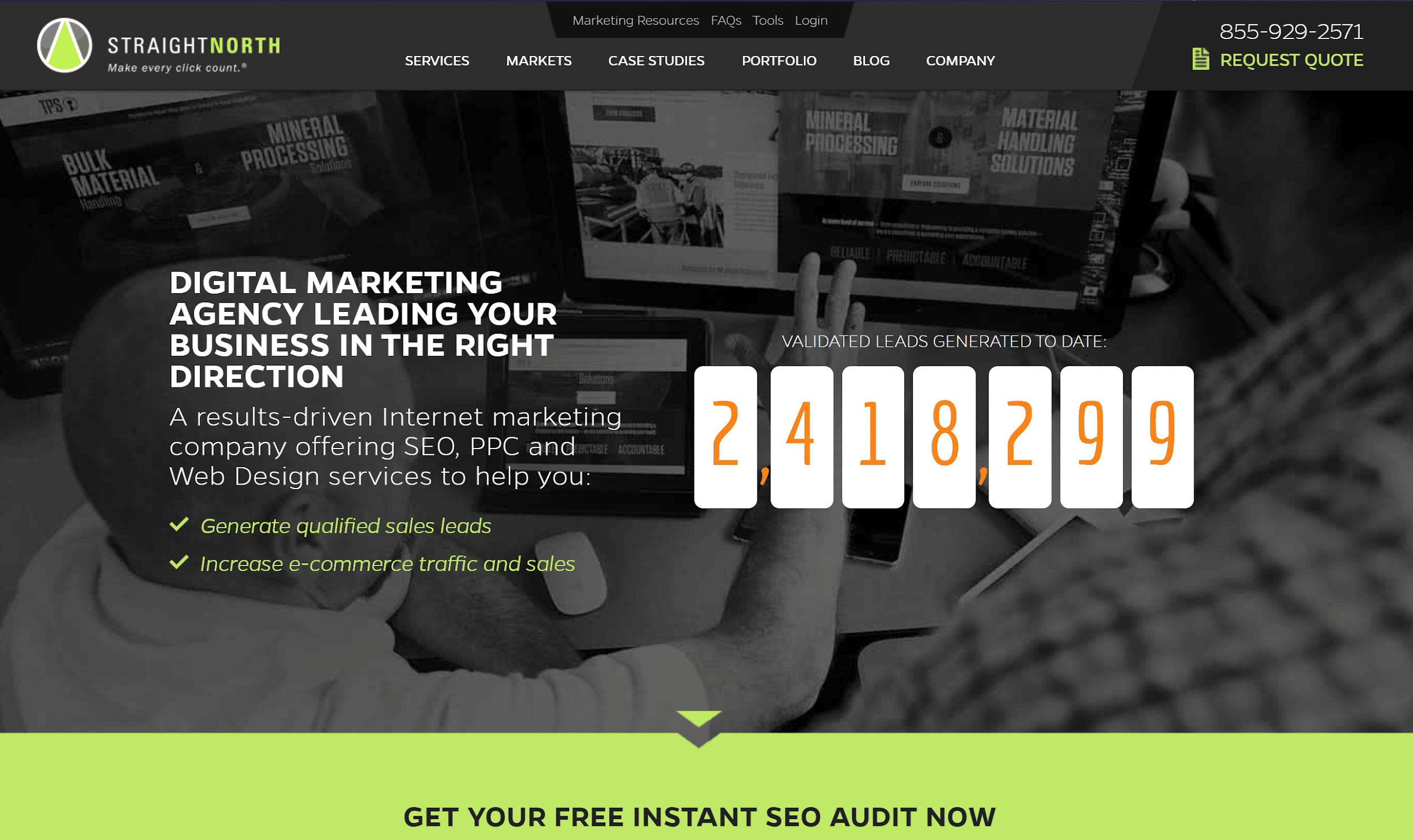 Straight North is a full-stack digital marketing agency that works with clients in several industries such as B2B, nonprofits, manufacturing, and B2C businesses.
They offer services like SEO, PPC, email marketing, B2B marketing strategy, and website design. One of their top achievements includes increasing the web traffic of RevPart, a B2B manufacturing company, by over 682%.
B2B SEO Case Study: RevPart Content and Conversion Optimization
Notable B2B SEO Clients:
AgencyEA
Acieta
RedRidge Verification Services
#5. Directive Consulting
Directive Consulting offers SEO services to B2B businesses and helps them grow through organic leads.
They offer SEO, PPC, and marketing analytics services. Additionally, they offer an online digital marketing course (both free and paid versions).
One of their top achievements includes growing Lakeside Software's (a digital monitoring solution for IT teams) organic traffic. Here's a run-down of their results:
229% growth in organic visitors from their blog strategy
121% increase in organic leads from their conversion strategy
105% more organic users from their overall content strategy
B2B SEO Case Study: Digital asset creation strategy leads to a 121% increase in organic leads
Notable B2B SEO Clients:
Sumo Logic
TokenEx
Lakeside Software
#6. Search Bloom
Search Bloom offers local, national, and e-commerce SEO as well as PPC for small and medium-sized businesses.
Search Bloom also offers a set of free tools that you can use on your own. They include:
Snippet preview tool
Campaign URL builder
Local search results tool
The agency takes a unique approach towards every client: they work closely with your marketing team to assure they truly understand your company's view and help achieve your goals.
Notable B2B SEO Clients:
Social Vantage
DeLaRue
Co-Communications
#7. SEO Works
SEO Works is an SEO agency that works with clients from the B2B, e-commerce, healthcare, and education industries.
They've received over 20 different awards like:
UK Digital Growth Awards – SEO Agency of the Year
Google Partner Awards – Top Performing Agency
European Search Awards – Best Small SEO Agency
One of their top achievements includes helping a franchise network of accountants to improve their website SEO and rank on the front page.
B2B SEO Case Study: Franchise SEO
Notable B2B SEO Clients:
Innovate UK
Reed
Legend LED lighting
#8. Infographic World
Infographic World is a full-service marketing agency that offers B2B marketing, SEO strategy development, and creates different visuals like animations and explainer videos.
The company, founded in 2009 by Justin Beegel, has since served over 700 businesses and helped them improve their online presence.
In 2020, the company became a HubSpot Gold Partner.
B2B SEO Case Study: How One Company Increased Traffic by 11,065%
Notable B2B SEO Clients:
Mount Sinai
Development Dimensions International
Corporate Reports Inc
#9. Digital Current
Digital Current offers SEO, content marketing, and link-building services for B2B and B2C businesses.
The agency has over 17 years of experience in the industry and has served 15,000 clients.
If you need to improve your technical SEO, want to acquire more backlinks, or simply want to get more visibility online, Digital Current has done it all.
B2B SEO Case Study: Technical SEO - Spot See
Notable B2B SEO Clients:
Canadian Niagara Hotels
Coupa
Spot See
#10. Polaris Agency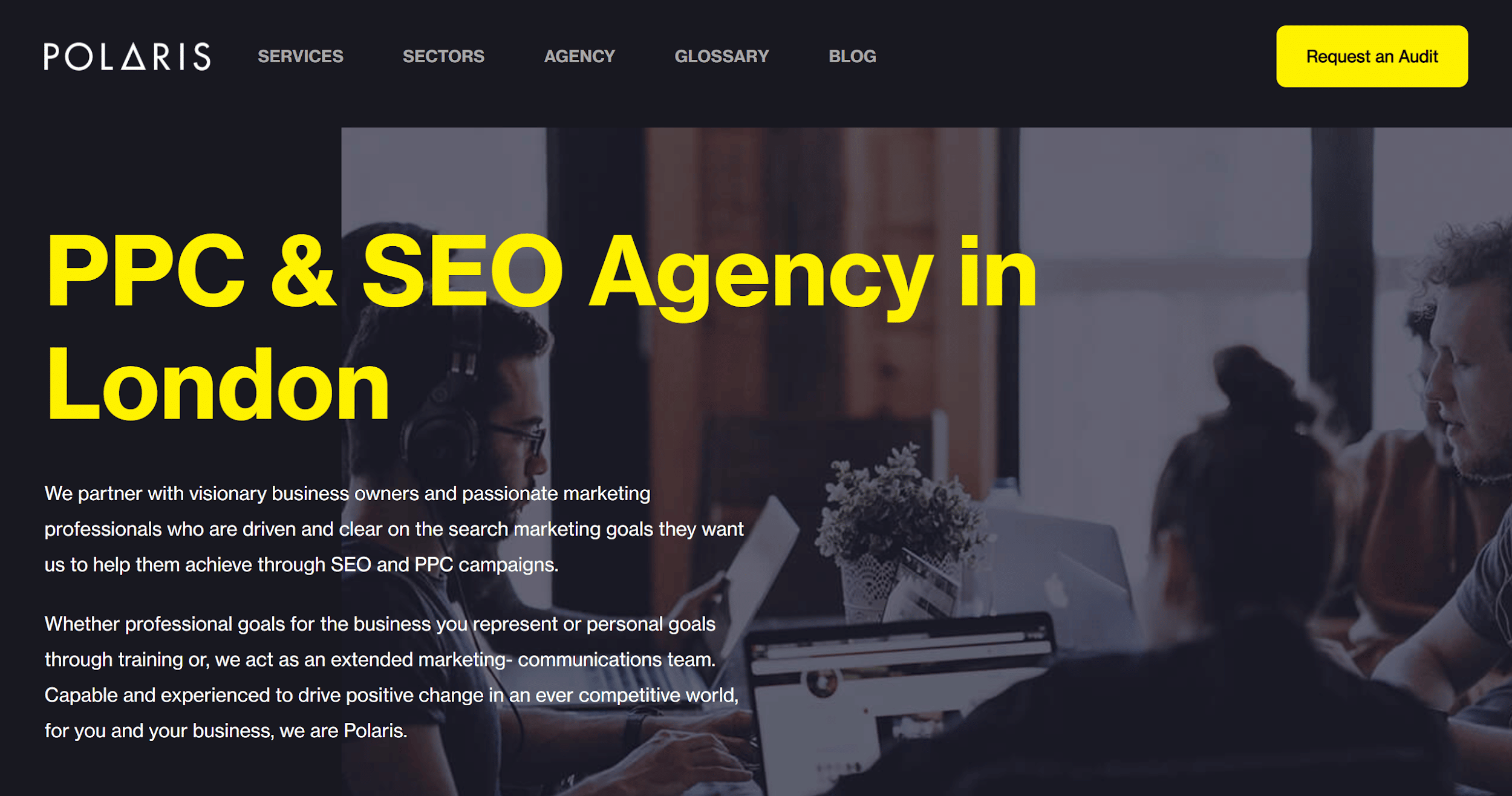 Polaris Agency offers all-round SEO services for B2B and B2C businesses.
For one of their clients - Liquidline, they managed to increase their leads by 276% and reduce the cost per lead by 75%.
Polaris Agency's services include:
KPI-based content
Weekly reports
Transparent service
Market-specific approach
B2B SEO Case Study: Liquidline - SEO and PPC Strategy
Notable B2B SEO Clients:
Liquidline
Sodexo
Bureau Van Dijk
B2B SEO vs B2C SEO - What's the Difference?
There are some major differences between B2B and B2C SEO, which includes:
B2B SEO targets decision-makers who represent their organization's interests, while B2C can target literally anyone.
B2B keywords tend to have lower searches, as less people look for business-related topics than lifestyled-related ones.
B2B traffic can have a significantly higher ROI.
SEO can be very, very hard in B2B competitive industries (e.g. email marketing SaaS).
What Can a B2B SEO Agency Help With?
A B2B SEO agency can help you with every step of the SEO process, including:
Keyword research - Identifying keywords relevant to your business and prioritizing them by difficulty and likelihood to convert.
Content audit - Analyzing all content published on your website and ensuring that it's optimized for a keyword, and follows SEO best practices.
Content creation - Coming up with content ideas, ensuring that articles fit search intent, and creating high-quality, long-form content.
Link-building - Acquiring backlinks for your website through guest posting, outreach, and broken link-building (among other tactics).
SEO management - Keeping constant track of your rankings and ensuring that your search traffic is growing over time. Making adjustments to articles, headlines, and pages in case something doesn't rank.
How to Hire The Right B2B SEO Agency
When choosing a B2B SEO agency, evaluate the following criteria.
#1. How Does the Agency Run Their Own SEO?
Check how the B2B SEO agency you're interested in is doing in terms of their own SEO. Some things you can look out for include:
Content quality. Do they create high-quality SEO content for their blog? Or is it just short-form, 500-word generic articles?
On-page SEO. Do they follow SEO best practices? E.g. meta descriptions on images, keyword-specific URL slug, etc.
Rankings. Do any of their pages rank on Google? For example, at Apollo Digital, we rank for some competitive keywords like "SEO case study" and "digital marketing case studies."
#2. What Are Their Results in B2B SEO?
Make sure that the B2B SEO agency has a track record of success.
After all, you don't want to be working with someone that only talks big.
Check for the following:
What results have they achieved for their clients? Over what timeframe?
Do they have published case studies? Are the case studies well-written? Does the client still rank well?
Have they worked in the B2B industry before? Do they have experience in your specific field?
#3. Is Their Proposal Strong?
A lot of B2B SEO agencies have a very generic, copy-paste proposal template they submit for every lead.
If you receive something like that, it means that the agency didn't even look into your case all that much. So, whatever results they may be promising may be full of hot air.
Instead, you want to receive a proposal that outlines the following:
The current situation with your website. What are your current SEO strengths? Weaknesses?
What's their action plan (with a timeline)? What are they going to do for you in the first month, and every month after that?
Are their results forecast realistic? E.g. if they promise to get you results in 6 months, and your website is completely fresh, chances are, they either don't know what they're talking about.
#4. Do They Understand Your Business?
The agency should have a good understanding of what your business is and how it works.
This will allow them to prioritize keywords that are more likely to convert and lead to sales.
A good indicator here is if the agency is asking you a lot of questions about your business, product, or service.
B2B SEO FAQ
Have some more questions on B2B SEO, or working with a B2B SEO agency?
We'll answer them here!
#1. What's B2B SEO?
B2B SEO is an online marketing strategy that helps you rank for search terms related to your B2B business.
If you manage to succeed with B2B SEO, you'll be able to drive hundreds or even thousands of qualified leads to your website every month, all without spending 5-figures on ads.
#2. Is B2B SEO dead (or dying)?
Nope - SEO is not dead, and it's not going to die anytime soon. There's no real argument for "SEO being dead" other than some media websites wanting to drive clicks by writing about something controversial.
Blackhat SEO, though, is definitely dead. In 2021, you just can't "hack" Google - you need to play by the rules and get results organically.
#3. How much does B2B SEO cost?
It depends if you're looking for local or global B2B SEO.
If, for example, you're a local B2B accounting firm, you'd be looking at a spend of $1,000 to $5,000 per month to work with a qualified B2B SEO agency (depending on the competition in your location).
On the other hand, if you're a B2B SaaS (e.g. accounting software), you'd need to utilize global SEO, which is a lot more competitive (and accordingly, expensive). To get some serious results, you'd need to spend anything from $5,000 to $15,000 per month (again, depending on competition and SEO vendor).
#4. How long does B2B SEO take?
Depending on how competitive your niche is, you'd need anything from 6 months to 3+ years to see results with SEO.
Yep, it's a wide range, but it really depends on a lot of factors.
For example, if your website is aged and has a TON of backlinks, you'd be able to get results in a competitive field in 6 months to a year.
On the other hand, if your website is completely fresh, it might take 2 to 3 years.
#5. Should I hire a B2B SEO consultant or an agency?
If you're looking for full-service SEO management, you're better off with an agency. They'll help with every step of the SEO process, from strategy to content creation.
If, on the other hand, you already have a strong marketing team, you can hire an SEO consultant, who'll help drive strategy while you're in charge of execution.
Work with Apollo Digital - Your Seasoned B2B SEO Agency
At Apollo Digital, we've delivered game-changing results for several of our B2B clients - and we want to do the same for you!
Get in touch now, and let's see how fast we can increase your traffic to over 200,000 monthly organic visitors.