Looking to grow your B2B business, but not sure where to start?
We don't blame you - in 2021, there are dozens of potential B2B marketing channels you could be using.
So, it's very easy to get overwhelmed.
Luckily, at Apollo Digital, we specialize in B2B marketing strategies. Over the past few years, we've managed to:
And in this guide, we're going to teach you all the best B2B marketing strategies that worked for us (and our clients) in 2021.
Read on to learn how to:
Drive Leads on Autopilot with B2B SEO
Reach Decision-Makers with Automated LinkedIn Outreach
Convert Like Crazy With Content Marketing
Become a LinkedIn Influencer With LI Pods
Laser-Focus Your Target Audience With LinkedIn Ads
And more!
So, let's get started.
11+ B2B Marketing Strategies for 2021
#1. Drive Leads on Autopilot with B2B SEO
SEO can be a very profitable B2B marketing strategy.
The way B2B SEO works is, you create content and web pages based on keywords your prospective clients use to look up information around your business or service.
E.g: Let's say you're selling a CRM SaaS, and want to drive prospects with SEO. You'd want to rank for keywords that people use to search for your software:
CRM
CRM tools
Sales software
As well as educational topics surrounding your software's use-case. Continuing with the same example, that would be anything related to sales:
What is a Sales funnel
Sales commission structure
And so on.
The reasoning here is that anyone who is looking to set up a sales commission structure, for example, is probably also going to need a CRM to manage their sales.
The average B2B SEO process is as follows:
On-page SEO - Optimize all your web pages for SEO using a tool like RankMath or Yoast.
Technical & Speed SEO - Do a technical SEO audit on your website, and ensure that you're following all the right SEO best practices.
Keyword Research - Do keyword research and uncover 100-200+ keywords you'd want to rank for. To do this effectively, you can use SEMRush to steal your competitor's keywords, and UberSuggest to find additional keyword ideas.
Writing Content - Start creating SEO-optimized content on a regular basis. For our clients, we usually publish 10,000 to 30,000 words per month.
Content Promotion - On an ongoing basis, promote your content and land new backlinks to your website.
There's a lot more to B2B SEO than just that, but we couldn't fit all of that into this article. We did, however, create a mega-guide to B2B SEO. If you want to get our EXACT SEO process for growing companies to 200,000+ monthly organic traffic, check out that article.
#2. Reach Decision-Makers With Automated LinkedIn Outreach
LinkedIn outreach is probably the most popular B2B marketing strategy in 2021.
Here's how this works:
First, you create a Google Sheet to keep track of all leads. Include columns for any type of essential information like name, position, email, and LinkedIn profile link.
Then, start doing some lead generation and populating the list.
How you do this is up to you.
Let's say, for example, you're selling restaurant management software to local restaurants. You could find restaurants on Google Maps in specific locations, find their owner on LinkedIn, and grab their contacts.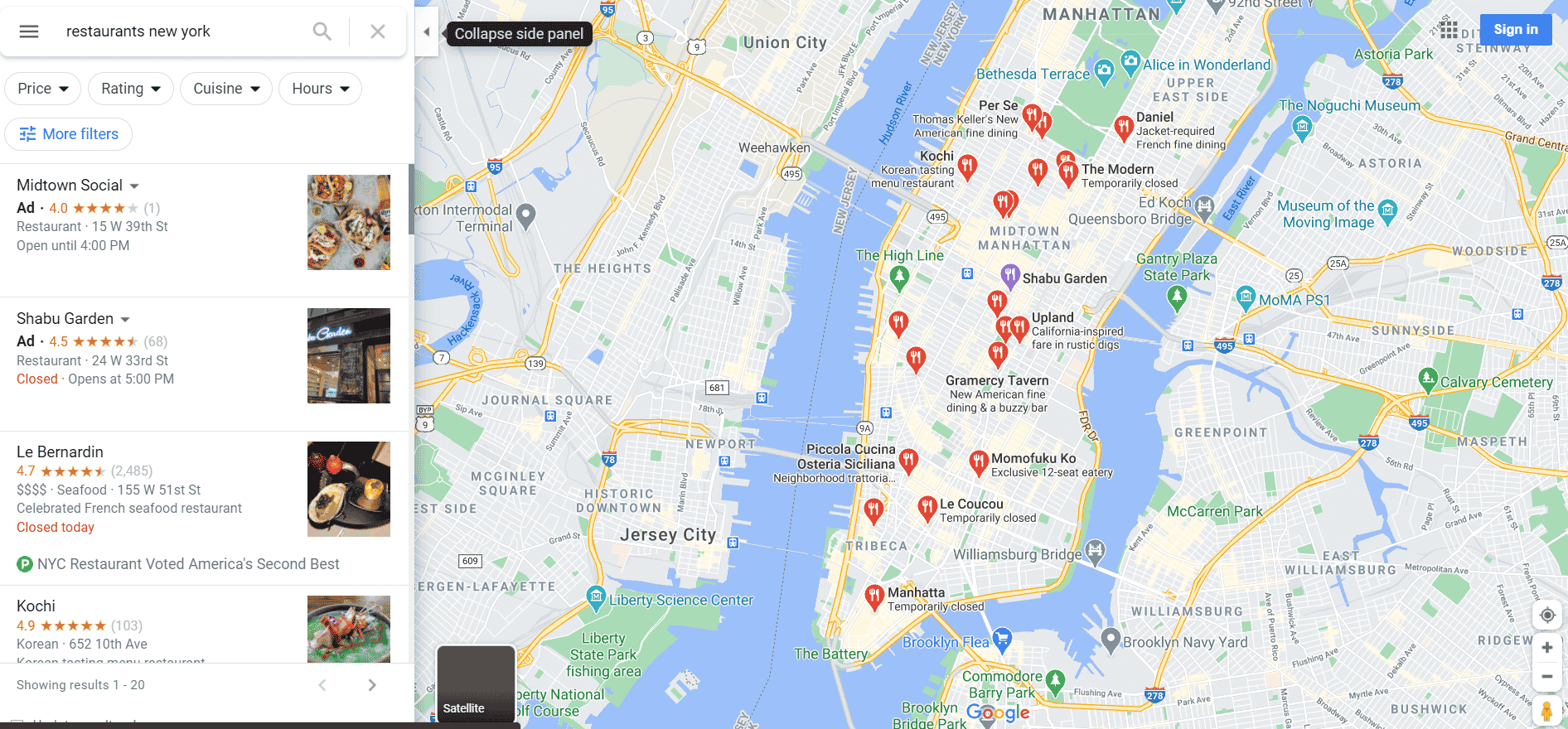 Or maybe, you're selling accounting software to CFOs in enterprise companies.
In that case, you can find prospect companies on CrunchBase, and then look up their CFOs on LinkedIn.
Once you've populated the lead list, it's time to do the outreach.
First, you add everyone in your target audience on LinkedIn with a note, something like:
Hey [name],
My name's Nick and I'm looking to expand my network of [whatever they do]. Would love to connect!
Best,
Nick
We recommend adding around 100 people per day if your account is old and if you have a ton of connections. Otherwise, start off with 50 requests per day max.
Once they accept, within 2-3 days, reach out to them with your pitch.
Now, this is the hard part - you don't want to be overly salesy, and you want your pitch to really deliver some value (and not just be like, "Hey, wanna buy my product?").
Unfortunately, there's no simple formula you can follow here to make this work every time.
Here are, however, some suggestions that might work for your business:
Give them something for free. This can be an e-book, promo code, VIP access, or whatever else.
Don't go straight for the hard sell - invite them to check out your website or blog.
Start a discussion. Ask your leads about how their business is doing.
Be real. Don't be one of those guys using the same copy-pasta intro message (In 2021, it's "hey [name], how's your business doing during these uncertain times"). Actually think for yourself, and come up with something that's going to catch your lead's attention.
PRO TIP
Without the right tool, LinkedIn outreach can be absolute hell. It's a lot of manual work, and you need to keep track of each prospect, and where they are in your sales funnel.
Want to automate 90% of the work? We recommend using a LinkedIn outreach automation tool like Expandi.
It helps you by automatically:
Adding people on LinkedIn on a daily basis.
Reaching out to your leads.
Following up on leads that didn't reply.
So, if you want to use LinkedIn outreach for your B2B growth, we recommend doing it with Expandi.
#3. Convert Like Crazy With Content Marketing
Ever heard the saying, "Content is King?"
Everyone's been saying this since 2012, and it still holds true in 2021.
Content marketing can help you:
Establish yourself as an authority in your niche.
Drive qualified leads to your website with zero advertising spend.
Educate your audience on the importance of your product/service (and eventually, convert them).
At Apollo Digital, we've had insane successes with content marketing. In February 2020, we generated over $50,000 in revenue (and counting!), by writing and promoting a single blog post.
Yep, that's right - and that article didn't actually cost us anything, other than pure manpower.
Not a bad ROI, right?
And YOU can get similar results for your business if you master B2B content marketing.
The typical B2B content marketing process is as follows:
First, generate content ideas. While there are a ton of different ways you could do this, here's what works for us:
Look out for top-performing B2B content on social media, and do something similar for yourself.
One simple way you can do this is, go on Reddit, and find a subreddit related to your niche. E.g. /r/marketing, if you're selling marketing software.
Look at the best-performing posts of all time, and reverse-engineer them.
Or, you could do the same thing on Hacker News:
Then, create really, really, good content. In 2021, no one cares about your 500-word, "Top 5 Benefits of X" article. It's been done, re-done, and overdone. Instead, focus on cutting through the noise.
We recommend focusing on content that:
Is very long-form and comprehensive. Think, 2k to 5k words, covering EVERYTHING related to the topic.
Contains personal anecdotes, experiences, examples, case studies, etc.
Is on a highly relevant topic. E.g: "Complete Guide to LinkedIn Outreach [How to Generate 100 leads in 20 days or less]" has the potential to kill it. "5 benefits of LinkedIn outreach?" not so much.
Is jam-packed with visuals, graphics, and everything else that can make for a good reading experience.
Once you're done with the article, promote the hell out of it on Reddit, Facebook, Hacker News, and everywhere else.
Want to learn how to do content promotion right? Check out our ultimate guide on how to promote content.
#4. Become a LinkedIn Influencer with LI Pods
Ever wanted to become an influencer?
Well, in 2021, it's easier than ever - you can use tools called "LinkedIn Pods" to help you get there.
Here's how this works:
A LinkedIn engagement pod is a group of people who automatically engage with and like each other's content through a LinkedIn automation platform.
You sign up on a tool like LemPod, join several Pods, and from then on, whenever you publish a post on LinkedIn, you also submit it to your Pods. This way, everyone's going to automatically like and comment on your post.
Given, this won't instantly make you an influencer - there's a lot of other things you'll need to do to get there:
Find LinkedIn influencers with an active follower base in your niche.
Add 50-100 of their followers on a daily basis.
Create engaging LinkedIn content, and boost it with your pods. All the likes/comments you'll get will ensure that most of your network will see your posts (and engage with them).
Add all the members from your pod as connections. Having people who engage with your posts as first-connections improves your content reach.
And rinse and repeat!
PRO TIP
Keep in mind that not ALL connections on LinkedIn are valuable. Most people use LinkedIn strictly for job-search, and they're never going to see or engage with your content.
So, it's important to specifically add connections that engage with other influencer posts, so you can reliably know that they'll also engage with yours.
#5. Laser-Focus on Your Target Audience With LinkedIn Ads
LinkedIn is the best B2B advertising platform.
You can directly target decision-makers in organizations with personalized ads. You can use all sorts of targeting options, including:
Job title
Years of experience
Skills
Industry
Company size
For example, let's say you're selling workflow management software to mid-to-large sized organizations. You can run LinkedIn ads to target:
Job title: COO or Head of Operation
Company Size: 500 - 1,000+ employees
Given, LinkedIn ads can be expensive, especially compared to other ad platforms. On average, you'll see an average CPC of about 5 USD plus.
If you have the budget for it, though, LinkedIn can be an amazing B2B marketing channel.
#6. Get The Most Out of Your Traffic With Remarketing
Remarketing is a must-have part of any B2B marketing stack.
In a nutshell, remarketing means retargeting all (or specific segments) of your traffic with ads.
More often than not, this allows you to increase conversions. If someone visited your website and forgot about it, remarketing helps re-engage them.
The most essential remarketing channel is Facebook since it's 1) relatively cheap, and 2) used by significantly more people more frequently (so allows for more reach).
Here's how you can set up your Facebook remarketing:
First, add the Facebook pixel to your website.
Then, go to Facebook Ad Manager, and hit "Audiences" in the nav bar:
Pick "Custom Audience…"
"Website."
And create your remarketing audience.
As a start, you can remarket to ALL website traffic who visited your website within the past 15 to 30 days.
Then, when creating an ad on Facebook ad manager, you'll be able to use this audience to run ads to.
And yes - the audience updates itself. Meaning, whenever someone new visits your website, they automatically get added to the remarketing list.
Some remarketing strategies you can use include:
Remarketing to anyone that didn't sign up for your product/service.
Running ads to people using the freemium version of your product, urging them to update.
Remarketing to high-intent website visitors. E.g. anyone who looked at your pricing page.
Targeting low-intent audiences with content, and moving them down the funnel.
PRO TIP
Other than Facebook, other remarketing channels you can use include:
LinkedIn
Google Display
Quora
Reddit
They are, however, not nearly as effective, or as popular as Facebook remarketing. So, we recommend remarketing on these platforms only if they're your main traffic driver, or you know for a fact that your audience hangs out there.
#7. Multiply Leads With Referral Marketing
A referral program is pretty much a must-have for any B2B company.
In fact, if you already have some customer base, we recommend starting with this B2B marketing strategy before moving on to the rest.
After all, a referral program can act as a boost to all of your other marketing initiatives. For each client you acquire, you have a chance to get 2-3 more by giving them an incentive to refer their acquaintances.
There are several types of referral programs you can use:
#1. Gift Cash - You can literally give a % of your revenue to the referrer. E.g: If you're a B2B marketing agency, you can give 10% of the money you make from a referee, to the referrer.
#2. Offer Discounts - You can offer both the referrer and the referee, a discount on your product/service.
#3. Offer Gifts - You can offer gifts to your successful referrers. For example, Bookers, a business management software, offers a free iPad for your first successful referral (and $150 for each additional one).
#4. Offer a Free Product/Service. You can also offer a part of your product/service for free to referees.
Trello, a kanban tool, does this. For each successful referral you make, you get one month's of Trello Gold for free.
#8. Become an Authority in Your Niche
This one is especially relevant if you're offering a service (e.g: B2B marketing agency, accounting firm, whatever else).
The more authoritative your company or your brand is, the more likely it is for potential customers to reach out to you over your competition.
Here are several ways you can upgrade your authoritativeness:
Attend B2B podcasts.
Get featured on online media like Forbes, Entrepreneur, etc.
Host your own podcast and interview industry experts.
Start publishing authority content on your company blog.
Guest post on authority websites in your niche.
#9. Drive Qualified Leads with Google Search Ads
Running ads with Google Search is another must-have B2B marketing strategy.
It works kind of like SEO, but not exactly. Instead of creating SEO content and trying to get it to rank on Google, you simply bid as an advertiser for the keywords you want your website to show up on.
For example, let's say you're selling an email marketing solution for businesses.
You could advertise on keywords like:
Email marketing software
Email marketing tools
Email marketing small business
Getting started with Google Search ads is relatively straightforward. Head over to the Google Ads website and create an account.
Then, find the keywords you want to rank for using Keyword Planner, create the relevant ads, and launch....But that's just the start - there's a LOT more to running profitable Google Search ads than just picking the right keywords.
On an ongoing basis, you'll need to:
Optimize keywords constantly.
Tweak ad copies.
Problem solve ("why is ad X not performing?").
Optimize landing pages
On average, it's going to take you 2-3 months of optimization till you can get your ads ROI-positive.
Want to learn how to do Google Ads the right way? You can check out Google's very own course.
PRO TIP
Don't have the time to learn a completely new skill?
We can help set up your Google Ads account every step of the way, from registration to getting to ROI-positive.
#10. Reach Out to Prospects With Email Marketing
Cold email outreach is an age-old tactic for driving B2B leads.
And no - GDPR did NOT kill this. GDPR only bans cold outreach to individuals, not businesses.
Email marketing as a B2B marketing strategy works as follows:
First, you'll need to create a process for generating cold leads. How you do this really depends on your niche.
Let's say, for example, you're selling accounting software to small-to-medium sized accounting firms.
You'd start off by generating leads that fit your target audience. Here are 2 ways you can do this:
Find accounting firms via Google maps location-by-location, and snatch their contact information via their website.
Find accounting firms on LinkedIn that fit your criteria.
Regardless of which option you choose, you can create an SOP for gathering the leads, and give it to your VA (virtual assistant).
Then, once you have a sizable list of leads, you can start doing the actual outreach.
We recommend using drip email software for this. If you just send 1,000 cold emails at the same time, chances are, Google is going to flag you for spam.
By using email marketing software like Klenty, however, you can completely automate your email send out process, and the software will ensure that the emails aren't all being sent at the same time.
We also recommend setting up 1-2 automated follow-ups for these emails, as it's pretty easy to miss cold emails.
#11. Attend Trade Shows
Attending trade shows is a great way to meet professionals and decision-makers in specific industries.
A trade show, in a nutshell, is an event where companies show off their new products or innovations.
If you're selling software, for example, you can attend a trade show as an exhibitor, and show off how innovative and game-changing your solution is.
As a given, trade shows aren't cheap - attending one as an exhibitor can cost you anything from 4 to 6 figures.
Want to find trade shows in your industry? You can use TradeFairDates:
#12. Drive Awareness With HARO
HARO is a great tool for building up yourself as a brand or authority in your niche.
If you've never used it, here's the gist of it:
HARO stands for Help a Reporter Out, and it's a platform for matching journalists with sources for their stories.
All you have to do is sign up on their website:
And you'll start getting requests from journalists looking for sources: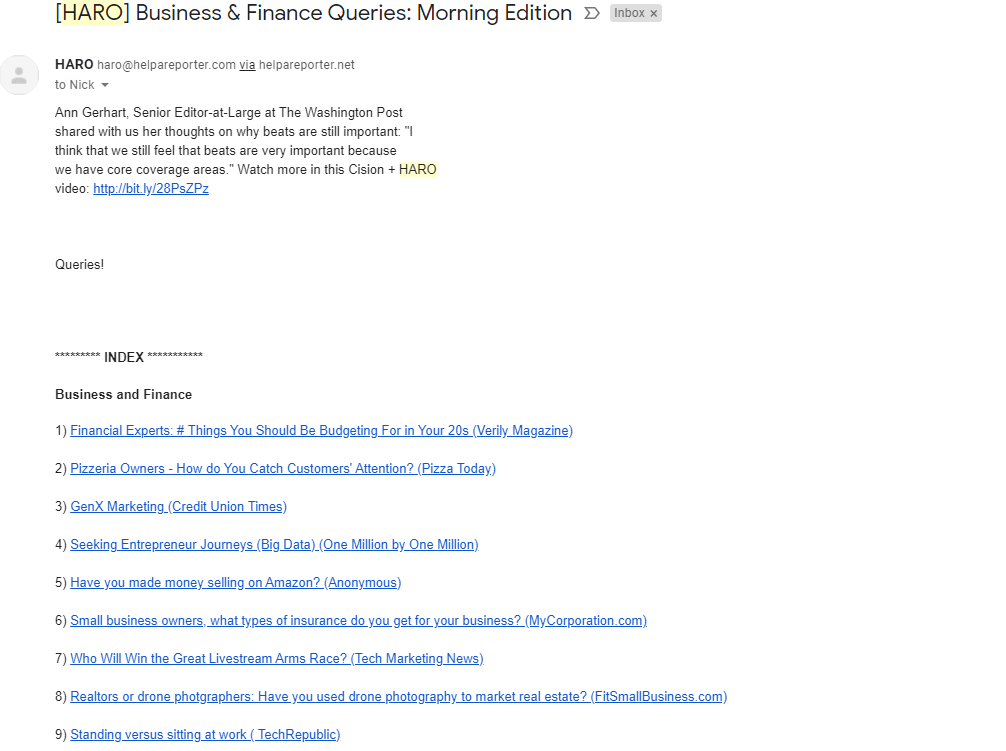 Now, all you have to do is check your HARO emails on daily basis, and when you find something relevant, reach out to the journalist with your pitch.

Let's skyrocket your traffic together!
B2B Marketing FAQ
#1. What is B2B marketing?
B2B marketing is a type of marketing that involves targeting decision-makers in organizations, and getting them to make a purchase for the company they work for.
#2. How do you promote a B2B company?
There are a ton of ways to promote your B2B company, but some of the most effective methods we've tried in 2021 include:
Getting high rankings on Google with SEO
Driving leads with content marketing
Buying qualified leads with Google Search Ads
Reaching out to decision-makers via LinkedIn outreach
#3. How's B2B marketing different from B2C?
There are a ton of differences between B2C and B2B marketing, including:
With B2C marketing, the purchasing decision is usually based on emotions ("I want that Tesla"), while in B2B, it's based on logic ("Which of these time-tracking solutions are going to get me the best bang for my buck?").
With B2C marketing, there's low or minimum research prior to buying the product. With B2B on the other hand, you usually source several best products/services, and pick the one that best suits your needs.
With B2C marketing, you're targeting the individual and his needs/wants. With B2B, you're targeting a professional who is trying to maximize ROI for his/her organization.
With B2B, you need to be professional - use data, facts, and numbers to sell. With B2C, you can sell purely based on brand (even if the product is bad for the consumer).
#4. How do I write a B2B marketing strategy?
Outline your positioning on the market. What makes your product/service stand out? What do you do better than the competition?
Define your target audience and customer persona. Who are you looking to sell your product/service to? What are their needs and wants?
Set goals & KPIs. What do you want to achieve with your B2B marketing? How can you know if you're achieving your goals?
Define the tactics and strategies you'll be using.
Execute, measure, scale. For each tactic or strategy, execute it, measure your results, and see if it's the best way to grow your B2B organization. Scale your best-performing tactics as much as you can.
Work With a B2B Marketing Agency
B2B marketing can be exhaustive.
At the end of the day, you can't really reliably know whether a specific marketing channel is going to work for YOUR business unless you already have some experience with it.
So, you'll end up spending a ton of money and time experimenting with different channels, trying to find what works.
Want to bypass that entire process, and kick-start your growth in high gear from day #1?
We can help!
Apollo Digital is a full-service B2B digital marketing agency, and we've seen and done it all. We've worked with clients in dozens of B2B niches, and we have a pretty solid idea on how we can help YOU.
Get in touch now for a free consultation call.
Key Takeaways
Now, let's do a quick recap of what we've covered so far:
There are a ton of B2B marketing strategies out there, but the 12 we outlined in this article are the most relevant for 2021.
Some essential strategies to try include SEO, content marketing, Google Search ads, and others.
B2B marketing is different from B2C, as the purchasing process is a lot more about logical thinking and decision-making, and not emotions and brand.