Getting SEO right can lead to amazing results for your business. Imagine hundreds of qualified leads knocking on your door every month without you having to spend hundreds, thousands, or even tens of thousands on ads.
To become successful with SEO, though, you'll need help from the right expert. And unfortunately, hiring the right freelance SEO can be pretty tricky.
In 2021, just about everyone and their pet dog can claim to be an SEO specialist. It can be very hard to differentiate the ones that are worth their salt from, well, everyone else.
And that leads us to this guide! We're about to teach you all you need to know about hiring quality freelance SEOs, including:
Looking for specific info? Just skip ahead!
Otherwise, read on...
Where to Find the Best Freelance SEOs
First off, you need to source some freelance SEOs. Here are some of the best places you can do that:
#1. SEO Facebook Groups
SEO Facebook groups are probably the best places to find some of the best professional freelance SEOs.
Two of the best groups, specifically, are the SEO Signals Lab and the Proper SEO.
Just head over to the group and ask for a recommendation for a professional, and you'll instantly receive 50 - 100+ replies.
#2. Google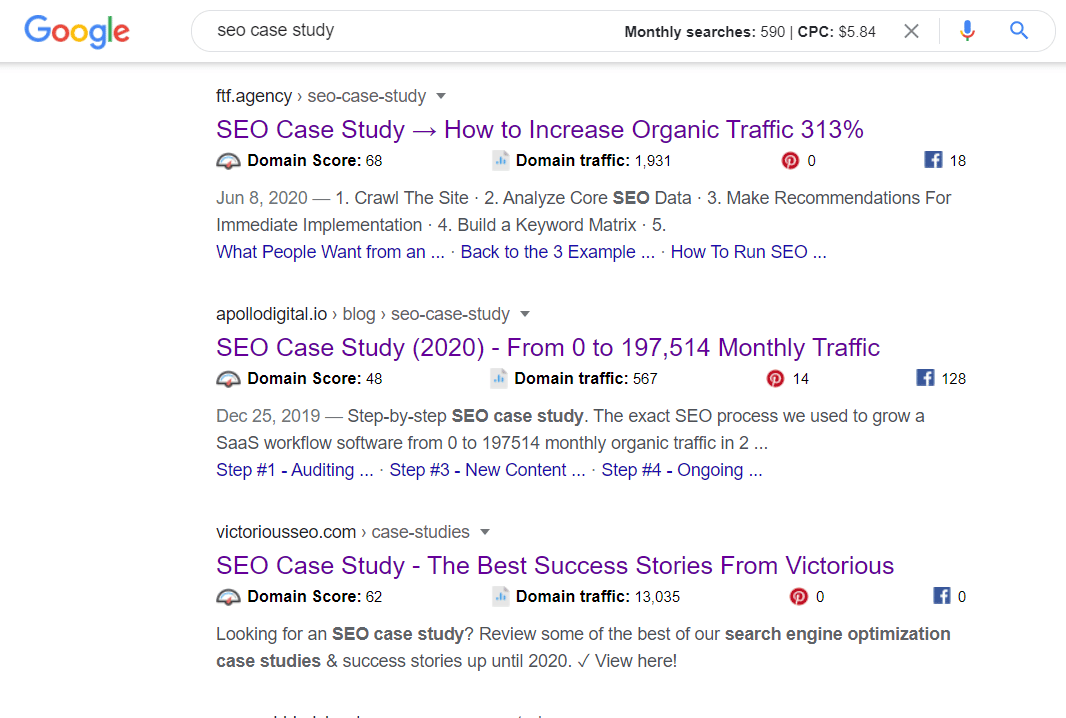 What's a better way to find an SEO specialist than through Google?
Here's what you can do:
Look about keywords around SEO topics, for example:
SEO case studies
SEO content
SEO process
Then, go through the articles that are ranking, and find the ones that are written by SEO freelancers.
Whichever freelancers or agencies produce killer SEO content and drive good rankings for their own website are likely to deliver good results for you, too.
This way you'll find the SEO freelancers or agencies that put their money where their mouth is.
Fun fact - our SEO case study is currently ranking #4 on the keyword "SEO case study".
#3. Freelancing Websites
You've probably used a freelancing website or two - Upwork, Freelancer, Guru, etc.
Today, there are dozens of sites.
And you can source your freelance SEO talent there.
All you have to do is register and post a free job ad.
Some freelancing websites you can try include:
UpWork
Freelancer
Guru
TopTal
Pro Tip
A lot of the freelancers on these websites aren't all that good.
We've personally sourced over 1,000 freelancers through these websites for numerous positions, and the results were less than satisfying.
So, we recommend either sourcing a LOT of candidates or head-hunting the ones that seem very capable.
#4. LinkedIn
You can use LinkedIn to source professional SEO freelancers in your area or worldwide.
All you have to do is look up "Freelance SEO", "SEO expert", or any other relevant keyword, define your target location, and extract all the contacts you're going to find.
Then, you just reach out to them, vet them, and ask them for an offer.
#5. Job Boards
You can also use most of the traditional job boards to find freelance SEOs.
As a given, this option usually costs $100 - $200 per job ad, so we recommend trying the other 4 options before resorting to posting on job boards.
Some of our favorite job boards include:
How to Hire a Freelance SEO - 9 Practical Tips
Once you've sourced your SEO freelancers, you'll need to vet them and figure out which ones are actually good (and which ones aren't).
Here's how you can do that:
Tip #1. Check their website if they have one. Is it well-made? Is the copy in perfect English? Is the person / team on the "About Us" page made of real people, or cardboard cutouts from a stock photo?
Tip #2. Check the testimonials on the website. Are these testimonials from real companies (and not from the freelancer's friends)? If the "client" doesn't have a website, this means that the testimonial is fake.
Tip #3. Run both the freelancer's and their clients' websites through an SEO audit tool. See if they did a nice job with the optimization.
One of the easiest ways to do this is to run the site through the SEMRush site audit tool:
If the website health is 80%+, then it's fine.
If it's anything below 50%, don't hire the freelancer.
Tip #4. Alternatively, you can also check the client's (or the freelancer's) organic traffic through SEMRush to see if they're getting real results from the freelancer's work.
Tip #5. Read the freelance SEO's case studies and see if they're impressive.
0 to 20 organic traffic in 6 months? Hard pass.
0 to 197,514 organic traffic in 2 years? Yes, please!
Tip #6. Check if the SEO freelancer is doing SEO for their own website.
Are they publishing SEO content on a regular basis?
Is the content long-form and high-quality?
Are some of these articles ranking on Google?
Tip #7. When asking for an offer from the freelancer, ask them to give you a potential roadmap.
The roadmap should look something like this:
Month #1 - Audits, Keyword Research, and Strategy. The SEO freelancer audits your website for SEO issues and finds potential improvements. They also do keyword research and define your SEO strategy.
Month #2 - Audit Implementation and Content-Kickoff. The SEO freelancer implements whatever they defined during the audit phase, and kicks off content creation.
Month #3 and Beyond - Content, Link-Building, and Ongoing SEO. The SEO professional creates content every week, does link-building, and any potential ongoing SEO optimization (interlinking pages, CTR optimization, etc.).
Pro Tip
Want to learn more about our own SEO process we use to grow our clients to over 2,000,000 monthly visitors as organic traffic and beyond? Check out our dedicated article - the process outlined is EXACTLY what we do for our clients.
Tip #8. Ask the freelancer for an estimated timeframe to gain the desired results.
On average, the freelancer should be able to deliver results to you within 6 months to 2 years, depending on your current website authority and how competitive your niche is.
E.g. if you're a taxi company looking to improve your rankings in NYC, it's going to take you 2+ years, and a huge budget.
If you're a niche accounting firm in Cincinnati, on the other hand, you can probably get results in 6 months.
Tip #9. Check if the proposal the SEO freelancer sent you is actually hand-crafted for you, or if it's just a copy-paste.
If the SEO did their research on your company, it's definitely going to show.
How Much Does a Freelance SEO Cost?
On average, a (single) freelance SEO costs between $41 to $69 per hour.
An SEO consultant can cost up to $100 USD per hour, and an agency can charge from $100 to $200 hourly.
If we're talking monthly work, the average fees for local SEO are from $500 to $5,000 per month (depending on the freelancer, scope of work, and niche), and global SEO can be anything from $5,000 to $15,000 and beyond.
Pro Tip
There's a huge difference in terms of pricing between local and global SEO, and it's for a good reason.
With global SEO, for most niches, you're competing with the big players. It takes a lot more time, effort, and money to rank your content. E.g: If you want to rank for the keyword "meditation app," you're competing with the companies with 7-8 figures in funding. You'll need to do a LOT more than just publish a 500-word article per week.
If someone offers to do global SEO for you for $500 to $3,000 per month, run - they're probably not going to get you any results.
11 Best Freelance SEO Professionals in 2021 [Vetted]
Want to skip the hassle of sourcing SEO freelancers?
We've got you covered - here's a list of some of the very best professionals out there.
So, all you have to do is pick a handful and reach out!
And no, we didn't just list out a bunch of random freelancers we found on the web.
We actually vetted them by evaluating their website and past experiences. All the freelancers mentioned below have:
Years of experience in the field.
Proven case studies and testimonials.
Significant results for their clients or themselves.
#1. Nick & Noel
Let's start with us!
We're Nick & Noel, and we've been in the SEO game for 6+ years. We run a full-service digital marketing agency with a special focus on SEO and content marketing.
Some of our top achievements include taking a BPM SaaS from 0 to 200,000 monthly organic traffic…
And doubling the traffic for an HR tech company, from 1 million to 2 million visitors as organic traffic in one year...
We have expertise and experience working in several niches, including:
And several others.
Some of our top clients include Deskera, IPVanish, Blissfully, and others.
Want to work with us? Get in touch now.
#2. Nick Jordan
Nick Jordan helps companies build massive audiences with his vast SEO expertise.
He is currently the CEO of ContentDistribution.com and helps companies with their SEO strategies.
One of his biggest achievements is reaching from 0 to 271,000 organic growth in just 14 months.
He also managed to bring four companies from 0 to 100,000 organic searches per month. Some of his clients include DoNotPay, AnyLeads, and CampusReel.
#3. Konstantine Gegeshidze
Konstantine Gegeshidze is a growth marketer and freelance SEO strategist. He has experience in Web Analytics and creates custom tools that help companies streamline their marketing-related processes.
While working as a digital marketer for Chamaileon.io (a collaborative email builder), he grew its organic traffic from 0 to 70,000, which resulted in over 120 daily sign-ups to the platform.
#4. Trevor Tynes
Trevor Tynes is an SEO consultant who helps companies from different industries grow their website traffic and conversions.
Some of his clients are law firms, B2B, home, and dental services. He is passionate about his work and always strives to achieve at least 1,000% return on his clients' return on SEO investment.
He has over 6 years of professional experience as a digital marketer and an SEO expert.
#5. Bibi Raven (Bibi the Link Builder)
Bibi Raven is a freelance SEO specialist with a focus on link-building.
Unlike other link-building professionals, though, Bibi strives for her outreach to be as natural and organic as possible.
She believes that if you just spam hundreds or thousands of people and just hope that one of them links to your website, you're just going to ruin any potential of working with them in the future.
For the sake of transparency, Bibi provides a step-by-step outline of her link-building process on her website.
#6. Ross Simmonds
Ross Simmonds is a freelance SEO expert with over 6 years of experience. He has his own digital marketing consultancy FoundationInc where he offers services like SEO audits, website design, content planning and creation.
He works with companies from the Fortune 500 list from industries like SaaS, CRM, the manufacturing, and mobile app industries. For one mobile app company, he managed to increase the inbound leads by 133% with SEO and content strategy implementation.
#7. Mike Ramsey
Mike Ramsey is a season SEO expert with over 10 years of experience behind his back. He founded his own digital marketing agency Nifty Marketing in 2009. Since then, the company ranked 3 consecutive times on the Inc. 5000 companies list.
Ramsey specializes in local SEO for law firms and he also provides services like content marketing, web design, and link building.
He is also a published author and top rated event speaker at marketing conferences like Mozcon and Pubcon. He's involved in different entrepreneurial and investment initiatives.
#8. Dan Shure
Dan Shure is an SEO expert with over 10 years of experience in SEO. He found his own company EvolvingSEO and works with different clients from the health industry, B2B service, and others.
Some of his clients are Zappos, ButcherBox, Sumo, and Primal Kitchen.
While working with a B2B client, he managed to double their organic traffic in 6 months.
Besides doing SEO, he is also a speaker, musician, and podcast host. His quotes and content appeared in The New York Times, Entrepreneurs on Fire, and Drift.com.
#9. Hazel Jarrett
Hazel Jarett has 15 years of experience as an SEO expert. Her SEO consultancy SEO-plus is based in the UK and she works with different clients like Itseeze Ipswich Web Design, Store Guru, and Diamond Boutique.
She achieves growth in both organic traffic and sales for clients through different local, national, and e-commerce SEO strategies.
Her unique SEO approach and valuable expertise bring clients more organic traffic, leads, and sales.
#10. Mike King
Mike King is an experienced SEO expert with a professional background in technical marketing, conversion optimization, analytics, and back and front end website development.
This set of skills allows him to take a unique approach to SEO and marketing. He has over 10 years of experience and for the past 6 years, he has been managing his own digital marketing agency iPullRank.
He offers services like SEO, UX, content marketing, email marketing, and PPC. He helped clients from the music, mortgage, and finance industries build their SEO strategy from the ground up.
He managed to increase the organic traffic of a major US bank by 20% and increase their revenue by $26M.
#11. Aleyda Solis
Aleyda Solis is a renowned SEO expert with 12+ years of experience. She provides SEO services through her SEO consultancy Orainti and works with various clients - from big companies like Under Armour to small startups like Zillow.
Solis also wrote a Spanish-English book on SEO in 2017 and participated as a guest speaker at over 100 marketing conferences all over the world.
In 2018 she earned the European Search Personality award and has been included in HubSpot's list with 59 Female Marketing and Growth Experts you should be following.
Hiring a Freelance SEO - FAQ
#1. Where can I hire freelance SEOs from?
Some of the best places to source SEO freelancers are:
Facebook groups - Some of the best SEOs hang out on SEO Signals or the Proper SEO Facebook groups.
LinkedIn - Individually sourcing potential SEOs.
Google - Looking up SEO case studies and hiring companies that helped deliver those results.
#2. How do I vet freelance SEOs?
When picking a freelance SEO, pay attention to:
Is their website legit?
Do they have proven results with other clients?
Do they have SEO case studies with serious results?
If they offer SEO content, is their blog content high-quality?
Speaking of SEO content - want to learn how to source and hire writers that get you to rank every single time? Check out our guide to hiring SEO writers.
#3. What does a freelance SEO do?
The usual responsibilities for a freelance SEO include:
Auditing your website, ensuring that you follow SEO best practices.
Performing keyword research and coming up with a content strategy.
Creating high-quality, long-form SEO content.
Implementing ongoing link-building.
Optimizing your headlines to ensure high CTRs.
#4. Should I hire an SEO expert, or learn how to do it myself?
We recommend hiring an SEO expert.
Some of our clients spent 3+ years doing SEO in-house without any guidance, and, well, they got zero results. All that time and money spent ended up being a sunken cost in the end.
It's going to take you years to actually master SEO on such a level that you can deliver good results, and during this time, you could've focused on growing your business.
#5. Should I hire an SEO freelancer or an agency?
Depends on how fast you want to go with your SEO.
Working with an agency brings in more than just a single freelancer - you get access to a team of specialists with years of experience with SEO.
If you want to get faster (and better) results, you'd go for an SEO agency over a freelancer.
If you're on a budget, on the other hand, and are Ok with taking it slower, you can go for an SEO freelancer.
Work With Apollo Digital - A Science-Backed SEO Agency
Looking for a team that can get you SEO results reliably?
Or better yet, want your website's traffic to look something like this?
We can help!
At Apollo Digital, we've worked with clients in numerous niches, including HR tech, SaaS management, E-commerce, and more.
And we're confident that we can help YOU grow your SEO.
Key Takeaways
Thanks for reading!
At this point, you should have all the know-how you need to both source and hire the right SEO freelancer.
Now, let's recap some of the most important points we've covered:
You can source SEOs on the most popular job boards, as well as LinkedIn, Facebook, and Google.
When hiring an SEO freelancer, make sure to vet them extensively - check their website, case studies, etc.
If you're wondering whether you should do SEO in-house or hire someone, we recommend the latter.