Feeling stuck in a rut with your marketing?
Looking for some inspiration?
We feel you!
In 2021, there are SO many different marketing channels you could use, it can really be overwhelming at times.
Which is why we created this guide - to compile every single B2B SaaS marketing strategy into a single resource!
From PPC to SEO, we've got it all!
Read on to discover everything we're going to cover...
25+ B2B SaaS Marketing Strategies [Complete List]
In this guide, we're going to cover different types of marketing strategies, including...
SEO & Content Marketing. Rich on manpower, but poor on marketing budget? SEO and Content is the best way to get your name out there without spending too much on advertising.
PPC. To make money, you need to spend money. Learn how to run profitable ads with these SaaS marketing strategies.
Partnerships. You're not alone in this. Learn how you can use partnerships to drive growth and revenue.
Direct Outreach. Cold emails aren't dead! Directly reach out to decision-makers in companies and get them hooked on your B2B SaaS Software.
Public Relations. Want to get featured on TechCrunch, without having to spend 5-figures on a PR agency? We'll cover 2 strategies on how to do that.
So, depending on what you're looking for, feel free to skip ahead using the ToC:
SEO & Content Marketing
Strategy #1 - Create Product Comparison Content
One of the most straightforward SEO tactics for driving qualified buyers is to create product comparison content.
Let's say you're selling project management software.
If your product or brand is already pretty famous, you could create comparison guides of your product to its competitors…
Your Product VS Asana
Your Product VS Monday
If you Google "asana vs basecamp," you'll see that Asana is already doing this…
Or, on the other hand, you could also write comparison guides for your competitor products (or products in complementary niches), and upsell your solution as a third alternative. For example:
Asana VS Trello
Bitrix 24 VS Monday
Chanty, a team chat app, does something like this…
At the end of the introduction, they include an upsell for their product…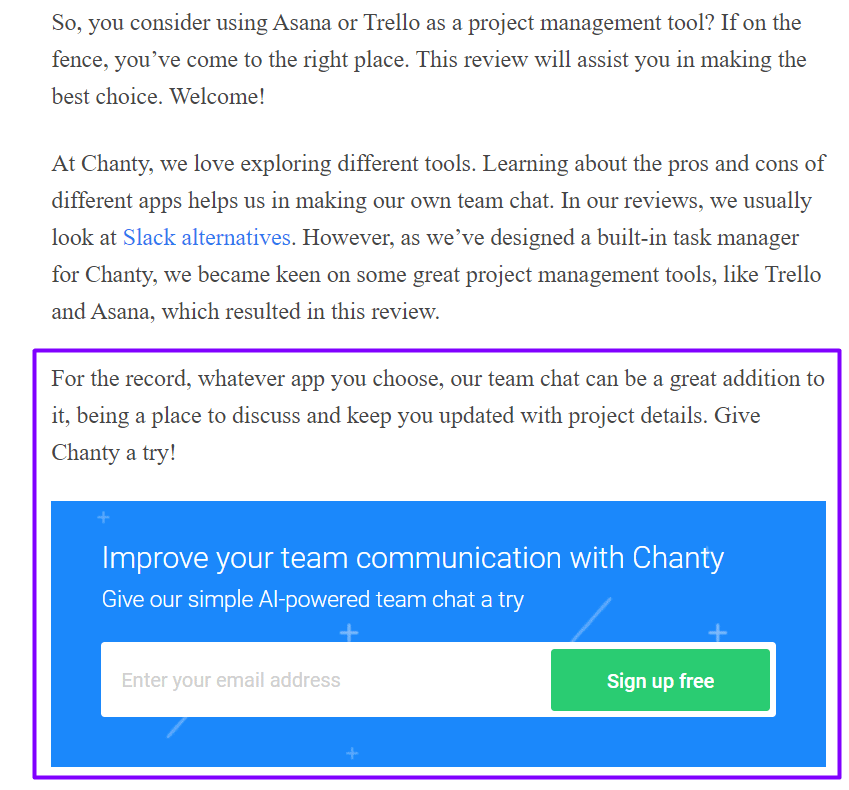 Strategy #2 - Create Top Software Roundups
Alternatively, you could also create comparison content on specific software types.
For example…
Best CRM tools
Top productivity tools
Team productivity software
BPM tools
And so on.
As a given, you'd want to mention your product as #1 in your comparison guide.
If you Google "CRM tools," you'll see that Scoro is doing just that…
PRO TIP
Want to rank for comparison keywords? You'll need to come up with an actual framework for benchmarking the different products.
If all you do is keep saying "Product X has very good UX / UI, and is very beautiful look-wise," you're not gonna go far.
Your audience consists of sharp businessmen, not moms reading up listicles on Buzzfeed about "Top X Bjutiful CRM Softwares in 2k19"
Some things you could compare are:
Product features
Use-cases
Best for (SMBs? Freelancers? Enterprises?)
Pros
Cons
User reviews
Support quality
Use-case based (or feature-based) ranking system]
Strategy #3 - Rank your landing pages
Unless you have a completely ground-breaking, innovative software, chances are, your potential clients are already looking for software solutions such as yours.
If you run "project management software" through SEMRush, you'll see that the keyword has over 22,200 searches per month.
If you ranked in the top 5 results on the first page, you'd have a TON of qualified leads knocking on your doorstep every day.
So, how do you do that?
The first step is to identify all the product keywords you want to rank for.
Let's say you own a team task management B2B SaaS. Some of the keywords you could use are...
Project management software
Task management software
Team productivity software
To compile a very comprehensive list, just think of different variations for...
"[Your Use-Case] + software"
Some more ideas could be
Client project management software
Product management software
Team management software
Or, for another example, let's say you have a time tracking software. You could target keywords such as…
Timesheet app
Timesheet calculator
Time reporting
Once you've identified a bunch of keywords you want to target, the first step is to create the relevant landing pages.
Make sure to tailor each page to the keyword, and talk about the use-case. It shouldn't be a copy-paste of your homepage.
For a good example of this, check out Integrify's workflow system page…
Once you've got your landing pages up and running, you should optimize them for SEO.
If your website is based on WordPress, you can use the YoastSEO plugin for that. It tells you EXACTLY what you have to do in order to optimize your page for the keyword.
On the other hand, if you have a hand-built website, you can use the Content Analysis tool. Just copy and paste your landing page copy, and follow the instructions.
Finally, make sure to link to these landing pages in your blog post (and anywhere else on your site) whenever possible. The more links you have for any given page, the more important it is in the eyes of Google.
You can also include your top pages in your footer so that they're linked to from all of your web pages. For example:
Finally, the last and most important step is to get backlinks for each of these pages.
In a competitive industry, this is going to be what determines whether your content ranks or not.
Chances are, most SaaS companies in your niche already have such pages. To get ahead of them, you'll need to beat them with backlinks.
We're not going to get into too much detail on HOW to get backlinks (since that would require 10,000 word guide on its own).
You can, however, check out Backlinko's guide to link building - it's hands down THE most comprehensive resource out there.
Strategy #4 - Create SEO content
SEO content is content created with the intention of ranking on Google.
You could come up with keywords associated with your B2B SaaS business, and create related content.
Let's say, for example, you're selling business process management software. You'd want to create content on keywords such as…
Business Process Management
Business Process Improvement
Workflow Management
And more.
Chances are, anyone looking up information on these topics is also interested in using your SaaS software.
Creating SEO content is a 4-step process…
Keyword Research. Finding the keywords you want to rank for.
Creating the Right Content. Creating 2x - 10x better content than whatever is already ranking on the keyword.
Optimizing It. Use YoastSEO (if you're using WordPress) or Content Analysis tool (if you're not) to optimize it for Google.
Getting Backlinks. Reach out to websites in your niche and ask them for a quick link.
Want to learn more about SEO for SaaS? Check out our mega-guide to SaaS SEO!
Grab our FREE checklist and discover why!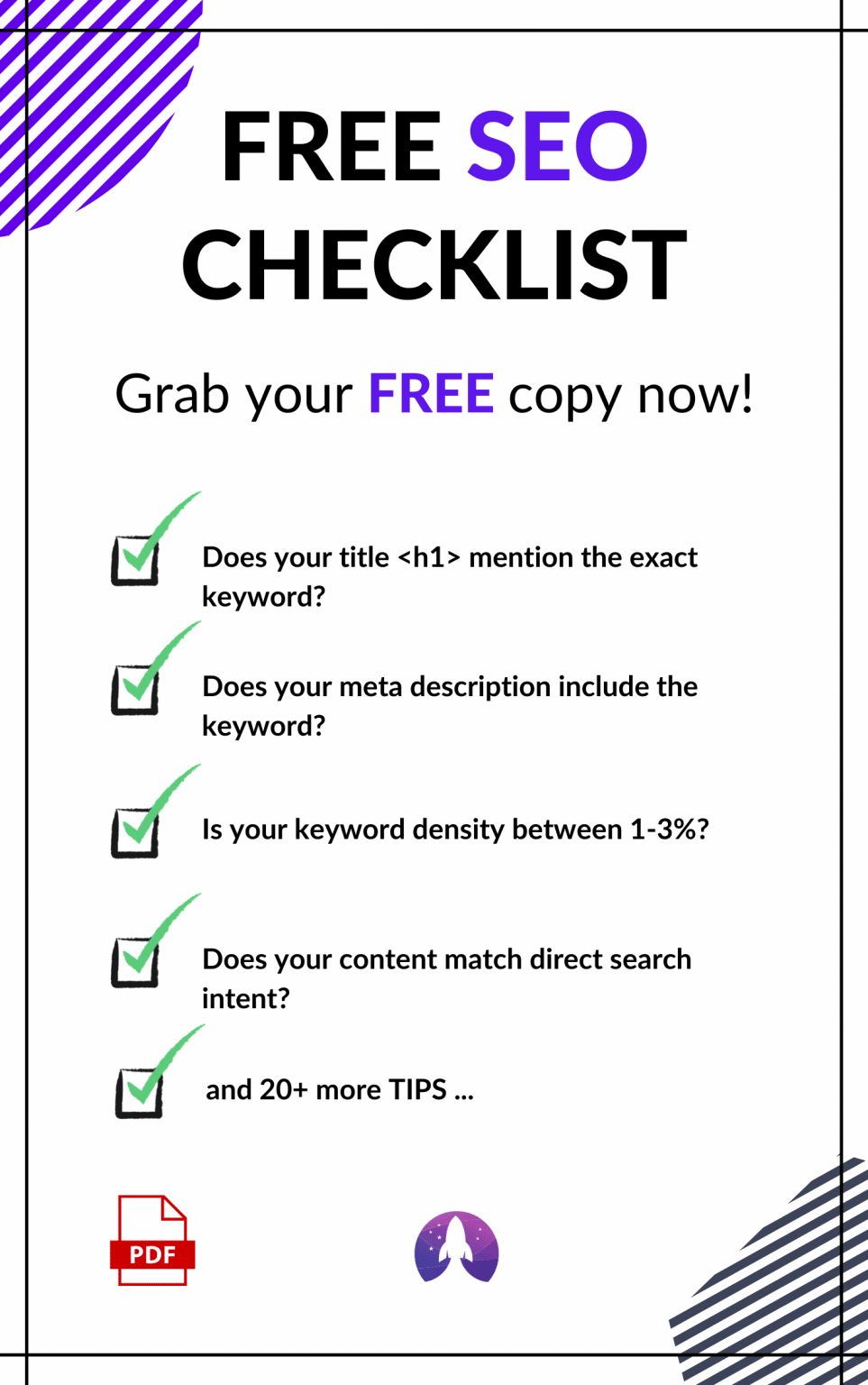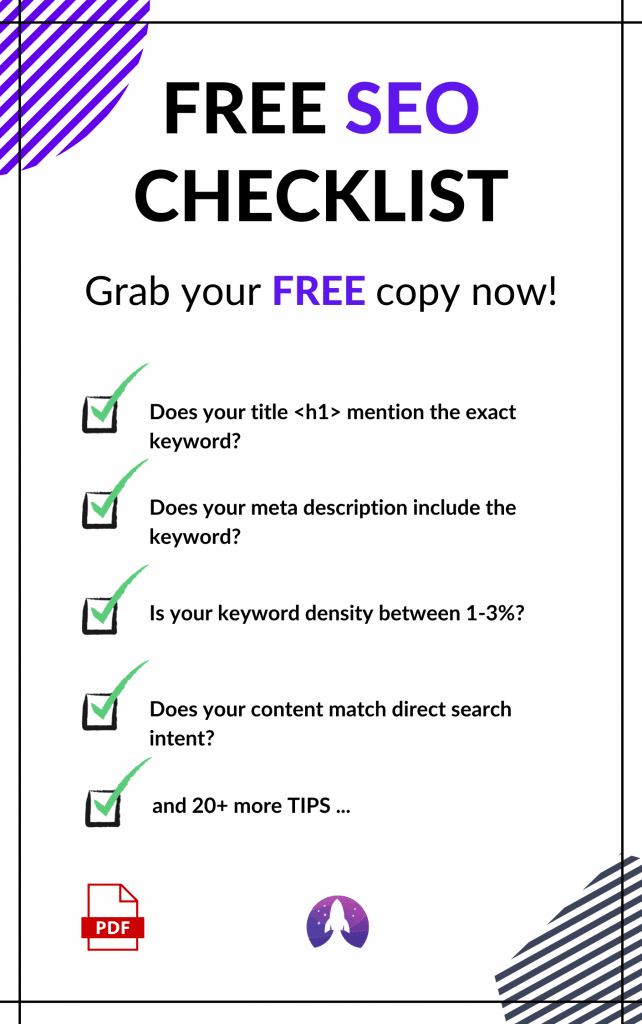 According to the statistics from research done by the Content Marketing Institute, over 91% of B2B marketers use content marketing to reach their customers.
And that's for a good reason - SaaS content marketing can not only bring you more leads, but also help establish authority, strengthen your brand, and more!
Content marketing can be divided into 2 main parts...
Content Creation
Content Promotion
The tl;dr here is: you create authoritative content that helps your audience solve a problem, and then you make sure that your audience gets to read it.
For example, let's say you're a process management software company.
Your audience probably consists of COOs and other operations-management roles. So, what type of content could you create to reach them?
You could create a huge blog post titled "99+ Process Improvement Ideas for Every Business" and make it as practical as possible.
Now, once you create an article, you might be tempted to just put it on your blog, call it a day, and chill.
"If someone cares about my article, they'll find it themselves!" - Quote from The Diaries of a Failed Content Marketer, 2021.
No, no they won't. You could write THE best thing ever written in the history of mankind, but if no one gets to read it except for your mom, you won't go too far.
The next step is to create a giant outreach list of your target audience and make sure that they see your blog post.
In the process management example we mentioned, your target audience could be…
COOs / Heads of Operations / Operations Managers
Works in the tech industry. Let's say that tech is your current focus, but this could be any other industry too.
Company size: 50 - 100+. Why? Because it's a lot more likely to get your content noticed by COOs in medium-sized companies. Chances are, if you're emailing C-suite of a large corporation, they won't even look at your email.
So, create that outreach list, use tools like LeadConnect or ClearBit Connect to find the emails for your leads, and start sending!
PRO TIP
Most companies really misunderstand content marketing. They hire a blogger, ask them to pump out a couple of 500-word articles per week, and call it a day.
Well, that's not how you do it. No one cares about your generic "why should you use a project management software" article.
To really win at content marketing, you need to create interesting, comprehensive, long-form content that provides real value with every sentence, just like this post (haha).
Strategy #6 - Write an E-Book
Ever fantasized about writing a book?
Well, here's your chance.
An e-book can help your marketing efforts in several ways…
It helps establish your brand as an authority
You can use it to capture site visitor emails (and then upsell your product)
It can help you create a ton of social buzz, especially if you manage to get it in front of the right people
So, how do you market an e-book?
Well, that's another 10k word blog post on its own, but here's a tl;dr:
Step #1 - Pick the right topic. It should be somehow related to a MAJOR problem your target audience has. For example, if you're a tool for finding lead email addresses and contact information, you could write a very comprehensive guide to email outreach.
Step #2 - Get quotes and insights from influencers in your niche. Just drop them a line, let them know about your initiative, and ask them to help contribute. More often than not, they'll be more than happy to help.
LeadFuze did just that with their champions guide to outreach...
Other than the value they'll provide, you'll also be able to ask for their help in promoting the content once you've published it 😉 Worst case, they'll just give you a share. Best case? They'll let every single person they know, about your e-book.
Step #3 - Create a lead capture landing page. At the very least, you should ask for an e-mail in exchange for the e-book. If you want to be extra greedy, you can also ask for a share or a tweet. If you're using WordPress, you can use Social Locker for that.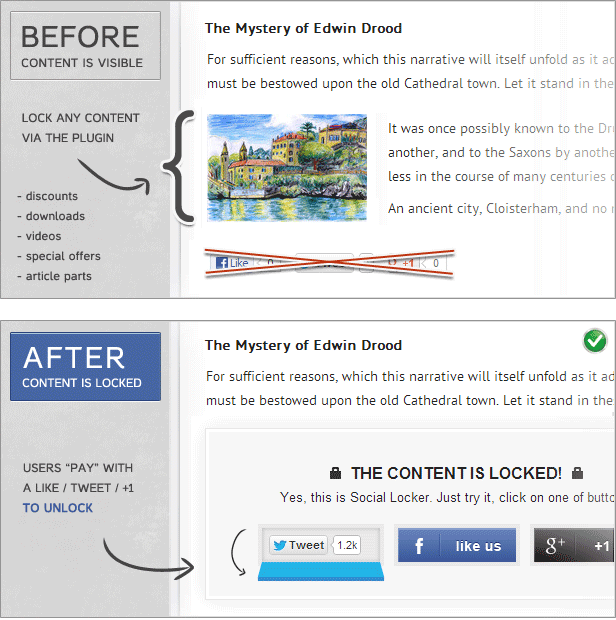 Step #4 - Once you're done with the e-book, it's time to promote it. Here's a quick checklist on how to do that…
Promote it on your social media channels
E-mail blast your user-base about it
Email all the influencers that helped you out with the e-book and ask them to share it
Run a remarketing ad campaign with the e-book to all your website visitors
Create a list of your top 100 ideal clients, and cold email the e-book
Run a cold traffic Facebook ad to anyone that's interested in the topic
Strategy #7 - Write a Round-Up Post
Writing a round-up post is an easy & efficient way to generate traffic, backlinks, AND leads.
What's a round-up post?
You've probably seen them before. It's the…
"Top X Influencers / Products in [Y Niche]" type of blog post.
What you do here is, find all the top influencers in your niche, and write a blog post about them.
You could, for example, write a blog post on…
"Top X SEO Influencers in 2021" and mention me.
If you drop me an email saying, "Hey, we featured you on this blog post because you're so awesome," it's going to be very hard for me to say "No" to a quick share + backlink.
So you know, I'll be waiting 😉
Jokes aside, pick a niche related to your product and give this a go. You'll see the results yourself.
Search Engine Journal did this exact thing with their SEO experts blog post...
And you can see the results - over 6.3k shares.
Strategy #8 - Write a Guest Post
Guest posts are awesome. They help you…
Establish yourself as an authority by getting your name out there
Get backlinks to your top articles
Generate leads (as long as the blog you're posting on is relevant for your niche)
Most big blogs accept guest posts, as long as the content you're publishing is relevant to their audience.
To get the most out of your guest posting, though, we'd recommend using one of these 2 strategies:
Guest post on complementary product blogs. For example, let's say you're a team communication software company. You could guest-post on a project management blog, like Wrike or TeamGantt.
Guest post on media where your audience hangs out. For example, TheNextWeb and TechCrunch both have a huge audience of tech entrepreneurs.
Strategy #9 - Create an Infographic
Everyone loves infographics, especially marketers.
As with content, this is done in 2 parts:
Creating the infographic
Promoting the hell out of it
We're not going to discuss the first part - it's pretty straightforward. You either use an in-house designer or find one on UpWork.
In terms of promoting it, though, here are several strategies you could use:
Send it to industry-leading blogs. If the infographic looks cool, this is going to get you a guest post AND a link.
Send it to relevant online media. Is the infographic related to tech? TechCrunch might love it.
Submit it to online communities, such as Reddit or Pinterest.
Strategy #10 - Publish a Case Study
Think fast - what kind of results can your SaaS deliver?
No, we're not asking about your product's features.
What's the impact you can have on your client's bottom line?
After all, at the end of the day, that's what your software should accomplish.
Publishing a case study is a great way to convince your customer base to buy your product. It's not going to help you generate leads per se, but it's definitely going to help improve conversions.
Especially if your product is high-ticket (or enterprise), you should have several case studies clearly visible on your website.
Want to see how it's done? HubSpot has some of the best CRM case studies we've seen...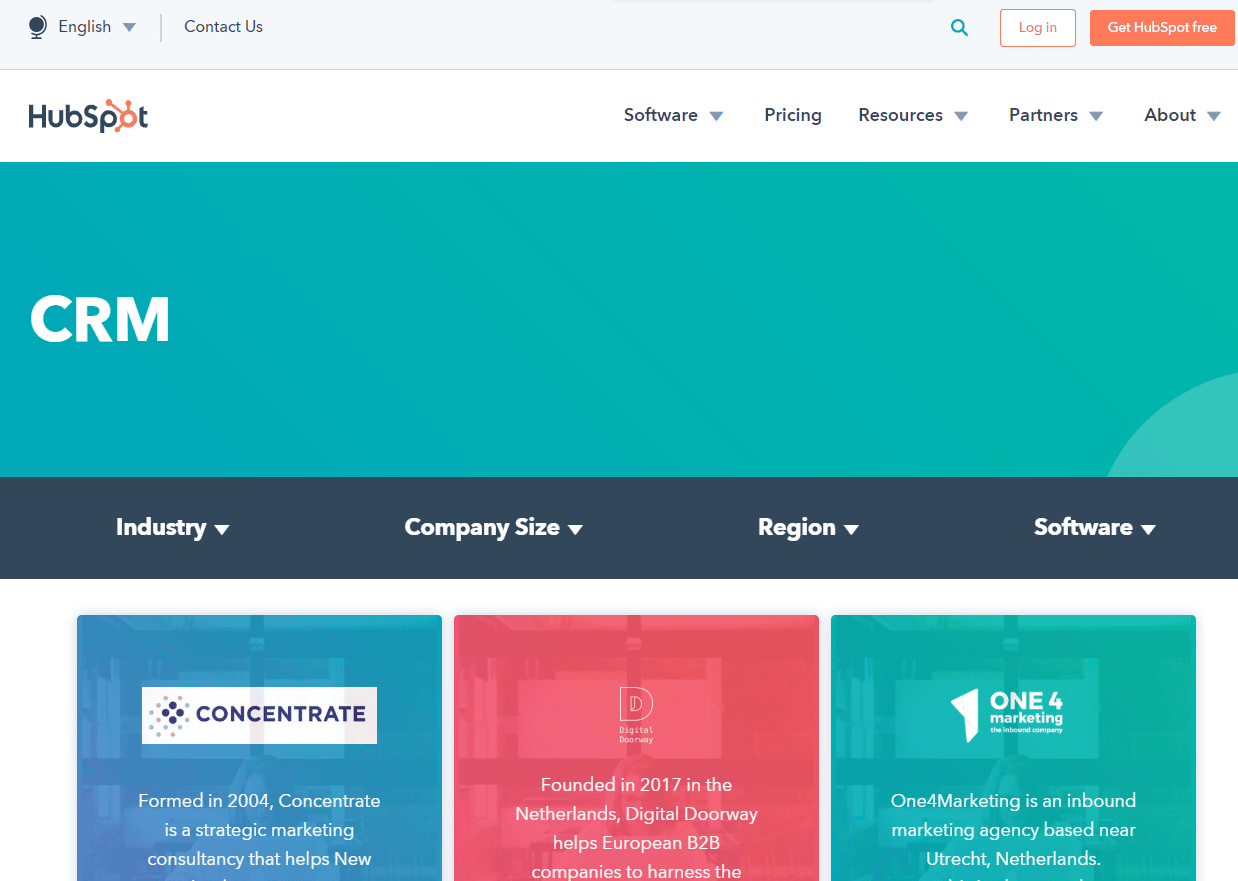 To get this done, we'd recommend approaching some of your best (and happiest!) clients, and offering them an incentive for creating a case study with you.
Let's skyrocket your traffic together!
Paid Advertising
Strategy #11 - Run Search Ads
One of the most straightforward and fastest ways to generate B2B leads is to run Google Search Ads.
Anyone that searches on Google for your type of software is a pre-qualified lead.
So, all you have to do is run the ads.
Keep in mind, though, that in most industries, this isn't going to be cheap. Some of the top players could be bidding on your keywords, and it's pretty hard to compete.
In the end, it all boils down to crunching numbers. Let's say you're trying to advertise for the "project management software" keyword.
You'll see that the cost per click is pretty high - 39 dollars for a single click.
Not too cheap, huh?
There are 3 outcomes you can expect from any search campaign…
Profiting from direct conversions - you make more money than you spend. This is the best-case scenario, and if you manage to achieve this, all you have to do is spend more to make more! Keep in mind, though, that in most competitive industries, this won't happen.
Profiting from customer lifetime purchases - you run at a loss initially, but over several months, you end up getting ROI on the ads from the recurring subscription.
Running at a loss, but focusing on user acquisition - this is the worst-case scenario. You might STILL want to do this, though, if you have deep pockets.
Now, here's how to calculate which outcome you're going to get (so you can decide if it's worth it for you).
Open our simple PPC calculator sheet and make a copy (so you can input your numbers).
Input all the basics - keyword, avg. CPC, and the impression share you want to get.
Then, estimate a CTR. Let's say it's going to be 10% (which is pretty realistic). Also, assume a pessimistic and an optimistic conversion rate.
Say, worst case it's 1%, and best case it's 3%.
The calculator is then going to give you an estimate on how many clicks you're going to get, and how much it's going to cost you to acquire each new user.
For the project management example, it's going to be around $2,000 per user acquired.
Chances are, in this case, you're not going to recoup your ad spend from direct sales. If, however, your average customer lifetime value is more than $2,000 (which it should be for most PM software), it might be a good investment.
Strategy #12 - Run Brand-Jacking Ads
Brandjacking means targeting your competitor's brands and driving their traffic to your website.
Let's say you're in the CRM software niche. You could run ads for your competitor's brand keywords.
If you Google "SalesForce," you'll see that Zoho and OnPipeline are already doing this.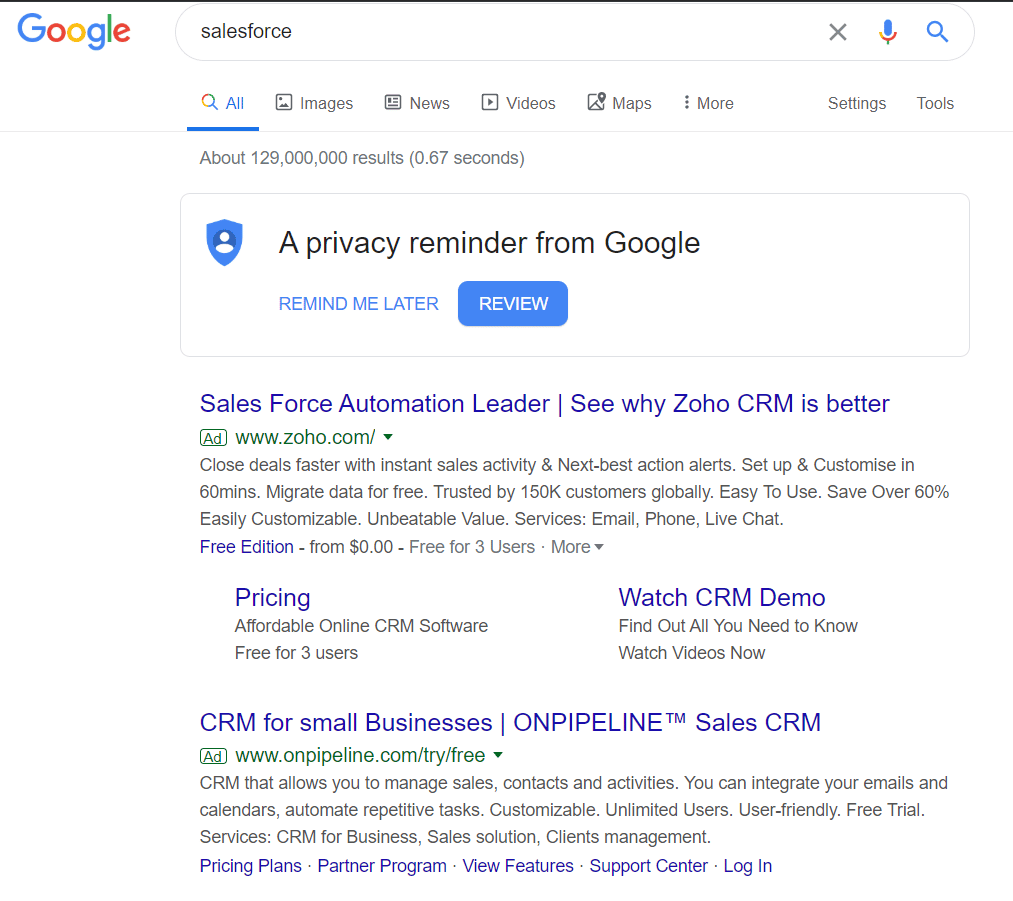 Keep in mind, though, that from our experience, this isn't the most cost-effective way to generate new users.
Ever since Basecamp ran this ad (and after several twitter sh*tstorms from the founder), Google started making some changes to their guidelines.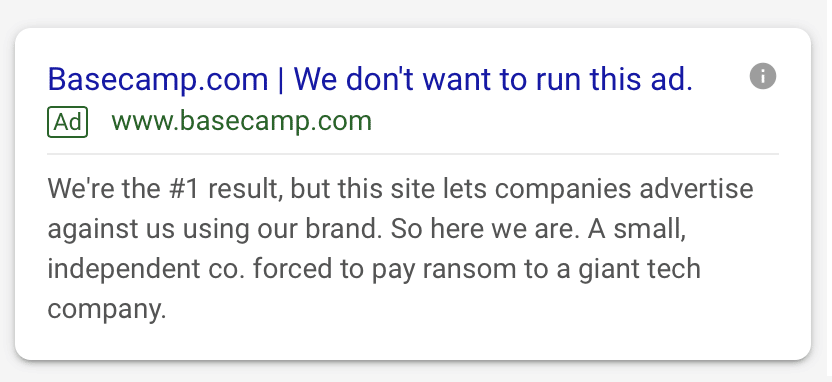 While you can still run ads targeting your competitors' brand as a keyword, you CANNOT include the keyword in the main headline of the ad.
If you've run ads before, then you should know that this would lower your Ad Quality Score, ultimately making your ads show less frequently.
We've tested this out with some of our clients, and despite lowering the Max CPC by 90% on our clients' brand campaigns (therefore saving them a ton of money), competitors were not able to outrank us. In fact, they get about a 10% Impression Share on a good day.
And if you factor in that people searching for your brand will be less inclined to click on your competitors' ad (for obvious reasons), then it simply does not make sense, strategically and economically speaking, to bid on your competitor's brand.
There is, however, some merit to running brand-jacking campaigns.
You could, for example, be doing it for brand awareness.
Even if someone Googling for your competitor doesn't convert immediately, you might still benefit from them learning about your brand.
We'd only recommend doing brandjacking campaigns if you're a large company with deep pockets.
Strategy #13 - Run Retargeting Ads
This one's pretty much a must-have for ANY B2B SaaS business.
You should target all your website traffic with ads.
There's NO reason NOT to do retargeting - according to Software Advice, website visitors who are retargeted with ads are 70% more likely to convert.
AND, it's even significantly cheaper than normal ads.
For most of our clients, we recommend retargeting on:
You might also want to try running LinkedIn remarketing (after all, that's where most CXOs hang out), but that's a lot more expensive than the other 2 options.
PRO TIP
Want to get better results from your retargeting campaigns? You could target people with specific intent, with specific ads. Here's what we mean by that...
Target high-intent audiences - You can target users who checked out your pricing page. They're a lot more likely to convert than anyone else.
Target specific intent audiences - You can target users who checked out your product features page with a specific ad. You could, for example, run ads for a free product demo to anyone that looked up your features.
Strategy #14 - Run LinkedIn Ads
LinkedIn ads are pretty controversial.
Yep - they're extremely expensive.
They are, however, expensive for a reason.
LinkedIn ads come with very, very specific targeting options that are amazing for B2B SaaS companies. You can target audiences by…
Job title
Years of experience
Industry
...And more. Heck, you can even target employees that work in specific companies. Want to make sure C-suite executives in fortune 500 companies see your ads? Well, you can do that! As a given, it's going to be pretty expensive.
We'd recommend using the following creatives:
Single Image Ad / Carousel Ad / Video Ad - For any ad campaign, one of your ad creative types has to be visual. This is the bread and butter of your ad campaign.
Text Ads - These help convert people who saw your image ad, but didn't get to click it. Text ads usually get a very high impression share and low clicks. They, however, tend to convert well.
InMail Ads - LinkedIn allows you to send sponsored inmails directly to your audience. As long as you get the copyright (i.e. not too spammy, and actually tailored to your target audience's needs), you can get insane results with this.
Now, let's talk about the "how" of LinkedIn ads. Here's a simple lead gen strategy we've used successfully for several B2B SaaS Clients.
Targeting Decision-Makers in Big Companies
Let's say you're a CRM company, looking to work with tech companies in the US. You'd use the following targeting...
Campaign Goal: Conversions
Location: United States
Job Titles: Head of Sales, Head of Sales Marketing, Head of Sales Department
Company Size: 11 - 500 Employees
Company Industry: Software & IT services
In the end, you'll get a target audience size of ~38,000+.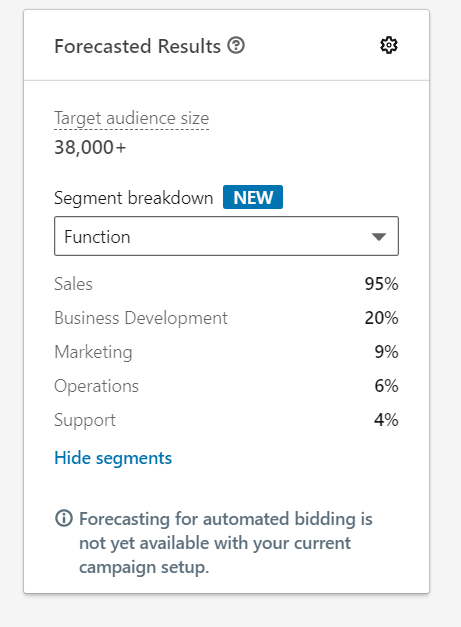 Now, all you have to do is run convincing ads for your product!
Strategy #15 - Use Look-Alike Audiences
Do you already have qualified leads visiting your website? You can use most advertising platforms (Facebook, Google, etc.) to create a look-alike audience.
How this works is, the ad platform identifies the common characteristics of your audience. Then, it creates a separate audience that is similar to the audience you provided.
In this guide, we're going to stick to Facebook Lookalike specifically, since that's the one that works best from our experience.
As a given, the first step here is to install Facebook ad pixel.
Then, go to your "Audiences" page on your ad manager profile…
And create custom audiences. Before you can create a lookalike audience, you'll need to create the base audience.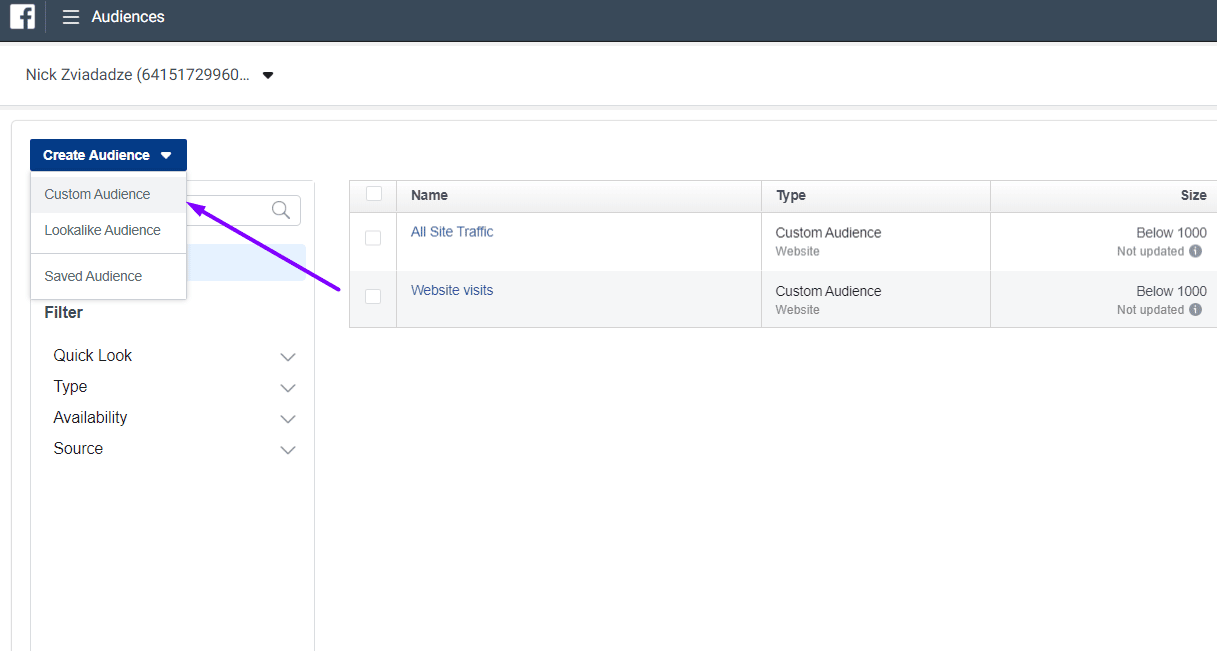 We'd recommend creating the following audiences:
All site traffic
Traffic with buyer intent. For example, anyone that visited your /pricing/ page
A custom audience of all your users. All you need here is a CSV file with the emails of your user-base
Then, click "Lookalike Audience…"
Pick the audience you want to work with, and then the location.
You're also going to get prompted to pick a lookalike percentage.
The lower the percentage, the more accurate the targeting.
In most cases, you'll see the best results with 0% to 1%.
You should, however, also try testing different percentage ranges, and see how they perform.
PRO TIP
We usually create look-alikes for…
0% to 1%
1% to 2%
2% to 3%
3% to 4%
4% to 5%
And test to see which percentages bring the best results.
Strategy #16 - Target Decision-Makers With Facebook Ads*
*This one's very much against GDPR. If you deal with data from EU citizens, do this at your own peril.
Want to run ads to a LinkedIn audience, but on Facebook? And for 1/10th of the price?
Yes, it's possible!
First off, create a list of people you want to target. Do some basic queries on LinkedIn.
Let's say, for example, you're looking for CMOs in Denver…
Start going through the connections one by one and extracting their personal email addressed with SalesQL (yes, that's a thing).
From our experiences, SalesQL works around 90% of the time.
Then, once you have a complete list of emails, upload them as a custom audience on Facebook.
Around 40-60% of the people you upload as a custom audience will work. After all, most people use the same email everywhere, Facebook included.
And BAM!
You can run Facebook ads to people you hand-picked.
Strategy #17 - Advertise on Review Websites
There are a ton of software review websites out there that allow for advertising, including…
Each of the websites has a different business model, but most of them offer a free sign up.
With Capterra, for example, you can create a company profile for free and start getting reviews.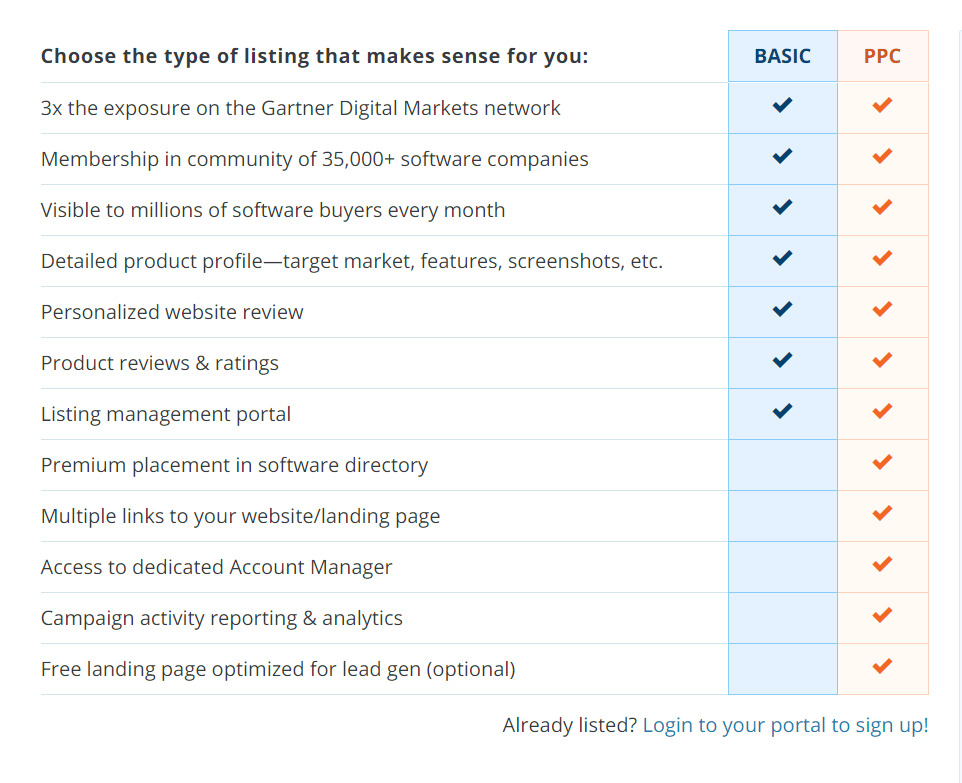 If you want your software to show up on top of its category, though, you'd have to advertise on a pay-per-click basis.
The starting CPC rate is 2 USD, which is definitely better than what you'd be bidding on software-specific keywords on Google.
Strategy #18 - Target SMB Business Owners With Facebook Ads
Facebook isn't the most popular platform for B2B advertising, but sometimes, it can bring killer results.
Here are 2 methods that worked for us.
Targeting Business Owners
Facebook allows you to target people who are business page owners in specific industries, including:
Business page admins
Community page admins
Food and restaurant admins
Health and beauty page admins
Retail page admins
Sports page admins
Travel and tourism page admins
If your target audience falls into one of those categories, you can directly advertise to them.
For example, let's say you have SaaS software for restaurant management. You'd want to target all restaurant owners in the USA.
Targeting Business Owners Interested in X Software
Alternatively, you could also target generic "Business Page Owners" who are interested in your software.
So for example, here's what you get with…
Business page owners
Interested in project management software
Based in the US
25 - 57 age range
Partnerships
Strategy #19 - Launch an Affiliate Program
Are there a lot of influencers in your niche?
An affiliate program can help you generate new users at (technically) zero costs.
Most big software companies have affiliate programs. Fun fact - Hosting providers rely a LOT on affiliates for acquiring new users.
SiteGround, for example, offers a starting rate of 40 Euro per affiliate sign-up.
Fun fact - most influencers even have a "tools we recommend" page. For example, here's a couple of tools recommended by QuickSprout…
If you have an affiliate program, you could end up on several of these types of lists.
So, how do you get started with an affiliate program?
You have 2 options…
Build your own solution (if you have the resources)
Use an affiliate tool. There are a bunch on the market, including PostAffiliatePro, InviteReferrals, and more.
Once you've got an affiliate program set up, simply put a link to it on your website navbar (or footer), and you're good to go!
PRO TIP
You could also proactively promote your affiliate program.
You can find service providers that work with your target audience, and offer them to be your affiliates.
For example, let's say you own BPM software. You could approach process improvement consultants. They work with your ideal clients on a daily basis, and could recommend YOUR software over all the others.
For the process improvement consultant, this is an easy way to make extra money, and for you, it's a low-cost means of acquiring new users.
Strategy #20 - Launch a Life-Time Deal
If you're in the SaaS industry, you've probably already heard of AppSumo.
They offer software lifetime deals for their customer base.
As a software provider, you can take advantage of AppSumo's huge user base, and get them to promote a lifetime version of your software in exchange for a % of the revenue.
If you're an early-stage startup, a lifetime deal can be a great way to get new users and cash infusion with 0 marketing involved.
It's also great for validating your product and receiving a lot of feedback on how to improve it.
Some other lifetime deal providers include:
Direct Outreach
Strategy #21 - Send Cold Emails
Whatever opinion you have on cold emails, it's still a useful way to generate leads.
But before we dive into that, let's get this out of the way…
"But Nick, what about GDPR? Cold emails are illegal now!" - Way too many people, 2021.
No, they're not. GDPR applies to PEOPLE, not business entities. If you're cold-emailing businesses, you're all good!
Now, something to keep in mind is that cold emails won't work if you're targeting large corporations and enterprises.
The CEO won't even bother opening your email.
Companies with under 100 employees, though, are fair game.
The cold email marketing process is generally divided into 2 parts…
Step #1 - Gathering Leads
Cold emails are a numbers game. The more emails you send out, the better your closing rate will be.
So, create a lead generation process and hire a VA.
Let's say, for example, you have an experience providing software (think, AirBNB Experiences), and want to get in touch with tour operators to sign up.
Here's the EXACT process you'd give to your VA for them to generate leads...
Lead Generation Process
Google popular tourist destinations and find all the relevant tours in every specific region. For example: "Japan tours" or "mount Everest tours" or "Iceland tours" and so on.
Go through all the search listings (even up to page 10) and:

DON'T ADD free walking tours, bar tours, etc. -> tour companies that offer only tours that cost around 10-30 euros
ADD to the sheet only tour agencies that provide average to expensive tours such as:

Nature tours (mount Everest climbing, etc)
Local experience providers (Iceland cave exploration)

When you pinpoint a tour, check out their website and extract their contact information. Here's how you'd do that…
First off, check the contact us page. Grab the generic company contact email. In this case, that's

[email protected]

Then, try to find the manager/decision-maker. In this case, it's…

Owner
General Manager
CEO
Managing Partner

Check the company page on LinkedIn. It should have a "people" section for anyone working there. Use SalesQL to grab their email address from their LinkedIn profiled (preferably, professional email address)
If it doesn't, check ClearBitConnect (install it as a chrome extension). Look up the company and see if there's any contact info there.
Still not working? Go to hunter.io or snov.io and look up the domain. Check whoever pops up there and see if they're the relevant contact person.
Did everything fail until now? Whatever - just make sure we have at least their generic email.
Finally, move on to the next lead.
Not your industry? Just tweak steps 1 through 3 to whatever fits you, and you're good to go!
Step #2 - Sending an Email That Doesn't Suck
Now, this is the hard part.
How well you do your email will be the difference between:
"Eeek, a spammer!"
"Oh damn, this sounds interesting"
Here's a cold email format that worked really well for us:
Subject: Question about [company X] tours
Hey [Name],
I have a couple of ideas on how [Company X] can get their next [Y business type] customers in the door.
What's your best email to send them over? 🙂
Best,
Nick
Simple, right? Well, that's the main selling point here.
Most sales emails are long, complicated, and overall spammy.
This one is the complete opposite. It's not exactly selling anything (there are no links, testimonials, etc.). It just speaks to the reader's interests: getting more sales.
For another example, let's say you're selling software for restaurant management.
Here's an example email you could send:
Subject: Does [Restaurant Name] need more sales?
Hey [First Name],
My name's Nick and I found your website on Tripadvisor.
I just wanted to check in with you and ask if you guys are already using a restaurant management software.
I'm a managing partner at Restaurant Software X, and our software has helped Y+ companies improve their operations and increase revenue.
Would you be interested in trying? Just drop me a quick note, and I'll hook you up with a quick demo.
Best,
Nick
Finally, once you get the email right, you need to make sure it gets delivered to your mailing list (and doesn't end up in the Promotions tab - or worse, SPAM).
Here are some of our tips on ensuring that your cold email gets delivered safely…
Don't do a huge email blast. Google is going to get really suspicious if you, all of a sudden, send 500 emails to seemingly random people. We'd recommend using a tool like Respona to send the emails over time. I.e. 1 email every 2 minutes.
Verify email addresses before sending emails. You don't want to reach the wrong inbox, or even worse, to receive an "Address not found" response. Use an email verification tool to check emails before launching outreach campaigns.
Cut down on links and images. This reduces the chances of Google flagging your email as spam. We use max 1 link per email for our outreach campaigns.
Don't use spammy language. "Amazing deal," "sale," "dear friend," all of these words can trigger Google's anti-Nigerian-Prince defense systems.
For more on how to avoid the spam folder, check out Optinmonster's article here.
PRO TIP
A lot of email marketers, for some reason, shy away from messaging general company emails (i.e. [email protected]). There really is no reason for this, though. Chances are, if that's the email listed on the website, that's what the owner wants you to contact on.
If what you're selling is really relevant to the businesses' needs, they'll reply.
Strategy #22 - Automate Your LinkedIn Lead Gen
Think LinkedIn advertising is too expensive?
Well, you can get similar results for free.
Using several different software solutions, you can completely automate your LinkedIn outreach operations.
Here's how this works...
1. You install LinkedIn sequencing software. These tools help you automate the process of adding LinkedIn connections and sending them a message. Some of our favorite sequencing software providers we'd recommend:
2. You define the type of people you want to reach out to. For example, senior management in retail companies...

3. The software automatically adds them on LinkedIn
4. When they accept, the software sends them a "thank you!" and a pitch for whatever you're selling
Simple, right?
If they reply, you talk to them yourself and try to sell the software or set up a demo.
If they don't, you can set up an autoresponder that pings them within a few days.
PRO TIP
In order not to get banned on LinkedIn for doing this, we'd recommend adding 50 people per day max.
Public Relations
Strategy #23 - Get Featured on Media Outlets
Is your software innovative? Do you have features that most B2B SaaS solutions on the market don't?
Well, there are a lot of journalists out there who'd like to cover you!
Here's a simple process on how to find them…
1. Create a Google Sheet to gather journalists' contact information
2. Google your competitors' name and exclude their domain from search. This way, you can find all the websites that are featuring the competitor. You can also look for recent news (click "tools" on Google), as that makes your email more relevant.
3. To exclude the domain, use the following query: "keyword -site:link".
For example: "Asana -site:asana.com"
4. For all the relevant media you find, extract the following info:
Media name - i.e. TechCrunch
Article name - i.e. "Asana launches new automation tools"
Journalist name - i.e. "Name Mc'MadeUpSon"
Link
Scoop (what's the article about?) - i.e. "Asana launches Rule Builder feature, which helps you automate your work"
5. Find the journalist's email using your favorite email finder tool. Some we'd recommend:
Then, drop each of them an email. Here's how we usually do that...
Subject: Your article on [company name]
Hey [First name],
I just saw that you covered [competitor software]'s new automation tools.
Thought you'd be interested in checking out [your software]. It comes with similar features as [competitor software], but with several added benefits…
Feature 1
Feature 2
Feature 3
If you want to check it out, I created a special promo code that should give you free access to the software: [promo code]
Let me know your thoughts!
Best,
Nick
There, simple and straightforward!
PRO TIP
Are the journalists not answering to your emails? Want to know why? Here's what you can do.
Install an email tracking tool. Our favorites include Snov.io, HubSpot CRM, Streak, and Bananatag.
You'll get a notification whenever:
Someone opens your email
Someone clicks your links
If the journalist doesn't open your email, they might have missed it. Just send them a follow-up!
If they open the email but not the links, they just don't care.
Finally, if they open the email and the links several times, sit back and relax. You're going to get a reply very soon!
Strategy #24 - Send Out a Press Release
Did you recently raise a series A, B, C, D, E, F, or any other letter funding?
Most startup media outlets would love to hear about it.
For the best results, you should look up journalists who wrote about other companies in your industry raising money and reach out to them.
So, Google for:
Site: [the media you want to get featured in] [company name] "raised"
So for example:
Site:techcrunch.com pipedrive "raised"
Which leads us to this article…
So, grab the journalist's email, and drop them a line!
Subject: Re: [company X] raising Y
Hey [name],
I saw that you recently covered how [company name] raised [amount].
My name's [your name], and I'm the [position] at [your B2B SaaS company].
Thought you'd be interested to know that we raised Z USD in order to…
#1 thing you're going to do with the money
#2 thing you're going to do with the money
#3 thing you're going to do with the money
Let me know if this is something you're interested in cover.
Best,
[Your name]
Or, you could always do a spray-and-pray and email all relevant journalists in your niche.
Compile a spreadsheet with all the journalists who wrote about products in your niche, and reach out to them as follows…
Subject: [company name] raised [amount] to [reason]
Hey [name],
Since you've covered tech companies in the [your niche] niche, I thought you might find this interesting.
I'm the [position] at [company name]. [1-2 sentence pitch on what your software does, and how it's different from the competition].
We recently raised [amount] as [series X] in order to…
#1 thing you're going to do with the money
#2 thing you're going to do with the money
#3 thing you're going to do with the money
Is this something you'd be interested in covering? If so, I'd love to chat. Just drop me a line, and we could schedule a call at your convenience.
Best,
[Your name]
Conclusion
And that's a wrap!
We hope you found some useful B2B SaaS marketing strategies that you can implement today.
Speaking of implementation, sometimes it's a lot easier, cheaper, and more efficient to have an expert do it for you.
And, as you've probably figured out by now, we really know our stuff when it comes to B2B SaaS marketing. Get in touch now, and let's see how we can help!
Need help with your B2B SaaS marketing? Discover and compare the best SaaS marketing agencies & SaaS consultants with our articles.