Effective SEO is too time consuming to be done without the help of SEO software.
And when it comes to the best SEO tools, there are three clear contenders: Ahrefs, SEMrush, and Moz.
But which one is right for you?
We're going to cover what each tool has in common, what makes each tool unique, and help you determine which is right for your business.
Moz vs SEMrush vs Ahrefs - What Do They Have in Common?
There is a tool on the market for every SEO task you could think of.
There are tools that specialize in backlink analysis, keyword research, competitor analysis, rank tracking, and much more.
But to invest in a tool for each and every SEO task would be far too expensive.
This is one of the biggest perks of using one of these three tools – they are all-in-one platforms that help you with nearly everything you need in order to perform world class SEO.
They are all excellent platforms for:
Keyword Research: Each tool has a ton of data on keyword rankings and search volume. And all three have features that help you track competitor rankings, get new keyword ideas, and gauge how hard it will be to rank for certain keywords.
Rank Tracking: All three have great rank tracking tools to help you keep track of how your keywords are performing.
Backlink Analysis: Each crawls millions of pages daily to report on backlinks, and all three have proprietary metrics for evaluating domain and page link profiles.
Competitive Analysis: Each tool allows you to uncover data on your competitor SEO, including their rankings, backlinks, and more.
That said, there are a few tasks for which these tools might not be the best option:
Technical Audits: All three tools have some version of a site crawl or site audit, but it's not in-depth enough for advanced technical auditing. They might suffice for smaller sites, but we'd recommend Screaming Frog for serious technical work.
Content Optimization: Each tool has some kind of feature that can help with on-page or content optimization, but most recommendations are fairly basic. We'd recommend Surfer or Market Muse if you're looking for a tool that gives you more advanced on-page optimization tips, or Originality.AI's Content Optimizer for a straightforward way to optimize content for target keywords.
So - since all 3 tools have similar features, you're probably wondering what sets them apart.
Here's how the 3 tools differ:
#1. Ahrefs is the leader in backlink data and analysis. They have a huge link index and crawl the web more actively than anyone but Google. Moz also boasts a large link index, but Ahrefs updates more frequently.
Here's a look at their link index:
#2. SEMrush offers the most features. They offer a ton in way of PPC competitive analysis, allowing you to check out what kind of Google Ads your competitors are running.
What really makes SEMrush stand out, though, are their wide variety of tools. Their suite includes content marketing, social media, link building outreach, and local marketing tools. So, you can use SEMrush for a lot more than just SEO.
#3. Moz has the best community and product support. They don't necessarily have a single feature that stands out, but their community certainly does.
Moz handles support tickets in a timely manner and has a very active Community Q&A Forum full of great insight and answers to SEO questions. Their larger plans are also a good bit cheaper compared to Ahrefs and SEMrush.
Moz vs SEMrush vs Ahrefs - Which One Is the Best For You?
There's a lot to consider when evaluating Moz, SEMrush, and Ahrefs..
To make it easier for you to make your choice, we defined the following criteria to compare the three tools:
| | | | |
| --- | --- | --- | --- |
| | SEMrush | Ahrefs | Moz |
| Overall Rating | 10 | 9 | 8 |
| Features | 10 | 9 | 7 |
| Support | 9 | 8 | 10 |
| Ease of Use | 8 | 8 | 9 |
Feature Breakdown
Moz, Ahrefs, and SEMrush have many similar features, which we'll examine thoroughly later in the article. But which features differentiate these tools the most?
Backlink Analysis: All three tools have good backlink analysis features, but Ahrefs does it best.
Competitive Analysis: All three tools allow you to look at competitor ranking and link data. SEMrush and Ahrefs both allow you to dive a little deeper and perform gap analysis in a way Moz doesn't.
Content Marketing: SEMrush is the clear leader in content marketing features. Ahrefs offers Content Explorer, while Moz has no content marketing features.
Link Building: SEMrush offers a tool for link prospecting and outreach, while the other two do not.
Social Media and PPC: SEMrush offers social media management and search ad features, while the other two do not.
Pricing Details
| | | |
| --- | --- | --- |
| SEMrush | Ahrefs | Moz |
| $99.95 for Guru | $99 for Lite | $99 for Standard |
| $199.95 for Pro | $179 for Standard | $149 for Standard |
| $399.95 for Business | $399 for Advanced | $249 for Large |
| Custom Pricing for Enterprise | $999 for Agency | $599 for Premium |
*The pricing above is in monthly installments, but each SEO tool offers a discount with annual payments.
In Short
We'll provide a more detailed analysis of each tool below, but if you'd rather not dive into the details, here's a summary:
Get Moz if you're just getting started in SEO as a small business or freelancer. They offer more assistance and their pricing scales a little better for a growing business.
SEMrush and Ahrefs are very similar. However, we recommend going with:
SEMrush if you're a marketing agency, business, or freelancer looking to take advantage of their non-SEO tools, like the competitor advertising data, social media posting, and writing assistant.
Ahrefs if you're an agency, business, or freelancer solely focusing on SEO, as it has the best backlink data.
Moz - Detailed Review
Moz was founded in 2004 as a consulting firm that grew into a software company around 2007. Since then, they have been a leader and catalyst in the SEO community.
They briefly began to expand into inbound marketing with additional tools and products (much like SEMrush), but decided in 2016 to double down on search marketing.
Their two primary tools are Moz Pro and Moz Local. We'll dig into Moz Pro's best tools and features, and briefly touch on Moz Local.
Keyword Explorer
All three tools have some kind of keyword research tool – Moz's being Keyword Explorer. It supplies monthly search volume, keyword difficulty, organic CTR (click through rate), and priority.
Their monthly volume metric is unique in that it gives you a range, accounting for lower volume months and peak months. For example, a term like "tax software" likely peaks during tax season, and has lower numbers outside of tax season, making the volume range really helpful.
Organic CTR is another helpful metric the other tools don't have. This number is Moz's best estimate at what percentage of clicks are available to the organic results for this query.
Their Difficulty metric measures how difficult it might be to rank for this term. Moz's metric is based on on the Page Authority (PA) and Domain Authority (DA) scores of the results that rank in the top 10 for the keyword, as well as a few other factors (like whether the ranking pages are home pages or internal pages, use of keyword terms in the top ten results, and more).
Lastly, Moz's Priority metric combines the other keyword metrics to give you an idea of how high this keyword should be on your priority list. Keywords with the highest search volume, lowest difficulty, and highest organic CTR receive the highest priority scores.
After the keyword metrics, Moz gives you additional keyword suggestions and offers a SERP analysis of the top 10 ranking pages for your keyword.
Their SERP Analysis also shows you what search features tend to show for your keyword as well.
Even without paying for Moz Pro, you get ten free queries using the Keyword Explorer tool each month.
Rank Tracker
Moz's rank tracker allows you to track your own or your competitors' keyword rankings.
You just insert all the keywords you're attempting to rank for, and rank tracker will keep up with their daily movements, how they're performing across other search engines, how they do on desktop v.s. mobile, and which of your competitors are encroaching on your SERPs.
Their competition feature shows search visibility (the estimated percentage of clicks you'll earn based on rankings) for yourself and top competitors across your tracked keywords.
Link Explorer
Moz's Link Explorer (formerly known as Open Site Explorer) has made huge gains in the last few years, following a big update in 2019. Link Explorer includes over 7 trillion URLs, which means a lot of data available to you for analyzing your link profile as well as competitors and prospects.
Link Explorer gives you a site's Domain Authority, total linking domains, total links, and total ranking keywords.
Moz's Domain Authority (DA) was one of the first attempts to predict a site's ability to rank based on its link profile since Google quit displaying sites' PageRank. Since then, SEMrush and Ahrefs have introduced similar metrics of their own.
Domain Authority and Page Authority's goal is to estimate a site's ability to rank based on its total inbound links and linking domains. Sites and pages with higher scores are typically more likely to rank.
Domain Authority underwent a big update in 2019 improving its accuracy with fresh data and taking a site's Spam Score into consideration.
Link Explorer also gives you the percentage of links that are followed vs. no-follow, top links, anchor text, and a breakdown of linking domains by DA.
Site Crawl
Site Crawl is Moz's technical audit tool that identifies SEO-related issues and errors.
It will identify common issues like 400 errors, missing title tags, missing H1 headings, improper redirects, robots.txt issues, and more.
It will even recommend best practices for fixing such errors.
While Site Crawl is not that useful for doing technical audits for larger websites, it can definitely get the job done for smaller ones.
Moz Local
It's worth noting that Moz Local is technically a separate tool from Moz Pro (but you can check your local presence without a subscription).
Moz Local helps you with:
Location Profile Management
Citation Accuracy and Cleanup
Review Management
Social Posting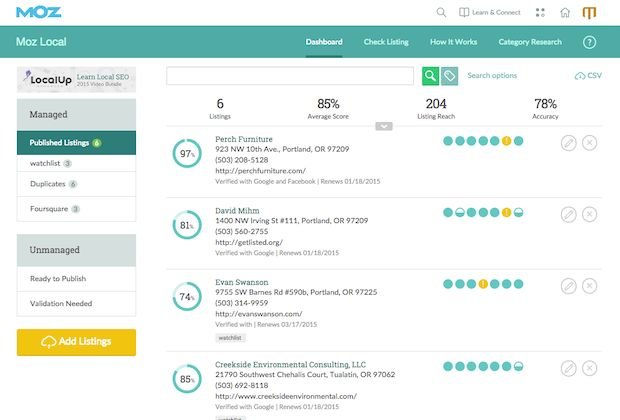 Moz Local is a solid tool for anyone performing SEO for local businesses, but it does cost an additional $129 per year minimum.
Conclusion
Moz is a fantastic tool that does everything an all-in-one SEO tool should do.
Unfortunately for them, it seems other products like SEMrush and Ahrefs have overtaken them from a product standpoint in the recent years. Moz will get the job done, but SEMrush and Ahrefs may get the job done even better.
That said, Moz has a stellar community, top notch product support, and offers 1-on-1 assistance while getting set up with their tool.
SEMrush - Detailed Review
SEMrush was founded in 2008 and provided a decent, small set of SEO tools up until 2015 when they really started to take off.
They grew from 11 total tools in their suite in 2015 to 48 tools in 2020, cementing them as a digital marketing software leader.
Keyword Overview and Keyword Magic Tool
SEMrush has a few different tools and features available for keyword research.
Keyword Overview gives you an in-depth look at a single keyword, offering your typical keyword metrics, as well as some additional insights.
Unlike Moz, SEMrush offers a single search volume, which is a monthly average over the last twelve months. SEMrush also offers global volume so you can see what demand looks like in other countries.
Like Moz and Ahrefs, SEMrush's Keyword Difficulty score tells you how difficult it will be to rank for the keyword based on ranking pages' link profiles, running on a scale from 0-100%.
CPC (Cost per Click) lets you know the average price advertisers are willing to pay for click, which often indicates searcher intent. The higher companies are willing to bid, the more likely the searcher is ready to buy, and the more valuable the keyword probably is.
SEMrush provides some additional insight beneath these metrics with similar keyword variations, commonly asked questions around the topic, and related keywords for additional research.
Beneath these keyword suggestions is a detailed SERP analysis showing link metrics and additional keywords the URL ranks for.
Other than Keyword Overview, SEMrush offers a feature called The Keyword Magic Tool.
It provides thousands of keyword suggestions based on a keyword you input, and offers plenty of filter options for quick analysis.
So what we're getting at here is that SEMrush's keyword research tools are very powerful, easily some of the best on the market.
Competitive Research
SEMrush has an awesome set of tools that can be used for competitive research and analysis.
For starters, Organic Research shows you all the keywords a domain ranks for, whether it's your own or a competitor's. It reveals total number of keywords ranking, rankings by position, as well as estimated traffic.
In addition, Keyword Gap and Backlink Gap are two very powerful features for competitor analysis. Both allow you to input your domain along with up to four competitors to see where gaps lie in both keywords and backlinks.
The report will show you which keywords and backlinks your competitors rank for that you don't, supplying valuable opportunities for your site.
One final competitor analysis feature SEMrush offers is competitor advertising data – a feature that really sets SEMrush apart.
Advertising Research shows you which keywords your competitors are bidding on and how much estimated traffic they're receiving from paid search.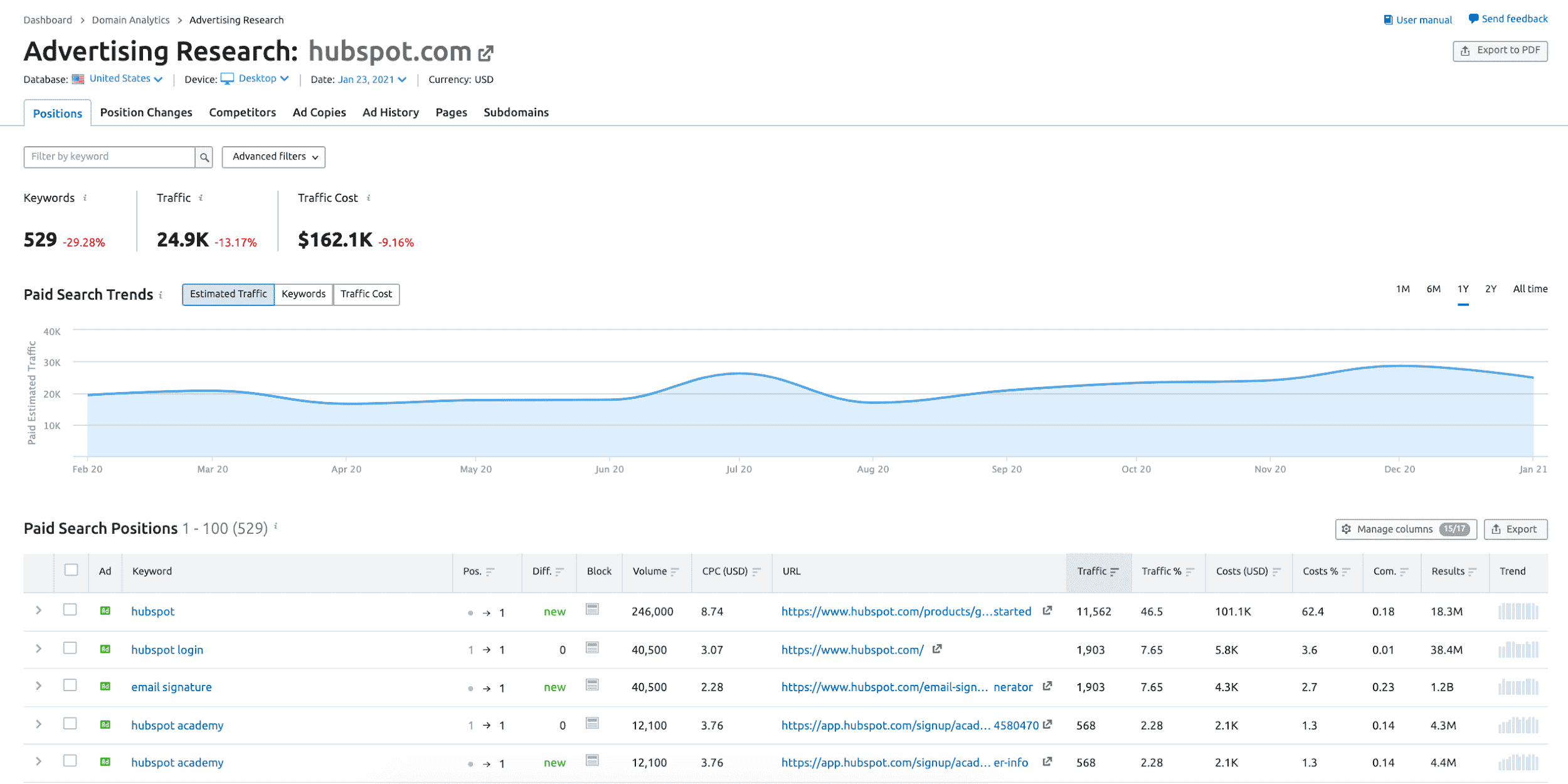 SEMrush doesn't just give you search ad data, but display targeting, creative, and placement information as well.
Backlink Analytics + Link Building
Just like Moz, SEMrush comes with backlink analysis features.
Authority Score (AS) is SEMrush's proprietary link metric. While useful, it's nowhere near as popular as Moz's Domain Authority and Ahrefs' Domain Rating.
Like Moz and Ahrefs, Backlink Analytics shows referring domains, total backlinks, and an anchor text breakdown.
Unlike our other two tools, SEMrush gives a breakdown showing categories of referring domains, which is extremely helpful if you're concerned with topically relevant links.
Link Building is another feature SEMrush offers that Ahrefs and Moz do not. The Link Building Tool gives you link outreach prospects and a system for categorizing different sites.
Once you've selected prospects, the Link Building Tool will even pull email addresses from the site that may be good candidates for outreach. You can then sync your SEMrush account with your email provider, set up templates, and manage all of your link outreach using SEMrush.
The Link Building Tool isn't nearly as advanced as SEO ranking software dedicated to link building campaigns, but nonetheless, it's a solid tool and can get the job done for most.
Position Tracking
SEMrush's position tracking tool is fairly similar to Moz's, providing search visibility for tracked keywords, estimated traffic, average position, and a distribution by position.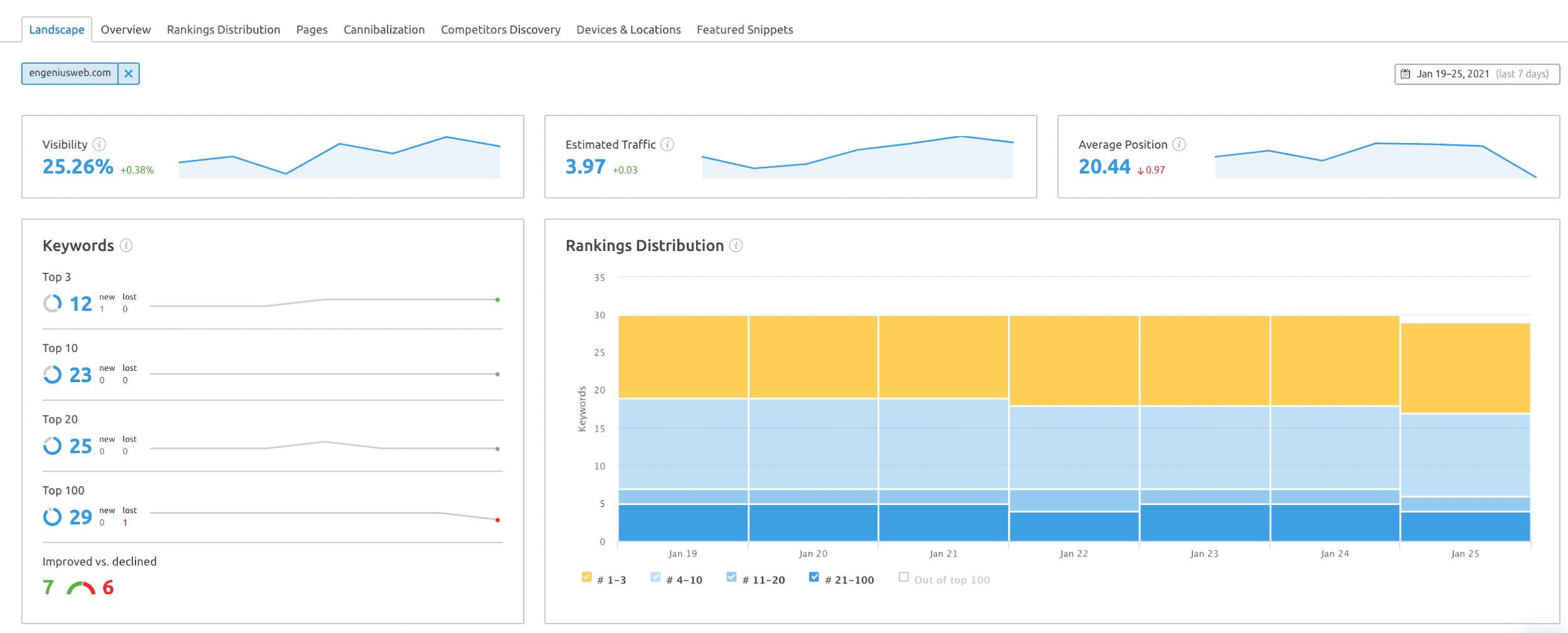 Like Moz, visibility is a measure of the estimated percentage of clicks you'll earn based on how your tracked keywords rank. Position tracking also shows you daily movements and trends. For most keywords, position tracking updates daily.
Site Audit
SEMrush's site audit crawls your site and identifies site health issues, broken down by crawlability, HTTPS, site performance, internal linking, markup, and international SEO.
One really nice thing about SEMrush's site audit is the distinction between errors, warnings, and notices.
Often tools like this will treat all three with the same urgency, despite the fact that a 400 error or key page not being crawled is far more urgent than a missing meta description on an archive page.
Local SEO
Like Moz, SEMrush offers some Local SEO solutions.
You can check your listings from within your dashboard at no cost, or you can pay $20/month for listing management services where SEMrush will ensure your location information remains accurate across 75 different listing and citation sites.
Content Marketing
As we mentioned before, SEMrush comes with a diverse range of content marketing features.
It starts with Topic Research which helps you determine what to write about. Simply insert a broad industry, service, or parent topic to get specific suggestions, questions, titles, and similar articles.
Once you've chosen a topic, you can insert a few relevant keywords to have SEMrush give you a content template. The template will examine top ranking content to suggest semantically related keywords to include, backlink targets, text length, and other basic on-page recommendations.
Once you begin writing, you can use the SEMrush Writing Assistant (either in Google Docs or WordPress) to receive on the fly recommendations as you write.
Like their Link Building Tool, this isn't a perfect content optimization tool, but it will likely do the job for most SEOs. If you're looking for something a little more robust, we'd recommend Surfer.
Conclusion
SEMrush covers almost every SEO use case you could need and adds some additional tools for content marketing and advertising.
If you do a little more than just SEO – specifically PPC and content marketing – SEMrush is the tool for you.
Ahrefs - Detailed Review
Ahrefs started in 2010 as a backlinks index and has grown steadily ever since, becoming one of the most loved tools by SEO agencies in 2021.
They're now an SEO market leader with product features that span far beyond backlink analytics.
Keyword Explorer
Ahrefs' Keyword Explorer is fairly similar to SEMrush's and Moz's, with just a few differences.
It displays keyword difficulty along with an estimated number of backlinks needed to rank in the top 10. This is significantly more useful than a vague "Keyword Difficulty" number that the other 2 tools offer.
Search volume is displayed along with click data (similar to Moz's organic CTR) which shows you how often organic results earn clicks for the keyword in question.
Ahrefs displays CPC, global search volume, similar terms, related questions, and freshly discovered keywords that are similar.
Another nice addition Ahrefs provides is "parent topic" which aims to give you the keyword that drives the most traffic to the top ranking page for your keyword.
Link Explorer
Backlinks are Ahrefs' bread and butter. Their Link Explorer gives you absolutely everything you need to know about your backlink profile as well as your competitors.
Their proprietary link metrics Domain Rating and URL Rating are some of the most widely used in the industry.
As mentioned already, their link database is massive and the most frequently updated of the three tools we covered.
Site Explorer includes additional reports on anchor text, internal links, and new/lost referring domains.
Competitor Research
Plenty of Ahrefs' tools can be used for competitor analysis and research.
One of their best features is Domain Comparison, which gives you a thorough comparison of your site and top competitors – covering everything from total number of links, type of link, social shares, and more.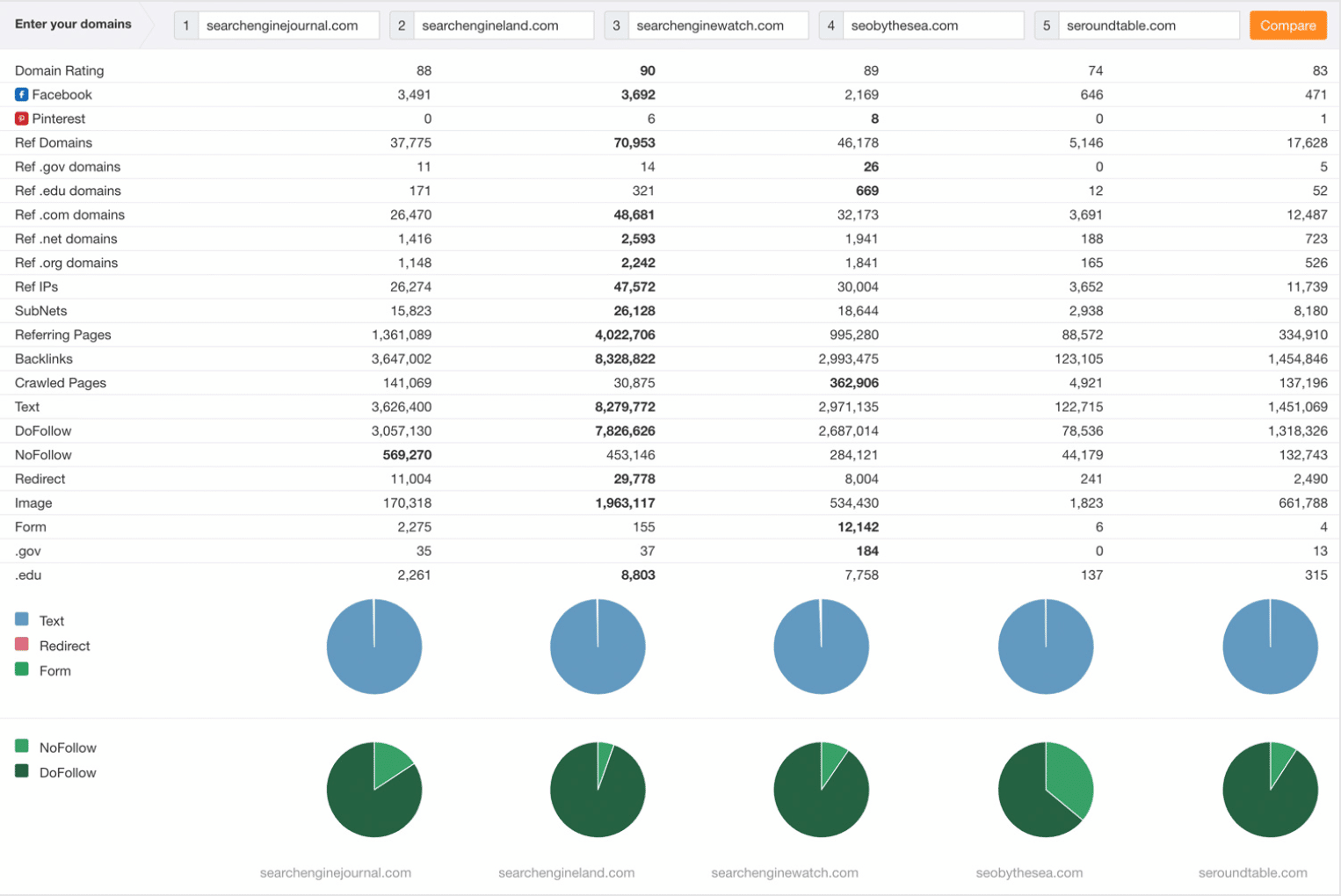 If you want to dig down a little deeper, their Link Intersect and Content Gap tools can help you find additional backlink and content opportunities.
Site Audit
Ahrefs' Site Audit should look familiar, as it's similar to the same tools by Moz and SEMrush.
It gives you an overall health score, issues, suggestions, and more. Like SEMrush, it breaks down the issues in order of importance.
Site Audit checks for over 100 SEO issues including site speed, HTML tags, content quality, and much more.
Content Explorer
Content Explorer is another powerful feature with plenty of incredible use cases.
It analyzes billions of web pages to help you find the best articles on the topic of your choosing.
Content Explorer can be used to identify content promotion prospects, low competition topics, content partnership opportunities, and much more.
For example, if you were running a broken link building campaign, you could easily filter to easily find dead pages on a given topic with backlinks.
Conclusion
Ahrefs has quickly become one of the best SEO tools on the market, and it seems to be heading further in the right direction.
If you're hyper focused on SEO and tend to work on larger sites, Ahrefs is the right tool for you.
Moz vs SEMrush vs Ahrefs - An FAQ
Have any remaining questions on whether Moz, SEMrush, or Ahrefs is the right tool for you? We'll answer them here!
#1. Do they offer any free features?
Ahrefs offers unlimited use of the following features, easily accessible through their footer:
Backlink Checker
Broken Link Checker
Website Authority Checker
Keyword Generator
Keyword Rank Checker
Keyword Difficulty Checker
Website Checker (simple site crawl)
SEMrush offers ten free queries for the following, accessible through their homepage after signing up with your email:
Domain Overview
Organic Research
Backlink Analytics
Keyword Overview
Moz offers ten free queries per month for the following, after signing up for a free account:
Site Explorer
Keyword Explorer
Link Explorer
Link Intersect
#2. Do they offer free trials?
Ahrefs offers a $7 trial for 7 days and provides access to all features included in their Lite or Standard plans.
SEMrush offers a 7 day free trial for the Pro and Guru plans.
Moz offers a 30 day free trial with all features from their Medium plan.
#3. Is a credit card required for a free trial?
Ahrefs: Yes (for the $7 trial)
SEMrush: Yes
Moz: Yes
#4. Do I have API access with all subscriptions?
Ahrefs: Yes, you get access to their free API with limited functionality in all subscriptions. Additional functionality requires their paid API plan.
SEMrush: No, API tokens are only available as an add-on to the Business Plan.
Moz: Yes, all Moz plans allow for free API use, but their paid API is a separately sold product.
#5. Do they offer a discount for nonprofits?
Ahrefs: They don't offer a discount for nonprofits, but they do offer a 20% discount if you pay annually.
SEMrush – They don't offer a discount for nonprofits, but you can get a 16% discount if you pay annually.
Moz – Yes, they offer a 75% discount for nonprofits, and a 20% discount if you pay annually.
#6. What are their refund policies?
Ahrefs: They do not offer refunds, but do invite feedback and concerns at [email protected].
SEMrush: They offer full refunds within seven days on all subscriptions. Email them at [email protected] within seven days of subscribing to request your refund.
Moz: They consider refunds on a case-by-case basis. Email them at

[email protected]

with details to request your refund.
#7. Can I edit my subscription plan?
Ahrefs: They allow you to increase your plan limits above your base subscription.
SEMrush: Each plan comes with different add-ons and customizations that you can add at any time.
Moz: They allow you to add or delete add-ons from your base subscription.
#8. Do they offer customizable plans?
Ahrefs: No.
SEMrush: The enterprise plan is customizable. Their team is open to discussing custom plans.
Moz: Yes, the enterprise plan is customizable.