Over 4.6 billion people around the world use the internet on a regular basis, with the average person spending over 192 minutes (3 hours and 18 minutes) per day online.
Not only is the digital marketing industry huge in size, but it's effective as well.
SEO and content marketing leads have a 14.6% close rate, while outbound leads (like print advertising or cold email) close at an average rate of 1.7%.
But not just anyone can get these kinds of results. Digital marketing campaigns don't have an on and off switch. You need expert digital marketing professionals to effectively tap into digital marketing channels.
But digital marketing is still a young industry – and there are plenty of "professionals" out there who have never truly seen impressive results themselves. To assess the credibility and expertise of these professionals, consider utilizing the digital marketing consultant assessment.
And there are so many channels – it's hard to know which one is right for you.
This makes it really tough to find the right digital marketing professional to grow your business.
But don't worry – we're going to help you find and hire the right digital marketing consultant! In this guide, we'll:
Explain the role and work of a digital marketing consultant
Break down the top 6 digital marketing channels in 2021
Walk you through how to find and a hire a digital marketing consultant (in 6 easy steps)
What is a Digital Marketing Consultant?
A digital marketing consultant specializes in developing, implementing, and optimizing online marketing efforts.
They may handle all of the tasks by themselves, or they may outsource certain tasks and enlist third party help for different campaigns.
Some day-to-day tasks for a digital marketing consultant might include:
Performing keyword research to plan a content marketing strategy
Launching, tracking and optimizing a Facebook ad campaign for lead generation
Digging into a client's analytics to analyze how a certain marketing campaign is going
What Does a Digital Marketing Consultant Do?
The specializations and expertise of digital marketing consultants vary, which means the specific tasks of a consultant look different from expert to expert.
But in general, the typical work of a digital marketing consultant is to:
Define marketing channel investments. There are many marketing channels a business can invest in. A digital marketing consultant's job is to help businesses determine the best channels for them. Consultants do this by testing different channels to determine which ones yield the greatest return on investment.
Define KPIs and goals. Once marketing channels have been defined, consultants determine appropriate KPIs (Key Performance Indicators) and goals. These are typically agreed upon with the client to help gauge the success of the campaigns. For example, if a goal is to increase free signups, the KPIs could be to increase organic traffic by 100% and improve conversion rates by 50%.
Execute online marketing campaigns. Digital marketing consultants either fulfill these tasks themselves or outsource them to other experts. Depending on the decided channels, this might look like rolling out a content marketing strategy, or launching a PPC (Pay per Click) campaign on Facebook or Google.
Measure results, and scale the most effective channels. A digital marketing consultant's job never ends. Their campaigns have to be monitored and optimized. Over time, some channels may prove ineffective while others result in a high return on investment. In such cases, experienced digital marketing consultants will prune ineffective campaigns and double down on the channels that get better results.
Digital marketing is full of different channels that can be tapped into for growth. Some consultants might specialize in a number of channels, while others may have expertise in only one or two. These channels include:
#1. SEO
SEO (Search Engine Optimization) is the work of optimizing your website to rank at the top of search results.
A potential prospect or lead searches for what you do (or a related topic), you rank for it, earn their click, and hopefully convert them on your site.
For example, if you work for a SaaS that focuses on products for team collaboration, you might want to rank for searches like "team communication tools."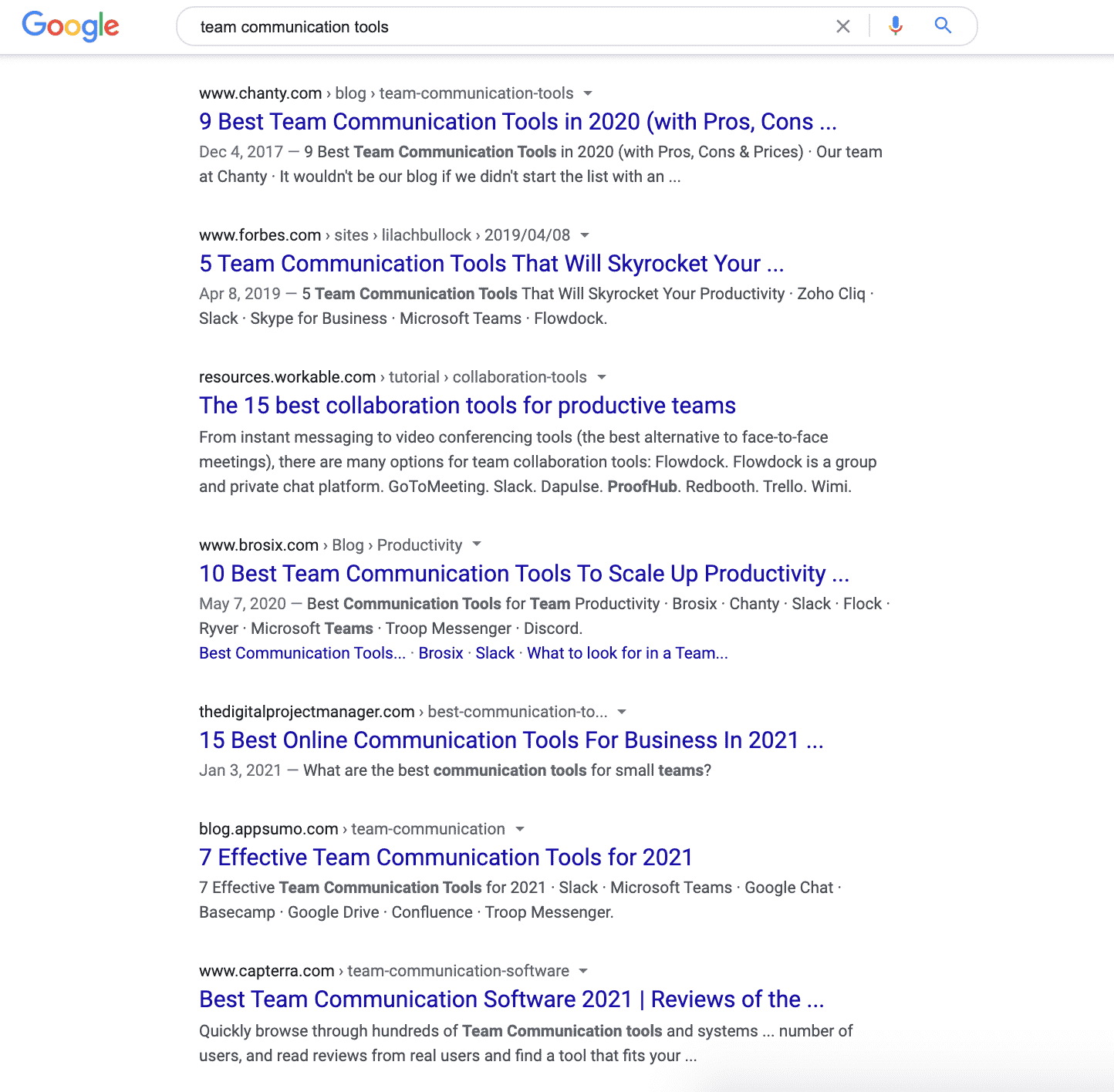 Chances are, anyone that's looking for a team communication tool would want to try your software.
The coolest thing about organic SEO is that once you've earned the rankings, the results continue to roll in over the long term. And on top of that – the traffic is free.
The only downside to SEO, though, is that high rankings can take some time to get. On average, it takes us anything from 6 months to 2 years to get our clients SEO results, depending on several factors.
SEO experts may be skilled in all things SEO, or they may specialize in a certain area of SEO like technical SEO, content creation, local SEO, or link building.
#2. Google Search Ads
Google Ads are similar to SEO in that your pages show up on search engines for relevant keywords.
The difference? You have to pay for clicks.
You select the keywords and phrases you want your website to show up for, set how much you're willing to pay for a click, and bid for placement against competitors each time a relevant search is made that meets your targeting criteria.
Cost per click varies depending on industry and location.
Google ads make the most sense when you need business right away, and don't have the time to wait for organic rankings. They are effective alongside SEO as well, with the two channels supplementing each other.
Expert Google ad consultants are skilled in structuring accounts, keyword research, audience building, conversion rate optimization, and A/B testing.
#3. Content Marketing
Content marketing is the work of creating content – like blog posts, white papers, and videos – to cater to prospects' problems and needs at each stage of the buyer's journey.
It involves creating high quality, authoritative content that helps your target audience solve a problem or answer a question.
Content marketing can be used in a few different ways.
You can create content that solves a problem, promote it to your audience, and drive relevant traffic to your site.
You can also use content as an authority boost to build trust with potential customers. They see you as an authority and thought leader, increasing their chances of converting.
A content marketing consultant is skilled in building buyer personas, topical research, creating editorial calendars, and copywriting.
#4. Email Marketing
Email marketing is a channel that can help you grow your business no matter what industry you're in.
As its name implies, email marketing is an umbrella term of all tactics that involve reaching out to your prospects directly. It can be used for:
Sales Outreach: Using the right tools with the right approach, cold sales emails can get you in touch with target prospects without having to invest heavily in inbound tactics.
Nurturing Leads: Once a lead has expressed interest and signed up for a list or downloaded a piece of content, email marketing is a great way to nurture them into becoming a customer.
Retaining Customers: Email is a great way to stay in front of your existing customers and clients through newsletters, content updates, and new product announcements.
Marketing Outreach: Apart from gaining new customers, email can be a great tool for promoting content, earning backlinks for SEO, and building partnerships.
Email marketing consultants should be skilled in copywriting, A/B testing, email deliverability, and list building. If you use a robust marketing automation platform like Pardot or Hubspot, you may want to look for a consultant with platform-specific experience.
#5. Facebook Ads
Facebook is the largest social network in the world, with over 2.7 billion active users.
It's a great platform to promote your services and build an audience. Its targeting options present tons of opportunities for skilled advertisers. You can target based on:
Interests: What movies they like, spending habits, political views, etc…
Demographics: Age, gender, location, education, etc…
Online Behavior: Spending habits, whether they've visited your site, etc…
You can also upload email lists and create audiences based on actions they've taken on your site, pages they've visited, and time they've spent watching videos.
Facebook Ads are super effective when it comes to direct to consumer products.
A Facebook Ad consultant should have expertise in the platform, audience building, copywriting, A/B testing, and optionally graphic design.
#6. LinkedIn Ads
LinkedIn has over 700 million users and continues to grow in size.
It's a platform for business professionals, which makes it a gold mine for B2B marketing. With LinkedIn ads, you're able to target based on job titles, company size, years of experience, job functions, and a whole lot more.
Advertising costs on LinkedIn are much higher than Facebook, but if your customer life-time value is high, it can be quite easy to make up for this.
Thanks to the targeting criteria available to you, LinkedIn can be a great way to:
Sell high-ticket products and services to executives
Recruit professionals in a specific field
Advertise software to decision makers at target companies
LinkedIn ad consultants should be skilled in audience building, copywriting, A/B testing, and optionally graphic design.
How to Find & Hire a Digital Marketing Consultant - 6 Easy Steps
Now that you're familiar with what a digital marketing consultant is and some digital marketing channels that might make sense for your business, we're going to walk you through how to find and hire a consultant yourself.
#1. Research What You Need
If you're unsure what channels you need to invest in, do a little research prior to making contact with consultants.
Well-rounded digital marketing experts may be able to help you strategize and recommend specific channels, but coming to them with some idea of what will work for you first can be really helpful.
If you have no clue what you need, and you start a conversation with a Facebook Ads specialist, there's a decent chance they try to sell you on Facebook Ads – even if this isn't the best channel for you.
Before you start a conversation with a consultant, you should have a good grasp on a few things:
Your Company Goals: You might not need specific numbers, but you need to know if there's a certain area of business you need to grow this year, if you have ambitious sales goals, or if you're pivoting in the coming months.
Your Budget: At least have a ballpark figure of how much you can invest in digital marketing.
Your Audience: Good digital marketing consultants can help you define your audience, but you need to have some idea of your ideal customers.
#2. Source Digital Marketing Consultants
Once you have an idea of what kind of help you need, the next step is to enter into a consultancy agreement with the right digital marketing consultant for your business.
Here are some great places to go to find digital marketing consultants:
Facebook Groups. Facebook groups are a great place to find digital marketing consultants. Check out Marketing Solved or CXL for inbound marketing and SEO Signals Lab for SEO. These are full of topic experts, so just post that you're seeking digital marketing help, and you'll receive a ton of replies.
LinkedIn: This is a great place to find professional marketers. Just use the search and filter functionality to find general digital marketing or channel-specific consultants. You can reach out to them directly.
Google: Search for "top digital marketing consultants" or channel-specific case studies to find proven professionals.
E.g. If you're looking for an SEO, look up SEO case studies.
Job Boards: Of course, you can also use job boards to source digital marketing consultants. Some of the ones we recommend are: AngelList, We Work Remotely, JobRack, or Outsourcely.
#3. Evaluate Their Experience
When evaluating digital marketing consultants, consider the following factors:
Relevant Experience: Make sure they have experience in the channel you're seeking. Lots of digital marketers are willing to expand their expertise, but your business shouldn't be their testing grounds.
Past Clients: Have they worked with a good number of clients? Do you recognize any of them? Have they worked with businesses in your industry before?
Previous Results: Have they achieved results that you're looking for in the past? If they haven't, that doesn't mean they can't, but you should find a consultant who has previously accomplished what you're hiring them for.
#4. Read Their Testimonials and Case Studies
If they didn't give you testimonials and relevant case studies up front, you should ask for some.
Read over their testimonials and look for detail. Who are the testimonials from? Are they real people?
Chances are, if the testimonials are extremely vague, they might actually be fake (or from their cousin).
On the other hand, detailed and descriptive testimonials tend to come from really happy clients.
Consultants who have achieved results for clients in the past should also have case studies of their work.
In the case studies, look for client challenges, goals, tactics administered, and tangible evidence of the results.
Keep in mind that data can easily be skewed, so look for success over spans of time. Data from one or two weeks probably means the rest of the campaign was sub-par. Data from months or years is what you want.
For example, if you see a case study on "How We Increased a Website's Traffic by 100%," you can't really know how impressive this is. They could've improved the traffic from 10 to 20, or from 100,000 to 200,000 - and only one of these results is impressive.
Instead, look for case studies that show:
Exact results in numbers and not percentages
Timeframe
Details on what the digital marketing consultant did to get these results
#5. Interview the Consultants
Once you have a shortlist, it's time to interview your top candidates.
Even if you've already read every word of their resume, website, and case studies – ask the questions regardless. This will help you determine if they truly live and breathe digital marketing, or if they just copied and duplicated what they sent you.
Dig into previous experience, past clients, and have them discuss their best client engagements.
At the same time, though,you should also use this time to get to know them as a person and evaluate their soft skills:
Are they a good communicator?
Have they had issues with clients in the past?
Will they work hard?
Will they meet deadlines?
Will they take feedback and direction well?
Keep in mind you will probably be working very closely with this person. So, take your time with the interview and really get to know them.
#6. Set Expectations
Once you've made a hire, it's important to set clear expectations.
Make sure you discuss:
Their availability
Appropriate turnaround times
Rates and payment schedules
Any tools they need to use
Setting clear expectations up front will make the entire experience better for both parties and prevent awkward conversations down the road.
Work with Apollo Digital - Seasoned Digital Marketing Consultants
Are you looking for a team of experienced and proven digital marketing consultants?
Our team here at Apollo Digital could be your best fit.
We have over six years of experience in SEO, content marketing, and PPC. In that time, we've helped a number of clients from SaaS, HR tech, and e-commerce industries grow their businesses through digital marketing.
We recently helped a SaaS business process management software increase their monthly traffic from around 8,000 to nearly 200,000 in less than two years.
We've also grown the organic traffic for an HR tech startup from 1 to 1.9 million in less than a year.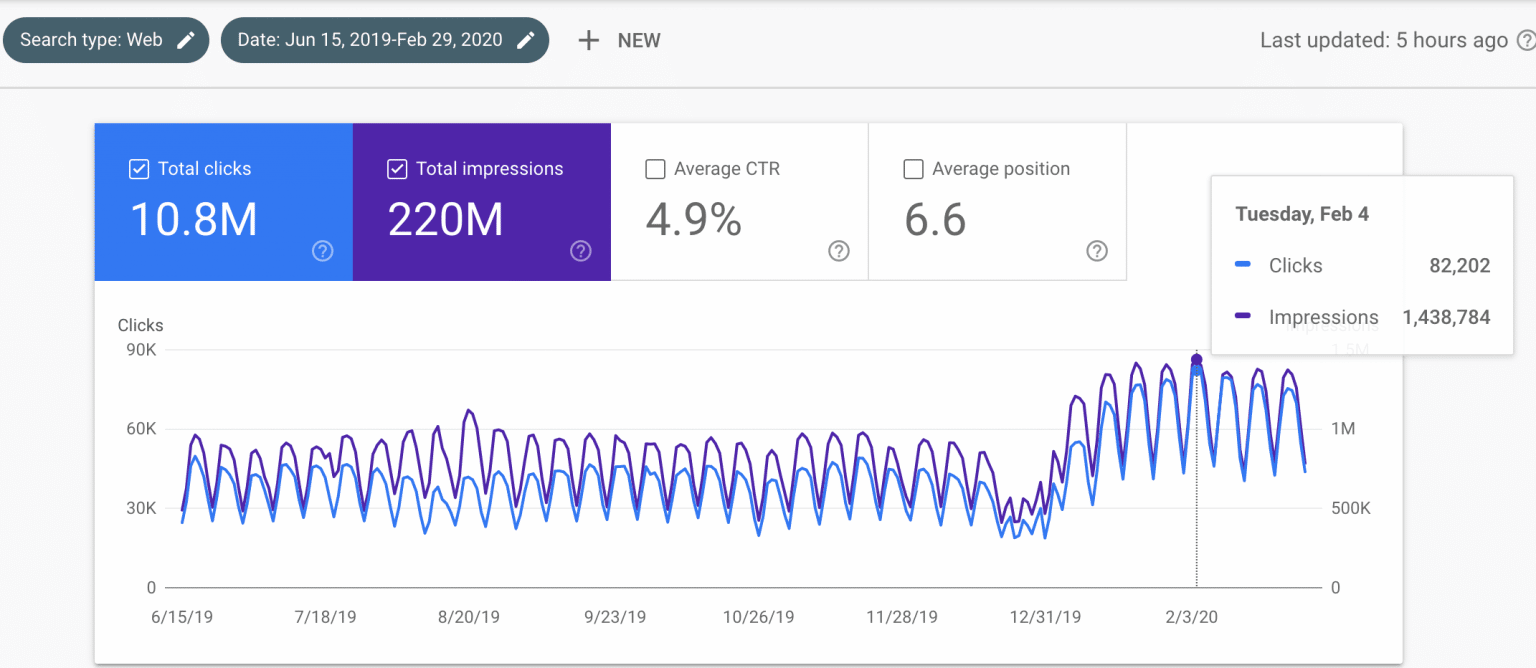 So, looking to kickstart your digital marketing? Get in touch here!
For more awesome digital marketing content, check out: