It's tough to create B2B marketing strategies from scratch.
There are thousands of articles on the web about how to craft a B2B marketing strategy – many written by those who have never done it successfully.
You could spend a ton of time reading all of them, but sometimes seeing real-life examples is far more useful.
In this article, we're going to cover 25 successful B2B marketing examples to inspire your own marketing strategy and growth:
How HubSpot Generates $271 Million Annually With Inbound Marketing
How Shopify Increased Their Revenue by 90% in 365 Days
The Exact Strategy Apollo Digital Used to Grow a BPM SaaS from 0 to 200,000 Monthly Organic Traffic
Slack's Secret Sauce for Driving 100,000,000 Website Visitors per Month
And so much more!
So, let's get started!
#1. HubSpot: $271 Million Inbound Lead Generation Machine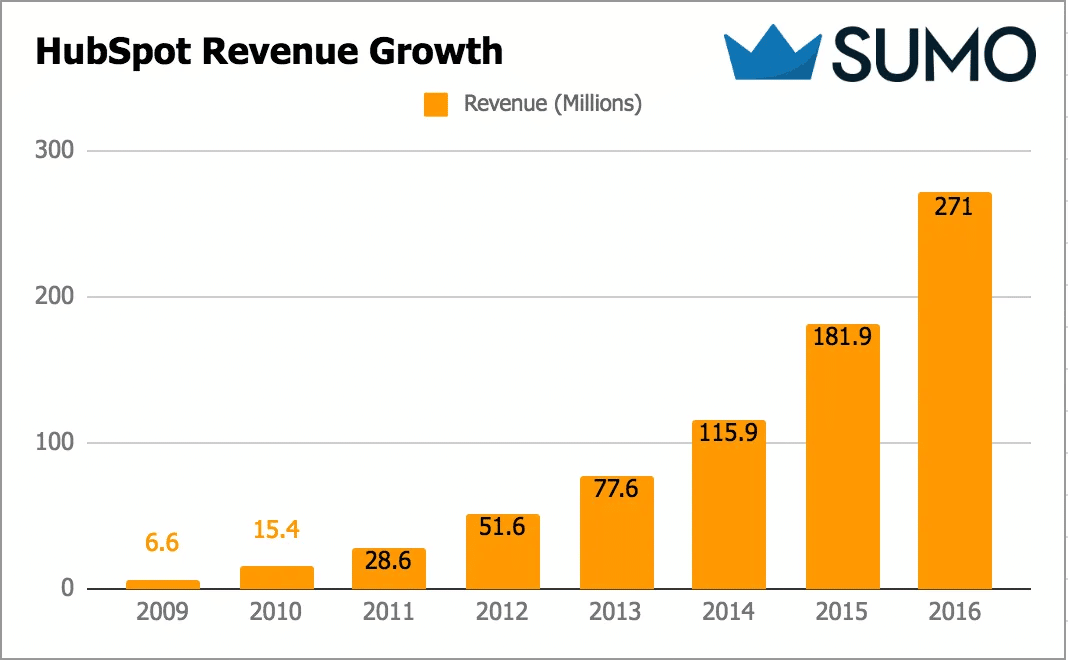 HubSpot is a B2B marketing powerhouse. You can't be in B2B marketing and not be familiar with them.
HubSpot began as a CRM and marketing automation software but has quickly grown into an all-in-one marketing solution. Not only is their software impressive, but they've also become a thought leader in all things inbound marketing.
They quickly grew from 6.6 million to 271 million in annual revenue in seven short years. How did they do it?
Category Creation: HubSpot essentially created the inbound marketing category. Their co-founder coined it for the first time in 2005, paving the way for Hubspot to become the ultimate thought leader. This catapulted their brand recognition.
Community Marketing: HubSpot created Inbound.org, an online hub for marketers to connect, learn, and find jobs. It quickly grew to over 170,000 members within just a few years.
Content Marketing: HubSpot wrote the book on content marketing. Not only do they dominate SERPs with content that ranks, but they have an insane library of downloads as well.
Micro-Influencers: HubSpot has nearly 300k followers on Instagram, thanks in large part to their partnerships with micro-influencers. They encouraged HubSpot partners to post original content promoting their software, which skyrocketed their following.
Read the full case study on Hubspot's market takeover.
#2. Shopify: Increased Revenue 90% in 365 Days
Shopify has been dominating the eCommerce market for some time now. They boast nearly 400,000 customers and over 100 million people buying from their websites.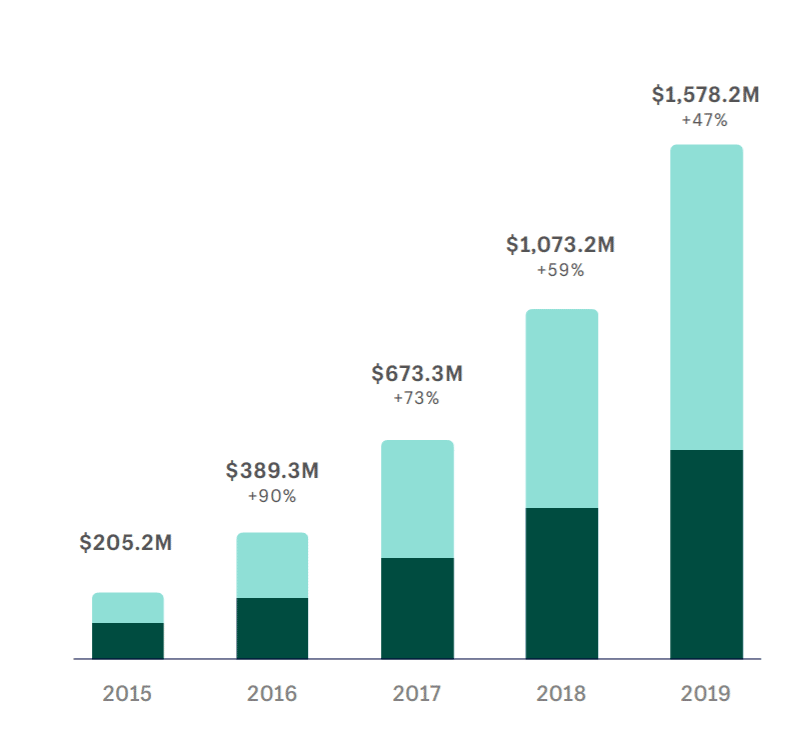 In 2018, they almost doubled their product revenues from $7.7 billion to $15.4 billion. Here's how they did it:
Top of Funnel Content: Shopify dominates the top of the funnel on search engines, with over two million ranking keywords (like "ecommerce" and "online store"). Not only do they create great content, they also build awesome free tools.
A Sticky Free Trial Offer: Their bread and butter is the free trial. Once they have you on the site, they push the free trial hard. Shopify is such an impressive software, it's nearly impossible for prospects to opt-out after using it for two weeks.
A Killer Onboarding Sequence: Once you've started your free trial, they convert like crazy through persuasive microcopy, timely CTAs, and great subject lines.
Read the full case study on Shopify's massive revenue growth.
#3 Apollo Digital: 0 to 200K Monthly Organic Traffic
Apollo Digital has worked with many SaaS and B2B companies to achieve huge results through SEO and content marketing.
Last year we catapulted a business process management software from zero to nearly 200,000 monthly organic traffic in just two short years. Here's how we did it:
Revamped Content Strategy: Completely revamped their content strategy by identifying content suffering from keyword cannibalization and proposing improvements.
Fresh Keyword Research: Performed additional keyword research to pinpoint our client's highest priority keywords and phrases.
Thorough Outlines: Created thorough and detailed content outlines to ensure writers were creating relevant and optimized content every time.
Prioritizing User Experience: Optimized all content not just for search engines, but for users as well. Easy-to-read content always wins.
You can find the full SEO case study here.
#4. Slack: 100,000,000 Website Visitors per Month
Slack needs no introduction. They are one of the fastest-growing SaaS platforms of all time, thanks to some brilliant SaaS marketing strategies and tactics. Here's how they did it:
Ranking on Review Sites: Instead of trying to rank for competitive terms like "collaboration software," Slack earned high rankings on the sites that do dominate these keywords like G2 and Capterra.
Integrations: Much of Slack's traffic is referral traffic from sites that integrate with Slack.
Powerful Landing Pages: Slack put heavy emphasis on their landing pages, using persuasive copy and social proof to convert visitors.
Check out the full case study on Slack's growth here.
#5. Intercom: $50 Million Annual Recurring Revenue
Intercom is a massive software company dedicated to customer experience. It has grown rapidly over the last seven years and boasts more than $50 million in ARR. Not only that, but Intercom continues to grow without spending loads on sales and advertising.
Here's how they do it:
Dynamic Landing Pages: Intercom thrives on personalized content catered incredibly well to the user. Their landing pages convert.
Competitor Analysis: Intercom relies heavily on digging into their competitors' SEO rankings, strategies, and tactics.
Semantic SEO: Many of their pages and posts rank for loads of keyphrases rather than just a single target keyword. They achieve this through thorough, semantic B2B SEO efforts.
Check out the full Intercom case study here.
#6. Mailchimp: $400 Million in ARR
Mailchimp has been an email marketing leader for around ten years, but their growth hasn't always been as rapid as some of our other examples. They spent years experimenting and testing different tactics and strategies.
Now they sit as a marketing automation leader with over $400,000,000 in revenue each year. Here's how they did it:
Custom Audiences: A lot of Mailchimp's traffic comes from Facebook advertising where they use well-targeted custom audiences and personalized funnels.
Creative Campaigns: A few years ago Mailchimp launched a campaign playing on their funny name. Their multichannel approach resulted in a ton of new brand awareness.
Effective Landing Pages: Their creative landing pages lead with curiosity and end with a low friction CTA.
View Mailchimp's full case study here.
#7. GrooveHQ: $5M/Year Business in 3 Years With Content Marketing
GrooveHQ is a customer support and service platform helping businesses deliver standout customer experiences to their client base.
Over the last three years, Groove has become a $5 million per year business by investing exclusively in content marketing. Here's how they did it:
Listening to Customers: Questions from customers and prospects is one of the only things that fueled their content calendar early on. They wrote content based on common questions and topics their customers wanted more information on.
Smart Outreach: Rather than generic link outreach, Groove asked well-known leaders in the space for feedback on their content. This proved extremely effective in earning links and shares.
Storytelling: Rather than jumping straight into the practicalities of each post, they learned their audience wanted a story. So they lengthened their intros which increased the average time on page by around 300%.
Check out the full case study on how GrooveHQ grew their business with content marketing.
#8. OptiMonk - How iSpionage Increased Blog Referral Traffic by 58% in 1 Month Using Onsite Retargeting
iSpionage is an awesome tool that allows you to download AdWords competitor keywords with the click of a button and monitor competitor PPC landing pages. With the help of Optimonk, they increased blog referral Traffic by 58% in one month using onsite retargeting.
Exit Intent Popups: They used an OptiMonk exit-intent popup to entice users to check out their main homepage.
Personalized Engagement: The popup only appeared for readers who had spent a minimum of ten seconds on the blog. And for a better visitor experience, they limited the popup to appear a maximum of five times for repeat visitors.
Check out the full iSpionage case study by OptiMonk here.
#9. G2: 50k to 1 Million Monthly Organic Visitors in a Year
Most people in the world of SaaS are familiar with G2, one of the leaders in the business software review space. Businesses all over the world use G2 to help them choose software for their business.
Starting in 2017, they began investing heavily in content generation, taking their blog traffic from around 50,000 sessions in March of 2018 to nearly 1 million sessions in March of 2019. Here's how they did it:
Keyword Research: G2 dug deep into direct competitors' ranking keywords as well as some non-competitors to get keyword insights (like Hubspot).
Everyone Does Outreach: Not only did their link building team distribute content, but their writers as well. All hands were on deck for building links.
A Sound Process: G2 produced a lot of content thanks to solid systems and processes that spanned across the SEO and writing teams.
Check out G2's full case study here.
#10. SEMRush - 71 Upsells from a Game
SEMRush has been an SEO tool market leader for a few years now. One B2B marketing tactic that skyrocketed their growth was a not-so-standard one: games.
In 2017, they created an Easter-themed game that encouraged users to expand what SEMRush features they used, leading to 71 upsells. Here's how they did it:
Familiar Design: The games they designed didn't only look good, they were familiar. There was no learning curve to play them, which led to high engagement and shares.
Holiday-jacking: You may be familiar with newsjacking (creating content around big news stories). SEMRush created their game around the Easter season, increasing their chances of going viral.
Post-Campaign Nurturing: After the game launched, they created email sequences to follow-up with customers who played the game. This led to further engagement and some conversions.
View SEMRush's full case study.
#11. Stanley Black and Decker - 30% reduction in sales cycle length
Stanley Black & Decker is an 11-billion dollar global provider of diversified tools, storage, and security. In addition to selling tools directly to customers, they also sell franchises. But unlike the B2C side of their company, they lacked customer data and strategy to engage with their end-users.
Implementing Pardot (a B2B marketing automation platform) helped them grow their market share and reduce the length of their sales cycle by 30% within one year. Here's how they did it:
List Segmentation: Stanley Black & Decker had a lot of customer email addresses. But instead of sending out generic mass emails, they segmented their lists for personalized messaging.
Dynamic Content: They used dynamic content on their landing pages to extend the personalization of their email workflows.
Blending Sales and Marketing: A single platform for sales and marketing automation allowed them to align their teams for better collaboration and more closed deals.
Read Stanley Black and Decker's full case study.
#12. BrightEdge - 994% Organic Lead Growth for Payroll Software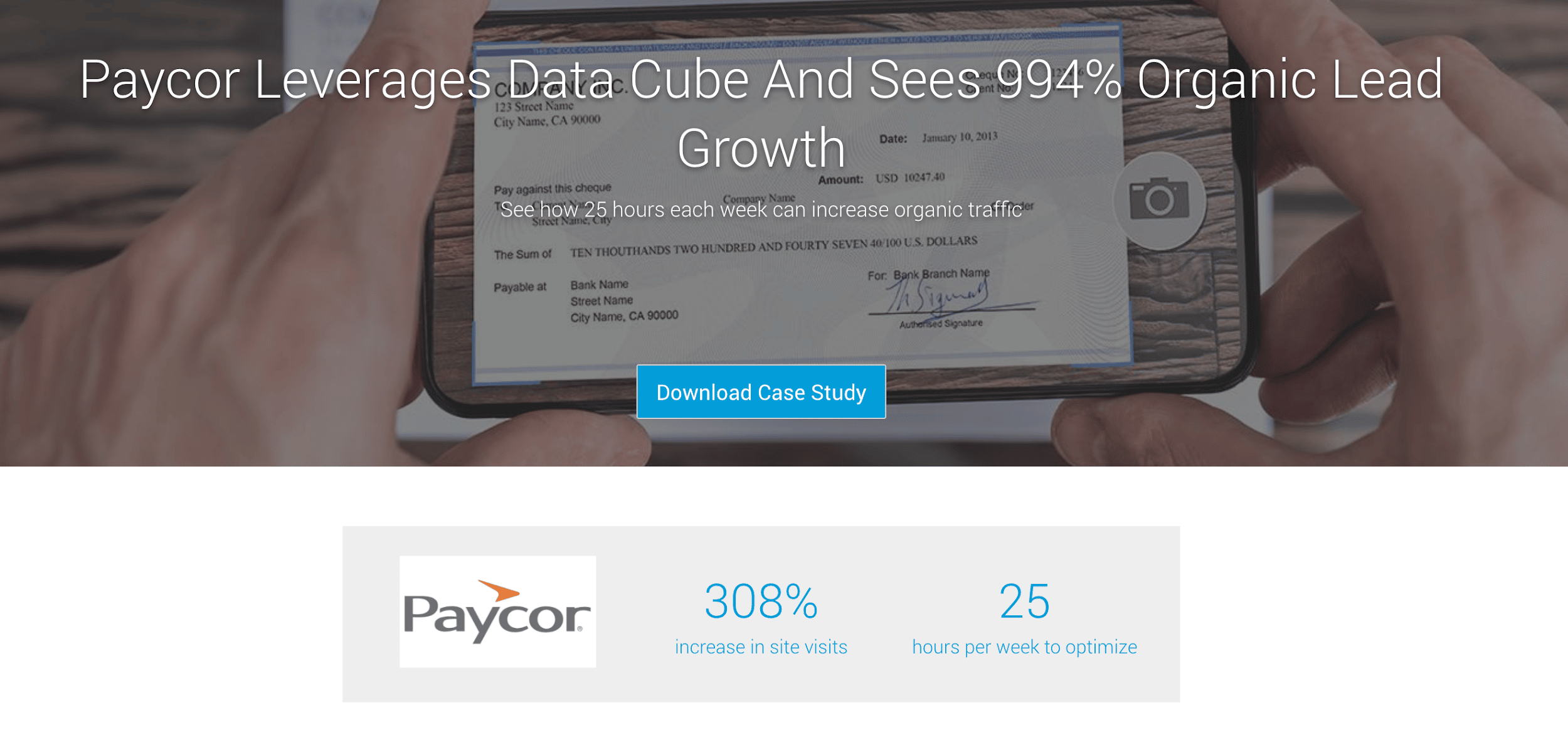 Paycor, a payroll and human resources software, needed help scaling their SEO efforts. Their small team didn't have the resources to make the huge leaps they wanted.
During a big site migration, Paycor got help from Brightedge's toolset to increase their site visits by 308% year-over-year. Here's how they did it:
On-Page and Technical Optimization: The Paycor team started with foundational optimizations to set the stage for serious growth.
Updating Content: The team evaluated high performing content to identify new opportunities post-migration.
Focus on UX: Paycor used Brightedge's Autopilot tool to assist in offering users an overall better UX when finding relevant content.
Read the full Paycor case study here.
#13. BuzzSumo: $2.5m Annual Revenue in its First Year
Buzzsumo is a platform that helps marketers discover content ideas, uncover platform insights, identify relevant influencers, and much more.
They launched in 2015 and posted $2.5 million in revenue that first year. Here's how they did it:
The Freemium Model: BuzzSumo mastered the freemium model in its first year, ending it with over 160k free users.
First Class Influencers: They gained respect and publicity from some big marketing names (like Rand Fishkin, Larry Kim, and Neil Patel) very early on.
Unique Content: They generated a lot of compelling content in their first year. And it wasn't just any type of content either, they shared industry-leading research and told compelling stories through data.
Check out BuzzSumo's full case study.
#14. Document360: $20k MRR Through SEO

Document360 is a knowledge base software that helps growing companies create support documentation for users.
The company was founded in 2017 and has already grown to $20k MRR. Here's how they did it:
Sales-Focused Content: When you read Document360's blog, you won't find content with a few CTA's here and there. They speak about their products' features and benefits all throughout their blogs – even those that are more generic and top-of-funnel focused.
Seamless Onboarding: The product's new user onboarding experience is incredibly smooth, which proves the product's value immediately and increases the chances of converting free trial users.
An Authority Podcast: Document360 hosts a niche podcast on knowledge bases and regularly hosts other leaders in the field. This expands their reach and increases their brand authority.
Check out the complete case study here.
Let's skyrocket your traffic together!
#15. Buffer: 3x Reach and Engagement on Facebook
Buffer is one of the most popular social media scheduling and engagement tools on the market. In late 2016, their marketing team dramatically changed its Facebook posting strategy.
Their change resulted in tripling their monthly reach and engagement. Here's what they did:
Less Posting: They began focusing less on frequency and more on quality, only posting entertaining or educational content.
Curated Content: Instead of constantly posting original content, Buffer found that curated content from other publishers can perform just as well.
Boosted Posts: It doesn't cost a ton to give your posts a little bump and see huge increases in reach. Buffer spent around $40/day on boosting their posts.
Check out the full case study from Buffer.
#16. ActiveCampaign: How They Grew to Over 50,000 Customers
ActiveCampaign has emerged over the past few years as a market leader in the email and marketing automation space. But this hasn't always been the case.
They grew rapidly in 2016 and 2017, taking them over 50,000 customers by early 2018. Here's how they did it:
Clear Target Personas: ActiveCampaign is very clear on who they're targeting. They have fantastic landing pages for each vertical they're going after.
An Effective Conversion Funnel: Not only do they have a free trial to get users in the door, but the next step in the funnel after a free trial is a $9/month subscription. There's no big jump to hundreds per month, allowing users to move through the conversion funnel with little friction.
Software Review Pages: Their pages on software review sites like G2 and Capterra rank really well thanks to loads of positive reviews – a reflection of their great product.
Check out the full case study here.
#17. MeetEdgar: $144k MRR After 11 Months in Business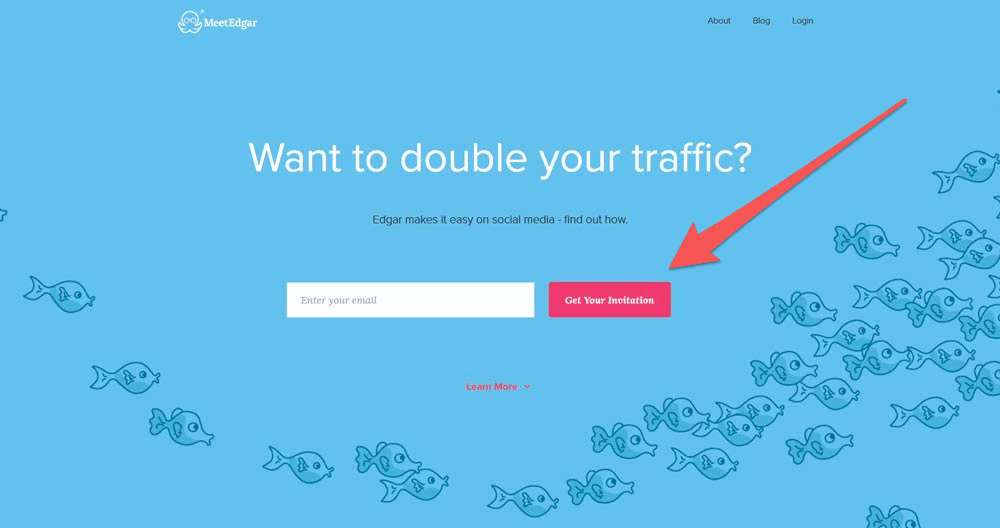 MeetEdgar offers automated social media marketing solutions to businesses of all shapes and sizes. After only 11 months in business, they grew to $144k MRR.
Here's how they did it:
Low Commitment CTA's: Their primary CTA's early on were built around free trials and used low commitment copy like "Get Your Invitation" as opposed to those that required a little more work like "Start Your Free Trial."
Consistent Content: It's not the sexiest tactic, but they've focused on publishing consistently, resulting in solid organic traffic.
Leading with Story: Much of MeetEdgar's sales content focuses on their story, making their company more personable and relatable to prospects.
Read the full case study here.
#18. Zapier: Zero to 600,000+ Users in Just Three Years
Zapier is a major player in the automation world, allowing marketers to easily integrate apps and software without being familiar with APIs.
Zapier grew to over 600,000 users within three years of its launch. Here's how they did it:
Paid Beta: To get their first users, Zapier charged $100 for access to their first beta. They didn't necessarily need the money but wanted their users to commit to using the product.
App-to-App Landing Pages: Their marketing team created landing pages for every integration Zapier offered, capturing a ton of search traffic and often converting.
Co-Marketing: Zapier took advantage of their 100+ integration partners to get help promoting their product through their partners' marketing channels.
Read the full Zapier case study here.
#19. ConvertKit: A Long Road to $1.7m MRR
ConvertKit is a SaaS web application helping creators build audiences and market to them. Founder Nathan Barry had a slow start in building his product, but it took off in 2016.
ConvertKit now boasts $1.7 million in MRR. Here's how they got there:
A Narrow Niche: In the early days, the software was trying to do too much. In 2015, they narrowed their niche and began focusing primarily on bloggers.
Partner Webinars: ConvertKit reached out to many of their partners pitching co-marketed webinars. Many took them up on it, expanding their audience big time.
Adding a Freemium Model: They added a freemium model to their plans, not only to upsell these users but also to earn referrals and exposure through them.
#20. Drift: A Multi Million Dollar Brand Built on Content Strategy
Drift revolutionized B2B marketing with the invention of a new category: conversational marketing. Their vision is to end forms for lead generation and replace them with conversations through chatbots.
Since their founding in 2016, they've been trusted by over 50,000 businesses to help them align sales and marketing through their product. This is largely in part due to their content marketing strategy. Here's how they did it:
6 Star Content: Many in the marketing world are familiar with "10x content," but Drift's marketing team went after 6 star content. They sought to create content significantly better than everyone else's in the market.
Diverse Content Mix: Although most of their content is focused on top-of-funnel topics, they also have a healthy amount of case studies, product features, branded content, transcripted podcasts, and more.
Co-marketing: Drift regularly features other companies in their content, giving them a healthy boost of exposure and brand awareness thanks to the reach of their partner companies.
Check out the complete case study here.
Grab our FREE checklist and discover why!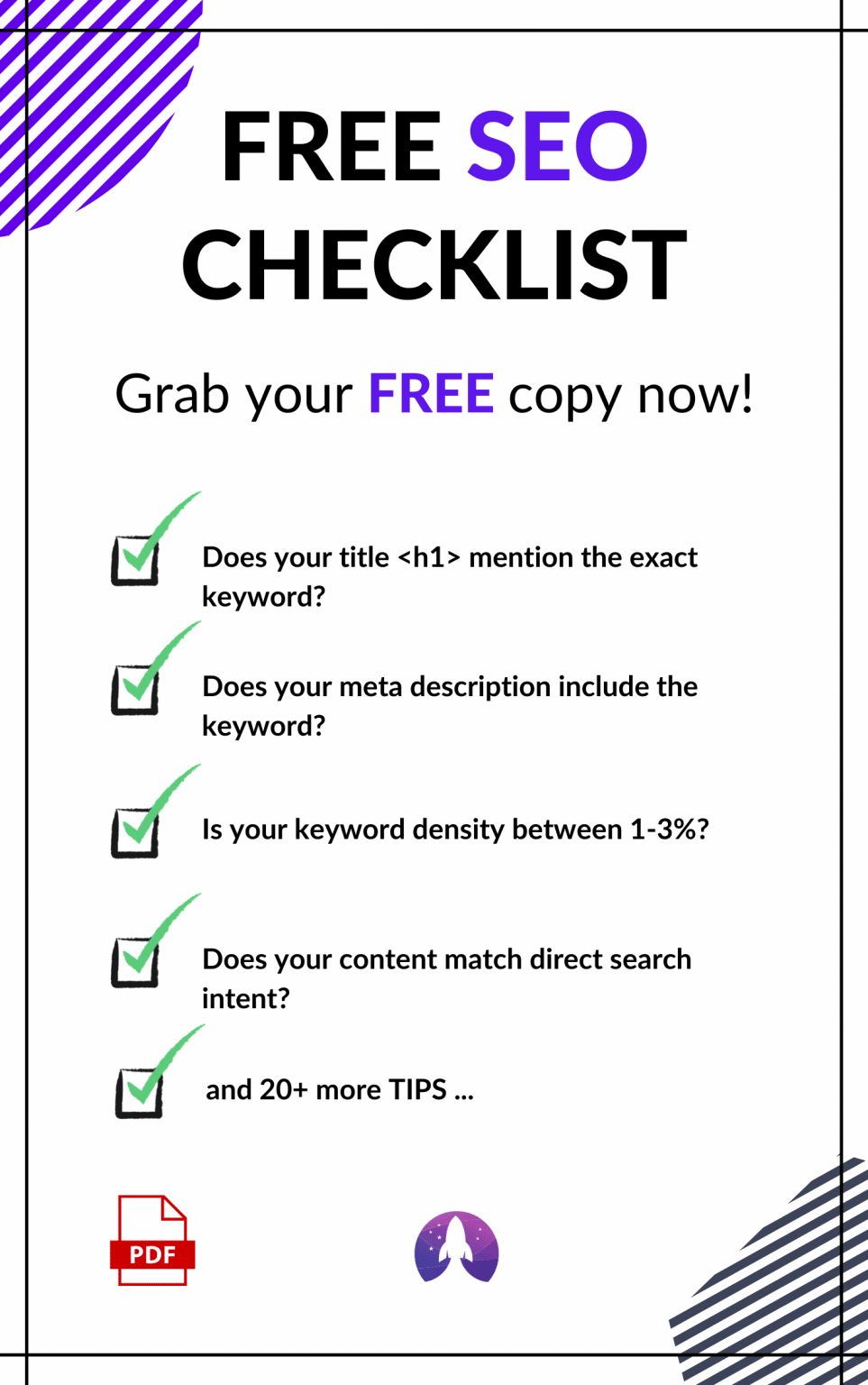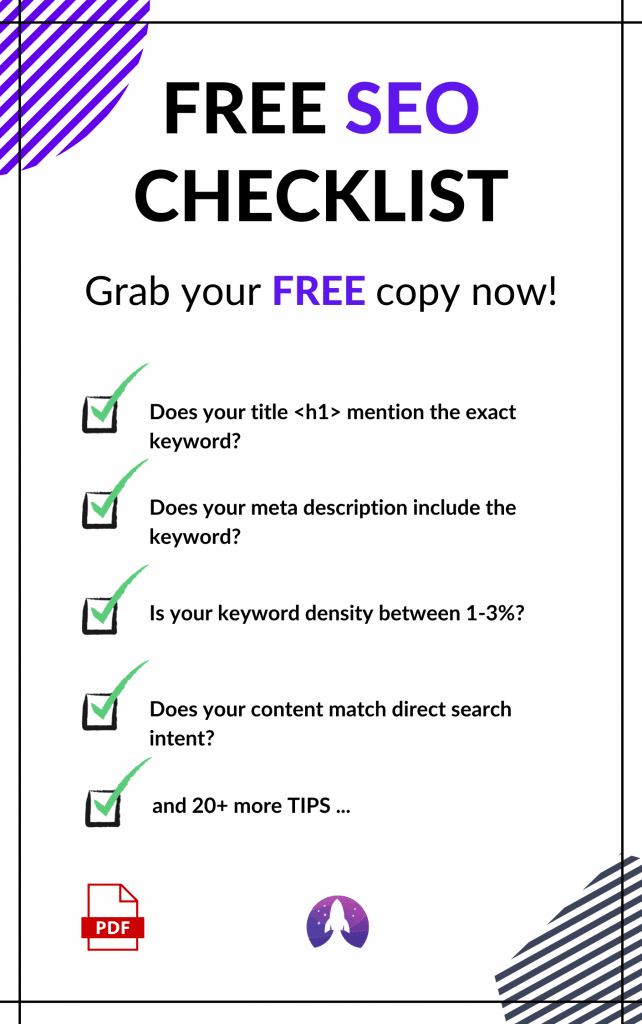 #21. Bonjoro: How They Grew To Over 40,000 Users With Earned Media
Bonjoro is a platform dedicated to helping users improve customer engagement with personal videos.
Their focus on earned media helped them grow to over 40,000 users. Here's how they did it:
Podcasts: Bonjoro pitched hundreds of podcast hosts on having members of Bonjoro's team on, leading to being featured on over 100 podcasts.
PR Outreach: Bonjoro earned a ton of press through releases and pitching queries on Help a Reporter Out.
Webinars: Bonjoro's CMO partnered with companies in similar niches and earned exposure through many co-marketed webinar events.
Read Bonjoro's full case study here.
#22. Chris Von Wilpert - The Ski Slope Strategy for $100,000 Per Month
Chris Von Wilpert wanted to create a system of compounding traffic in order to scale a small startup. To achieve this, he used a tactic he coined himself called The Ski Slope Strategy.
This content marketing strategy helped him grow to over $100,000 in MRR fairly quickly. Here's how he did it:
Build Topic Clusters: The first step to the ski slope strategy is to create topic clusters to capture new organic opportunities. Rather than one-off blog posts, he created clusters of related posts for each topic.
Marketing Promotion: Once he captured traffic with topic clusters, he ran promotions to convert his traffic and capture emails. These included giveaways, discount offers, courses, and tools.
Case Studies: Once he began driving traffic and capturing emails, he heavily pushed case studies in order to push leads over the edge and convert them to customers.
Read more about Chris Von Wilpert's case study here.
Work with a B2B Marketing Agency
Hopefully these B2B marketing examples have inspired you to accelerate your own business' growth!
But rest assured, most of these tactics and strategies are not quick fixes or easy hacks. They require time and effort.
And unless you're a B2B digital marketing expert, it's going to take you a while to get your growth marketing to work for you.
Want to partner with a company that's been there, done that?
Apollo Digital is a full-service B2B digital marketing company. We've worked with over a dozen B2B companies spread through multiple industries, and we can help you too!