How much is your law firm willing to pay for a single new lead?
$100?
$500?
Maybe even $1,000+?
Truth is, running Google Ads to get more clients for your law firm can quickly get very expensive - you can expect to pay anywhere between $200 and $800 for a single click.
And, aside from being extremely expensive, paid ads stop bringing you leads once you stop paying for them.
So, you might be thinking…
Is there a way to get hundreds of leads each month, without spending a dime?
Yes, there is - and it's called law firm SEO.
Law firm SEO can help you to optimize your law firm website for search engines so that it shows up on top of the first page when your customers look for a law firm on Google.
Like so…
Now, you're probably wondering how do you "do" law firm SEO - is it something your web dev guy can do when developing your website, or is it something entirely different?
In this guide, we'll teach you everything you need to know about law firm SEO in non-technical terms, including:
Law Firm SEO Basics
Top 6 Law Firm SEO Ranking Factors
Keyword Research for Law Firm SEO
Content Marketing for Law Firms
On-page SEO for Law Firms
Local SEO for Law Firms
Law Firm Online Reputation Management
How To Track And Measure Your Law Firm SEO Performance
…And more!
Without further ado, let's dive right in.
Law Firm SEO Basics
Simply put, law firm search engine optimization (SEO) is the process of optimizing legal websites specifically to improve their ranking on search engines such as Google.
Here's what law firm SEO covers:
Keyword research
Content marketing
On-page SEO
Local SEO
Link building
Online reputation management
Performance metrics and KPIs
If any of this sounds unfamiliar, worry not - we'll cover each of these topics in detail.
Google's Search Engine Results Page (SERP) Elements
Before you even do law firm SEO, you should learn the elements that make up Google's Search Engine Results Pages (SERPs).
This way, you can tell which elements are the most relevant and can bring the most traffic to your law firm's website.
Google SERPs are composed of 7 main elements (in order of appearance):
Local Service Ads
Google Search Ads
Local Packs (also known as Snack Packs)
People Also Ask (PAA)
Organic Search Results
Featured Snippets
Local Panel
#1. Local Service Ads
Local service ads work on a pay per lead (PPL) basis and appear at the very top of the Google SERP:
#2. Google Search Ads
Google search ads work on a pay-per-click (PPC) basis and appear at the top (between the local service ads and local packs) as well as at the bottom (below organic search results) of Google SERP.
They usually look the same as organic search results, with the only difference that they have a label in front stating 'Ad'. Just like in the image below: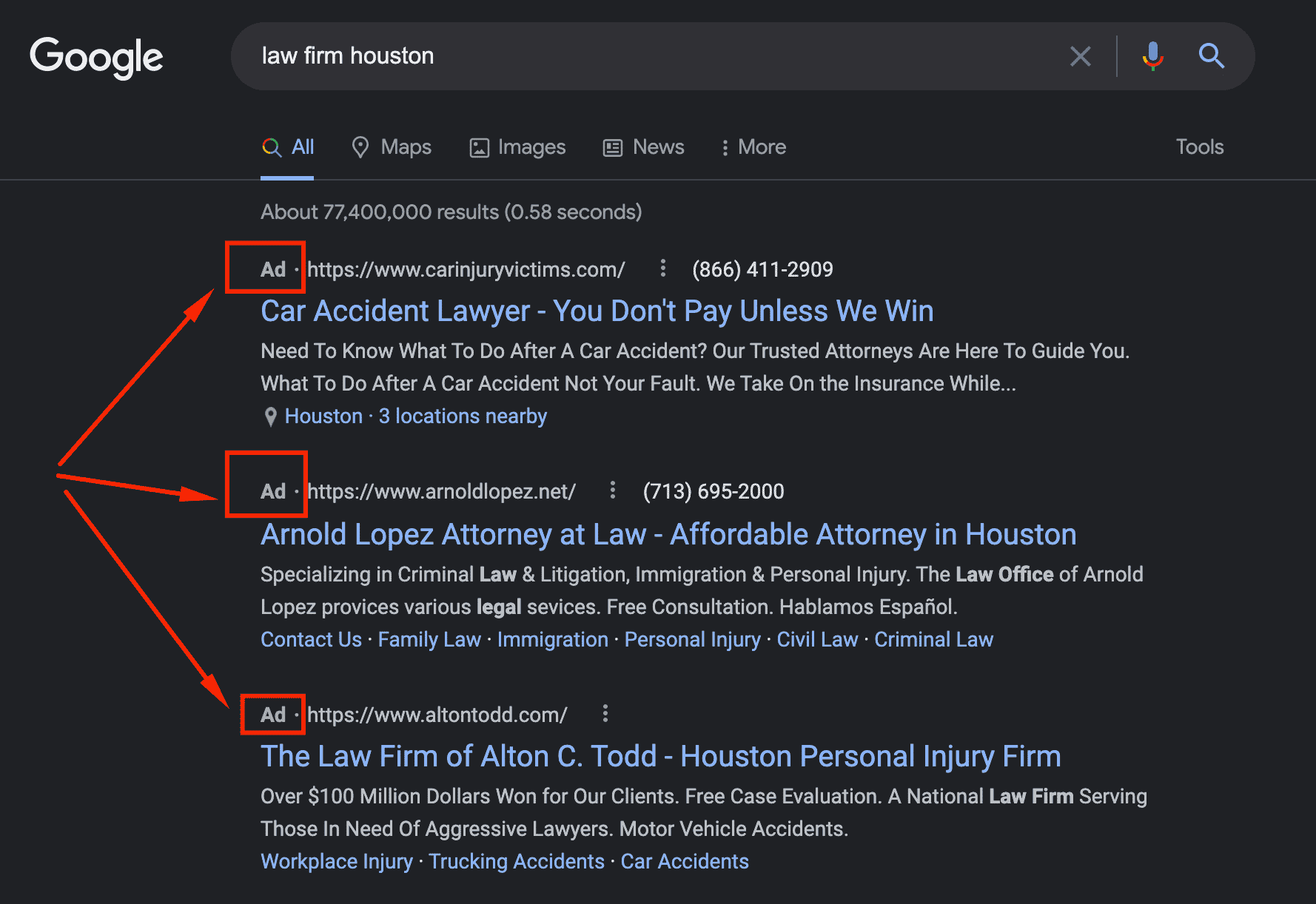 #3. Local Packs
Local packs is a Google SERP feature that shows three local businesses on Google Maps as well as their GMB profile which includes the business name, phone number, address, reviews, and website:
Because local packs is, essentially, an extension of Google Maps, you don't need to pay to have your law firm appear among the three local results.
Instead, you have to create a Google My Business profile - but, you should keep in mind that the competition is tough here.
#4. People Also Ask
The People Also Ask feature shows a list of related questions/queries and typically appears either below the local pack or below the top ranking organic search result:
#5. Organic Search Results
Organic search results appear either below the local pack or below the people also ask feature:
#6. Featured Snippets
Featured snippets most often appear when the searcher's query is phrased as a question. For example:
#7. Local Panel
Local panel is an extension of Google My Business that includes the business details on the right-hand Google SERP sidebar:
Top 6 Law Firm SEO Ranking Factors
Ranking factors are the criteria which Google (and other search engines) use to decide the order in which relevant search results appear on the search engine result page.
In fact, Google uses over 200 ranking factors to rank websites.
To make things even more complicated, Google regularly updates its algorithms and ranking factors. This way it can ensure that searchers get the most accurate and relevant information.
However, this makes it difficult for law agencies to figure out what ranking factors to focus on.
That's why we've made a list of the 6 top law firm SEO ranking factors:
#1. Content
One of the best marketing techniques for law firms is content creation.
That's because consistently publishing high-quality informative content - be it articles, videos, landing pages or any other form of content you prefer - can help you show off your expertise, which builds your authority.
Not to mention that, by creating relevant content-heavy landing pages, that are optimized for search engines, you can attract more visitors to your website, who may eventually convert into clients.
#2. Link Building
Essentially, link building is the process of getting links from external websites back to your website.
Google uses backlinks to determine your website's PageRank, which is an algorithm that measures your website's authority or value.
So, since backlinks show Google that your website is reputable, link building is one of the main law firm SEO ranking factors that can help you rank higher on Google.
These are the three most important factors for link building:
Relevance. If the website that links to your website is relevant to your practice area, the link carries more weight in determining your website ranking on Google.
Quality. Backlinks on websites with a high Authority Score are of higher quality, so they're more valuable than links from websites with a low Authority Score.
Quantity. The more relevant high-quality backlinks your website gets, the more it is likely to rank high on Google.
Dofollow vs Nofollow. In SEO there are two main types of links - dofollow and nofollow. Dofollow links carry with them all of the SEO juice, hence making them more valuable. Nofollow links on the other hand, do not carry the SEO juice, thus making less of an impact in rankings. Examples of nofollow links are links found on social media like Facebook, or Twitter.
As such, law firm SEO is not just about getting a ton of backlinks to your website - they also have to be relevant and high-quality.
Here are some of the best sources to get high-quality backlinks from for your legal website:
#3. RankBrain
RankBrain is the first machine learning (AI) algorithm that Google uses to figure out user intent and return relevant search results to the user.
RankBrain works by:
Analyzing and understanding keywords
Evaluating user interaction with the search results
To make the most out of law firm SEO, it's essential to optimize your law firm website for RankBrain, so here are the factors you should keep in mind:
Click-through rate (CTR). The more people click on your page, the better the page ranks on Google for the main keyword on that page. Having a click-worthy title that satisfies search intent can help you increase your CTR.
Dwell time. Google determines the quality of your content based on how long people stay on your page - a long dwell time is a good indicator for high-quality content. Higher dwell time can be achieved by interlinking pages on your website.
Bounce rate. If users click on your page only to quickly navigate away, it might damage your ranking as it shows your page either lacks quality or isn't satisfying search intent for that specific keyword.
Traffic. Google evaluates how many people and how often they visit your website, which means that getting more traffic into your website improves your ranking by showing Google that your content is high-quality.
User comments & social shares. Google measures user interaction, so it might rank pages (e.g. blog posts) that have comments and shares better.
#4. Page Experience
Page experience is another ranking factor that Google takes into consideration when sorting search engine results.
To assess page experience, Google uses Core Web Vitals, which include:
Loading (Largest Content Paint) - assesses how long it takes for your main page content to load.
Interactivity (First Input Delay) - assesses how long it takes for the browser to respond to user's first interaction with a page element on your website (e.g. a link).
Visual Stability (Cumulative Layout Shift) - assesses how stable your page is visually (e.g. do page elements shift after they're done loading).
While these are the core factors, Google also assesses other elements important for page experience, which include the following:
Mobile Friendly - evaluates whether your pages are optimized for mobile
Safe Browsing - assesses whether your web pages are safe, secure, and free of any malware.
HTTPS - evaluates whether your website has a Secure Socket Layer (SSL) certificate which is essential if your law firm accepts online payments.
No Intrusive Popups - assesses whether your website contains annoying popups that can decrease page experience.
Because these factors can be difficult to deal with on your own, your best option is to work with an SEO agency to improve your page experience.
#5. On-page Optimization
On-page optimization is one of the most important Google ranking factors for law firm SEO.
To put it shortly, on-page optimization is concerned with optimizing page elements, such as the text and media, for search engines.
It's a lengthy process, but let's quickly run through the basics of on-page optimization that we will later cover in more detail:
Include keywords in the meta description, title, URL, and h1 tag
Add secondary keywords in h2
Include video, infographics, and other multimedia elements
Include keywords in the alt text and file names of images
Make use of schema.org for reviews and questions
#6. Domain Factors
Domain factors aren't as important as the other ranking factors we listed above, but they can still affect your ranking in the SERP.
Here are the top domain factors that are relevant for law firm SEO:
Keyword usage. If your domain name includes your target keyword, this could have a positive impact on your ranking as it shows that your website is relevant. E.g. www.lawfirmhouston.com
Domain authority. Google favors pages on authoritative domains.
Domain history. If your domain was previously owned by someone else and has a poor history (e.g. has violated Google's guidelines) , this could have a negative impact on your ranking.
Domain age. Generally speaking, this factor doesn't have that much influence, but older domains tend to rank better.
Domain registration length. Google views domains with a later expiration date as more reliable, so it may rank them better.
Keyword Research for Law Firm SEO
Now that we've discussed Google's ranking factors, let's move on to the first step of actually doing law firm SEO, which is keyword research.
Keyword research stands for the process of determining phrases that your target audience most often searches for in order to find your services.
Once you identify these phrases, you should use them as often as possible across your content, URLs, meta descriptions, etc. to increase your ranking.
Because of this, keyword research is an essential part of law firm SEO which you should do before you start creating pages and writing content for your law firm website.
You should also keep in mind that each keyword carries an implicit intent that you should consider when doing keyword research.
This will later help you to create content that aligns with user search intent, which can increase your ranking as Google aims to provide users with the most relevant results for their search query.
So, there are three types of search queries depending on the search intent:
Transactional queries. Let's say someone is searching 'best divorce lawyer in san francisco'. Such a query shows that the user intends to hire the top divorce lawyer in the area.
Informational queries. A search query such as 'divorce laws in san francisco' means that the user is searching for general information on the topic. Such users make great top-of-the-funnel leads as, chances are, they might need a lawyer in the future and could consider hiring your law firm.
Branded queries. Whenever a user is searching for your law firm specifically, it's a branded query. To get your law firm information to show up at the right-hand sidebar on the results page, all you need to do is set up a Google My Business profile.
Law firm SEO keyword research process involves asking questions to determine user intent, which will then help you identify the keywords that are most valuable for your law firm.
Here are some questions you might want to ask:
Transactional queries - what phrases do users search for when they're looking to hire a lawyer? (e.g. 'bankruptcy lawyer in phoenix', 'personal injury lawyer houston')
Informational queries - what phrases do users search for when looking for general information on legal topics? (e.g. 'how does bankruptcy work in arizona')
Branded queries - what phrases do users use to get information about your law firm? (e.g. your law firm name, lawyers names, etc.)
Once you collect the phrases your potential clients use in their searches, you can start adding them to a spreadsheet or Airtable in order to track them.
Here's what that would look like:
Once you have a spreadsheet filled with keywords, you can start writing content that contains these keywords.
A typical keyword research for law firm SEO could include the following keywords:
Law firm [location]
Law firm near me
Lawyer [location]
Lawyer near me
Personal injury lawyer [location]
Personal injury lawyer near me
Car accident lawyer [location]
Divorce lawyer [location]
Etc, you get the idea…
To make the most out of law firm SEO, start by writing content containing transactional keywords - these are the most likely to bring you clients.
Once you've created all the pages covering transactional content, move on to creating branded content (information about your law firm, partners, etc.) as well as informational content on your practice area topics.
7 Keyword Research Tips For Law Firm SEO
Not sure where to start your keyword research?
We've got you covered!
Here are some tips on the best law firm SEO keyword research resources:
Ahrefs or Semrush. Ahrefs & Semrush are paid tools that act like swiss-army knives in SEO. They can help with anything related to keyword research, competitive analysis, backlink audits, local SEO rank tracking, and more.
Keyword Planner. Keyword Planner is a Google tool that helps you find valuable keyword opportunities by showing keyword ideas, keyword search volume, cost per click (if you were to run ads for the keywords), competition level,e tc.
People also ask. As we mentioned above, this feature of the Google SERP shows you questions that are related to the primary search query. This section can help you find relevant keywords as well as get new content ideas.
Legal forums. Take a look at the Q&A sections in legal forums such as Avvo. By doing so, you can identify relevant keywords related to your practice area and use them to write informational content.
Question-and-answer websites. Take advantage of question-and-answer websites such as Quora to further identify the most frequently used keywords related to your legal practice.
UberSuggest. This free tool developed by Neil Patel gives you keyword suggestions and other details, such as keyword competitive difficulty, which can help you with your keyword research.
Google Trends. Google Trends is another Google tool that helps you see how many people are searching for a specific keyword and how searchers' interest in the keyword changes over time.
Content Marketing for Law Firms
Once you're done with keyword research, the next step in doing law firm SEO is to start writing SEO content.
However, it is not enough to simply write content for your legal website - it also has to be optimized for SEO, original, relevant, top-quality, and easy to share, which is why your best option is to hire an SEO content writer.
So, content marketing can benefit your business by:
Bringing more awareness to your law firm
Bringing more relevant traffic to your legal website
Getting you more backlinks to increase your ranking
Converting prospects into clients
Positioning you as an authority in your practice area
That's why effective content marketing is essential for the success of your law firm SEO campaign.
How To Become a Topical Authority
When it comes to content creation, your ultimate goal is to become a topical authority - basically, you want Google to perceive you as the expert on the specific topics related to your legal practice area.
Here's how becoming a topical authority can help your law firm:
Trust. Becoming a topical authority helps to build your reputation, so potential clients are more likely to trust your law firm and use your services over your competitors.
People also ask. If Google perceives you as an authority on a particular topic, your content is more likely to appear in this section, which can bring you more awareness and traffic.
Dwell time. Creating in-depth, high-quality content means that people spend more time on your page, which helps your ranking.
Link building. If people regard you as a topical authority, they're more likely to give backlinks to your website.
If you want to reap the benefits of becoming a topical authority, your content should be:
Original. Google rewards original content and punishes copy-pasting.
Well-researched. You should use reliable sources to back up your ideas.
Well-structured. Your content should be easy to follow and read. Use proper headings, bullet point lists, tables, etc..
Informative. Google rewards lengthy content that dives deep into the topic.
Relevant. You can make sure your content stays relevant by regularly updating it. For example, if a specific law in your state legislation changes, you need to update any content that references that law.
This way, you're creating high-quality content that can help you establish your law firm as a topical authority.
7 Best Types of Content For Law Firms
So, here are the types of content that work best for law firm SEO:
Practice area pages. This is where you describe the services your law firm offers so that your potential clients can decide whether they want to hire your law firm, which is why practice area pages are the most important pages on your website.
Biography pages. These pages include relevant details about lawyers (e.g. their experience, practice areas, education, etc.), which helps build trust.
Blog articles. This is where you create relevant informational content for potential clients. Blog articles can also help you convert people looking for information into clients.
FAQ. Frequently asked questions (FAQs) can either be published on a separate page or across individual pages (e.g. at the end of blog articles/landing pages) to provide answers your potential clients may be looking for.
Infographics. Infographics are great for sharing topic-related statistics.
Videos. The most popular types of video content for law firms include informational videos, where you share relevant information with your potential clients, and video advertisements aimed to promote the law firm to a wider audience.
Podcasts. Over the last decade, the popularity of podcasts among consumers has more than doubled - and that's why making in-depth audio recordings on specific topics is a great content creation option for any business, including law firms.
Take Advantage of Topic Clusters
Topic clusters are a great way to structure and strategize your content for law firm SEO.
Basically, topic clusters mean that there is a main page in your website that is supported by other pages.
For example, if you're a divorce lawyer working in California, you can create content that supports this main topic by going deeper into the topic and covering supporting topics such as:
divorce cost in California
filing for a divorce in California with a child
California divorce laws, etc.
Here's an example of an employment law topic cluster:
7 Tips To Improve Your Content
Once you decide the type of content you're going to write for your law firm SEO, it's time to discuss how to write it.
Well-structured content helps you rank better - after all, people are more likely to read your content and stay longer on your page if it's easy to follow.
So, here are 7 tips that can help you improve your content:
Write a Clickable Title. Whenever people search for your keywords, they will first see the title on the SERP - so, make sure it mentions the keyword and it's attention-grabbing.
Include the keyword in the meta description. If you google a keyword, the keyword automatically gets bolded by Google when it's mentioned in the meta. This can make it easier to distinguish your page from other top-ranking pages.
Headlines. Headlines make your content easy to skim and help the readers to find the information they're looking for. Not just that - headlines also give you another opportunity to use keywords.
Short paragraphs. Large blocks of text are hard to read, so you can increase your content's readability by writing short paragraphs.
Lists. Bullet and numbered lists are another way to structure your text and make it easier to read.
Call to action. Take advantage of including calls to action into your content - this way, you'll encourage the readers to, for example, contact your law firm, which might bring more clients to your law firm.
Pack your content with information. Google rewards high-quality content, which is why you should cover topics in-depth - besides, this can help you establish yourself as a topical authority and increase your dwell time.
On-page SEO for Law Firms
On-page SEO is one of the most relevant Google ranking factors for law firm SEO, so let's dive a bit deeper into the topic.
On-page optimization refers to the process of optimizing your website content, code, and architecture for search engines in order to rank higher.
Many on-page optimization elements require some technical knowledge however, so your best bet is to have an SEO expert or agency optimize your pages.
Pick the Optimal URL Structure
Your URL structure can make it easy for potential clients to find your content (or, if you do it wrong, it can make it more difficult).
There are two types of URL structure and here's what you need to know about each of them:
Flat structure - this is a URL structure that doesn't use sub-directory folders, so there's no page hierarchy (e.g. www.example.com/chicago-immigration-lawyer/)
Sub-directories - URL is structured with sub-directories that categorize the content (e.g. www.example.com/employment-law/religious-discrimination/)
Now, there are both advantages and disadvantages to both of these URL structures, so you should consult your SEO expert and find the best option for your law firm.
If your law firm focuses on many areas of expertise, it's probably best to use sub-directories within the URL structure in order to obtain a better site architecture.
However, you should keep in mind that short URLs and pages closer to the homepage of your law firm website typically rank better.
Write Effective Titles and Meta Descriptions
Titles and meta descriptions appear in the SERP each time a user searches for something on Google.
Here's an example of a snippet (page title, meta description, and URL) that comes up when you search 'business lawyer in philadelphia':
Essentially, this is your chance to let both your potential clients and search engine crawlers know what the page is about.
This means that your law firm SEO success depends on these little pieces of information - accurate and well-written titles and meta descriptions can increase your ranking and attract relevant traffic to your page.
Here's how to write a title the right way for law firm SEO:
First, add the target keyword (e.g. 'divorce lawyer new york')
Then, add a vertical bar
Next, include your law firm's name
For local SEO purposes, don't forget to mention your city
Make sure to capitalize the first letter of each word
Do not exceed 56 characters in length
And here's an example of an effective meta title for law firms:
'Divorce Lawyer New York | Tony Law Firm, LLC' - 45 characters long
As for meta description, their goal is to use the target keyword and convince the searcher to click on your page.
Here's an example of a meta description done right:
This meta description is 132 characters long, so it is fully visible in the SERP. The max characters you should aim for is 145-150. Moreover, it includes a call to action and mentions the keyword (family law Chicago), which gets automatically bolded and helps to stand out from competitors.
You can use the following tool to make sure the title and meta description are fully visible.
Make Use of Schema Markup
Schema.org is webpage markup that helps search engines to make sense of the information on a webpage - and that's exactly why it's an important part of law firm SEO.
These are the most important schema markup for law firm SEO:
Location schema. This schema isn't visible to users and doesn't appear in the SERP - it's only interpreted by search engines.
Attorney schema. Along with location schema, this schema markup is only interpreted by search engines. It allows the search engine to identify a website as a law firm.
FAQ schema. This schema markup is used to identify questions and answers and appears in the SERP.
Review schema. It's a schema markup used to identify a review with its relevant details, such as the reviewer as well as the rating. Like FAQ schema, this schema markup also appears in the SERP.
For example, this is how an FAQ schema markup appears in the SERP:
Now, adopting a schema.org markup for your legal website can be quite difficult, so you might want to consider hiring an SEO agency.
Boost Page Loading Speed
As you know by now, page loading speed is important for law firm SEO - that's because fast loading pages rank higher in the SERP.
Fast page loading speed also decreases the chance of a user bouncing away from your website - in fact, the probability of a user leaving your website increases by 90% if a mobile page fails to load in 5 seconds.
So, here are the 3 actions you can take to boost your page loading speed and increase your chances of retaining your website visitors:
Host your website on a premium hosting platform
Make sure to compress all images on your law firm website
Use a caching plugin to improve your website's speed and performance
However, if you want to check the loading speed of your law firm website and get speed optimization tips specifically tailored for your situation, test your pages using PageSpeed Insights.
PageSpeed Insights also provide useful tips on how to optimize your website speed for both desktop and mobile.
Here's an example of Dentons' (one of the largest law firms worldwide) speed analysis: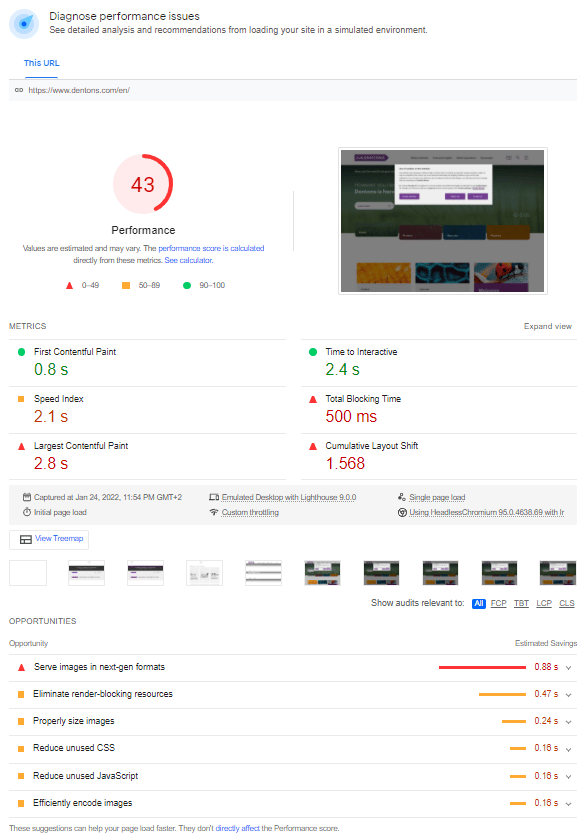 This speed analysis shows that the page isn't loading fast enough and also mentions tips (e.g. 'Serve images in next-gen formats' and 'Efficiently encode images') that could improve this website's loading speed.
8 More On-page SEO Tips For Your Law Firm
Do you want to take your on-page law firm SEO to the next level?
We've got you covered!
Here are 8 on-page optimization tips for your law firm:
Add relevant keywords to your content. Whenever relevant, include your keywords in the content to improve your ranking (just make sure to avoid stuffing your content with too many keywords in irrelevant places as Google penalizes that).
Use keywords in headings and sub-headings (H1,H2,H3,H4s). This helps Google to determine whether your content is relevant.
Include table of content in your blog posts. This way, both search engine crawlers and your readers can easily understand what's the blog post about.
Make use of multimedia. Including images and videos in your content can make your content easier to read and increase the time users spend on the site.
Add references. Referencing authoritative sources indicates that your content is credible and high-quality.
Include internal links. This makes your law firm website easier to navigate and increases the time readers spend on your website, which can positively affect your ranking.
Optimize your images. Don't just leave them bare - make sure to include accurate file names, alt text, descriptions, etc. (that's another opportunity to add relevant keywords).
Optimize your law firm website for mobile. Websites optimized for both desktop and mobile rank better.
Local SEO for Law Firms
Local SEO is an essential part of any law firm SEO campaign - after all, your potential clients are looking for lawyers in their area, so you have to make sure they can easily find your law firm.
Google decides the local ranking based on:
Relevance. Whenever a person searches for a law firm, Google assesses whether your law firm is a good match. So, to make sure that Google matches your law firm to relevant searches, make sure to fill in your Google My Business profile details.
Distance. This means that Google evaluates the distance between your law firm and the location mentioned in the search. So, for example, if the user types 'business lawyer in detroit' and you work in Boston, your law firm won't show up in the SERP.
Prominence. Google is more likely to rank your law firm higher if it's prominent. This means that law firms which are listed in directories, receive high-quality backlinks, lots of reviews, and good ratings, are ranked higher.
It is also important to note that distance is the only local ranking factor that you can't influence - however, if your law firm offers more relevant services to what the searcher is looking for, your law firm may still be ranked higher if it's just a little farther away.
Use Google My Business For Your Law Firm
To get started with local SEO, your first step should be to create a Google My Business profile.
By doing so, your law firm can appear in local search results as well as on Google Maps - just make sure to add all the relevant details about your law firm (e.g. your law firm full name, practice area, location, website, phone number, etc.).
Here's an example of a Google My Business profile in the search results:
Moreover, Google can use your Google My Business information to rank your law firm among the three listings in the local pack as such:
And that's not all - you also need local SEO to appear on Google Maps search results, which look like this:
So, to take full advantage of Google My Business, you need to optimize your law firm profile for local SEO. Here's how to do it:
Enter your correct law firm location on the map.
Add your law firm website and other information, e.g. opening hours, business name, address, phone number, etc. (make sure to put in these details correctly and exactly in the same as on your website and other places across the Internet).
Pick a specific category for your law firm that accurately describes your practice area (e.g. pick 'estate planning lawyer' over 'law firm').
Use the 'Introduction' section to describe your business and include relevant keywords as well as links.
Add a 360-degree office tour and business-specific photos, such as the exterior and interior of your office and your lawyer team, to improve your visibility and user experience.
List Your Law Firm In Legal Directories
Getting your law firm listed in legal directories is great for law firm SEO as it helps you with citation building.
That's because Google views references from websites with a good domain authority as an indication that your law firm is credible and authoritative - so, having your NAP (law firm name, address, phone number, and website) listed in directories helps your ranking.
There are two types of citations that are important for law firm SEO:
Structured citations. These are found in online directories such as Yelp and legal directories such as FindLaw.
Unstructured citations. These are found on any websites that aren't specifically made for publishing local business listings (e.g. news articles, blogs, social media platforms, etc.).
While structured citations are a must for any local business, unstructured citations can give your law firm a competitive advantage and bring more traffic to your website.
Speaking of citations, one thing you should keep in mind is that unstructured citations can differ in value based on the source referencing your law firms.
The elements that add to the weight of unstructured citations include:
Location
Industry Knowledge
Popularity
Authority Score
This means that unstructured citations coming from, let's say, well-known local professionals are more valuable than when foreign websites reference your law firm because they seem more genuine and reliable.
Here are some legal directories with the highest domain authority:
Improve Your Local SEO With Data Aggregators
Data aggregators can help your local SEO by collecting your data (NAP, images, working hours, etc.) and spreading it to other websites.
As such, it's important that your data is correct, up-to-date, and listed under the right category (otherwise, it may lower your ranking).
Consider listing your law firm details on the most popular data aggregators for local businesses in the United States, including:
Link Building for Law Firms
As we mentioned above, link building is one of the main ranking factors and a vital part of law firm SEO.
Here are the basic terms related to link building you need to know:
Hyperlink - any clickable links used in your website, including those used to navigate your website.
Internal link - an internal link is a link from a page within your domain to another page on the same domain.
Backlink - one-way hyperlinks found on external websites that link to your law firm website.
Anchor text - the words (often blue or otherwise colored) that capture the link, so the readers see text instead of the link's URL.
Now, you should also know the structure of an internal link, which looks like this:
One thing to keep in mind is that both internal links and backlinks are important to law firm SEO but can be easily confused with one another.
The difference between them is that backlinks are found on other websites and link back to your law firm website, while internal links are used to link one page to another page within the same domain.
To help you better understand the difference between the two, here's an illustration of internal links:
And here's how external links (backlinks) work:
Here's a real-life example of a backlink:
In this case, Forbes included a link to Kim Law website with the anchor text "KIM LAW."
And here's an example of hyperlinks found on Kim Law website:
In this example, the anchor texts are "KIM LAW" and "CONTACT KIM LAW".
Backlinks are especially valuable as they help to increase your law firm website's authority, so Google will rank your page higher.
That being said, your law firm can get backlinks by:
Creating high-quality content so that other websites add links to your website.
Reaching out to websites and asking for backlinks (of course, you have to convince them that your website adds value to their content - for example, suggest to replace their broken links with links to your content).
Guest posting.
Straight up buying the links from different websites & blogs.
Your best option is trying all of these ways since link building is one of the most important ranking factors to law firm SEO.
Nofollow vs. Dofollow Links
If you want to make the most out of law firm SEO, you should know about the two types of links called nofollow and dofollow links.
At first glance, they look exactly the same - both are clickable hyperlinks that open a different page.
Here's what you should know about dofollow links:
Dofollow links tell the search engine crawlers to follow the hyperlink
They don't just guide crawlers to your content - they also bring users to your website
They build credibility - crawlers view each such link as a vote saying that the linked website has useful and reliable information, so it helps you rank higher in the SERP
And here's what you should keep in mind about nofollow links:
Nofollow links have a line of code in the HTML tag that tells search engine crawlers not to follow the hyperlink
Users see these links the same since the difference is only in the HTML tag that applies to crawlers
These links don't build credibility - search engine crawlers view them as not reliable
Nofollow links are found on social media platforms (e.g. Twitter), forums, comments, paid ads, most legal directories, etc.
Basically, dofollow links, in contrast to nofollow links, are very useful to building your law firm website's authority and getting your website to rank higher in the SERP.
That doesn't mean, however, that nofollow links are entirely useless - they can show Google that your law firm has a more natural link profile, which can be useful since Google can penalize unnatural backlink profiles.
7 Most Important Link Factors For Google
Truth is, backlinks can and do vary in quality, so some of them might increase your ranking more than others.
When it comes to law firm SEO, these are the most important backlink factors that Google considers to determine whether the backlink is high-quality or not:
Linking domain authority. Backlinks from websites with high domain authority boost your ranking more than those found on websites with low domain authority.
Linking domain relevance. If websites from niches similar to your website link to you, they can improve your website's ranking much more than links from irrelevant websites.
Linking domain age. Google views backlinks from well-established websites as more valuable and reliable compared to those from freshly made websites.
Backlink age. Google tends to favor old backlinks compared to new ones.
Number of linking domains. Google views backlinks from a bunch of different websites as proof that your page contains useful content. As such, it's more likely to recommend your page to other people by improving your ranking.
Link neighborhood. Having backlinks from bad neighborhood (e.g. scam websites, PBNs, pages with more links or ads than actual content, pages with poor content) can, in fact, damage your PageRank, so it's best to avoid them.
Link location in the content. Link placement also carries weight - generally, Google values links added in the beginning of the page more than those appearing at the end.
4 Best Strategies For Law Firm Link-Building
If you aren't sure how to approach link building, use these 4 link building strategies for law firm SEO:
Take advantage of legal directories. Legal directories are good for more than just local SEO - they're also great for link building. Besides, this is by far the easiest way to get high-quality backlinks from websites with high domain authority.
High-quality blog posts. You can get backlinks naturally by focusing your efforts on creating compelling, top-quality blog posts. Alternatively, you can write eBooks, books, and other quality content that people might want to link to.
Guest posting. Try reaching out to legal associations, other law firms, and other related businesses and offer to post content that is relevant for their audience in exchange for a backlink.
Infographics. Creating high-quality infographics is another way to get more backlinks - they're easily shareable and once someone shares your infographic, they should give you credit by adding a backlink to your website.
Law Firm Online Reputation Management
Reviews and client testimonials are essential to law firm SEO.
Here's why:
Local SEO. Getting good reviews and positive ratings can improve your local ranking on Google, so you're more likely to rank among the top law firms in the SERP as well as appear in the local pack.
Attract new clients. Reviews help potential clients to decide whether they want to use your legal services based on other clients' experience.
Reputation. Reviews and testimonials build your reputation, which leads to more clients since people are more likely to trust reputable, credible, and reliable law firms - in fact, 79% of people trust online reviews no less than personal recommendations.
3 Ways To Get More Reviews
Now that you know the value of online reviews, let's see how you can get more client reviews for your law firm.
Here are 3 tips that can help you to get more reviews:
Ask your clients. Seems obvious, yet this is the easiest way to solicit more reviews. Make sure to remind your clients to leave reviews on your website as well as other relevant websites for your business (just make sure other websites allow it).
Use online review engines. Online review engines can help you to get more reviews for your law firm by automating the process.
Be responsive. Make it a rule to reply to each review. This way, clients might be more willing to leave reviews since they know you engage with them - besides, handling negative reviews graciously can improve your reputation.
Pro-Tip
Type in your law firm name in Google and see which websites come up first.
Your potential clients will see these websites first, so this is where you want to focus your efforts on getting more top ratings and reviews.
Build Your Law Firm Reputation With These 3+ Websites
As a general rule, you should aim to make use of as many websites that allow clients to leave reviews as possible.
This way, you can increase your law firm website's prominence, which is a local SEO ranking factor.
For starters, focus your efforts on these websites:
Google My Business. Your Google rating is by far the most important for law firm SEO - that's because it helps you increase your chances of ranking high locally (also, Google sends your clients notifications each time you reply to a review, so they're more likely to be reminded of your law firm and use your services again).
Facebook. Chances are, many of your clients don't use legal directories or websites like Yelp. However, Facebook has over 2.5 billion monthly users, so your clients are likely to have an active Facebook profile.
Legal directories. Many legal directories offer reviews, so make sure to use it to your advantage.
Track And Measure Your Law Firm SEO Performance
Tracking and measuring your SEO metrics and KPIs is the key to the success of your law firm SEO.
This allows you to see what's working, what's not, and make any adjustments to make sure law firm SEO works as effectively as possible for your company.
Because of this, it's important to track and assess your law firm SEO performance regularly and consistently.
6 Most Important Law Firm SEO Metrics
These are the 6 main law firm SEO metrics you should keep an eye on:
Keyword rankings - this metric shows how your law firm is ranking for your specific keywords.
Organic click-through rate - this metric shows how many people click on your website in the SERP.
Conversion rate - this metric shows how many people who visit your law firm website contact your law firm.
Pages - this metric shows which of your pages bring the most traffic to your website.
Inbound links - this metric shows how many backlinks your law firm website is getting (you should also check the number of unique domains as multiple backlinks from the same website don't have that much impact).
Month over month traffic change - this metric shows the increase or decrease of visitors to your law firm website on a monthly basis.
These metrics work wonders for determining the changes you can make to improve your law firm SEO.
For example, if your organic click-through rate is low despite ranking in top 3, you might want to experiment with different titles, URLs, and meta descriptions to get more people to visit your website.
Top 5 Tools To Track Your Law Firm SEO Performance
To help you keep track of these metrics, you need to use an analytics platform.
Consider using these free Google tools to track your law firm SEO performance:
Google Analytics. This tool helps you track and assess your law firm SEO performance with metrics such as average time on page, unique visitors, and bounce rate, among others.
Google Search Console. This Google tool that helps you to track technical errors on your law firm website, backlinks, and popular keyword queries your potential clients are using.
Google Tag Manager. Google Tag Manager helps you to easily manage HTML and JavaScript tags that are used for analytics.
Ahrefs. This versatile SEO tool doesn't just help you track your ranking progress - it's also useful for website optimization, competitor analysis, keyword research, and link building.
SEMrush. This digital marketing software includes an SEO toolkit that helps you with all the aspects of running and tracking the progress of your law firm SEO campaign.
Law Firm SEO FAQ
#1. Do Law Firms need SEO?
Yes, law firms definitely need SEO.
Law firm SEO can help you to increase your law firm's visibility and authority, reach your target audience, and drive more traffic to your website - and these are just a few of the benefits of law firm SEO to your practice.
#2. How much does Law Firm SEO cost?
Law firm SEO can cost anywhere between $2,500 to $10,000 per month.
The price mainly depends on how competitive the market is.
A personal injury lawyer in New York City, for example, can expect to pay significantly more for law firm SEO than an intellectual property lawyer in Memphis.
#3. Why is SEO for Lawyers so important?
SEO for lawyers is so important because whenever someone needs a lawyer, they typically search for one on Google.
For this reason, ranking high on Google is important for your law firm's success as it helps you to reach people looking for your services and attract more potential clients to your website.
Of course, you could pay for ads to increase your law firm website's visibility on Google.
However, paid ads are expensive and once you stop paying for them, you also stop getting leads.
Law firm SEO, on the other hand, is a cost-effective way to get your law firm website to rank high on search engines so that you can reach your target audience exactly when they need you.
#4. How long does it take to get SEO results for Lawyers?
Law firm SEO is a long-term process, so you can expect to see the results in 6 months to 12 months.
#5. Shouldn't I need to create SEO blog posts for a law firm?
A lot of blogs and guides talk about how articles are important for lawyer SEO. The answer is no, not for the legal services niche. Blog posts are usually relevant if you're targeting customers nation-wide.
E.g. if you want to rank for [immigration keyword], you'd need to create a blog post on the topic. However, unless you do legal services about [immigration keyword] nation-wide, the traffic you'll be getting for these posts won't be relevant for your business.
#6. Should I work with an agency, or do SEO on my own?
In most cases, it's cheaper to work with an agency than to do SEO on your own. Most agencies have a ton of experience with the typical SEO process, and can get things done faster (and better) than if you'd try to do it yourself.
While the up-front fees for an agency might seem a bit expensive, the overhead fees for doing SEO yourself usually turn out to be even more expensive.
Work With a Law Firm SEO Agency
And that's all!
By now, we hope you have a better understanding of law firm SEO and its importance to your business success.
But, let's face it, doing law firm SEO is no easy task (and especially so when you have little or no previous SEO experience).
Instead of trying to figure it all out by yourself, why don't you hire an SEO agency to handle your law firm SEO for you?
Well, we're here to manage ALL elements of your law firm SEO - contact us for a free consultation on law firm SEO!