If you want to get good results in SEO, you'll need to work with qualified SEO content writers.
But unfortunately, if you've spent some time looking for the right writer, you already know how hard this can be.
Just about anyone can call themselves a content writer, but 90% of your applicants are going to be awful.
And the main issue with them isn't SEO, either. Any good writer can learn how to create good SEO content.
It's just that the best writers are few and far in-between, and you really need to put in the work to find them.
At Apollo Digital, we've worked with over a hundred freelance writers so far, both for our own blog, as well as for our clients, and in this blog post, we're going to teach you the EXACT methodology for hiring the best of the best SEO content writers. (And how to filter out the not-so-good ones)
So, let's get started...
Step #1 - Define The Kind of Writer You're Looking For
So, first things first, you need to really define who you're looking for.
As a start, if your aim is getting someone to write SEO content for you, then you should know that you're looking for content writers, and NOT copywriters.
And yes, those 2 are completely different things.
A content writer is a person who creates articles and other types of blog posts.
A copywriter, on the other hand, is someone that writes pages with an intent to sell. Think, landing pages, sales letters, that kinda stuff.
So, when drafting up that job ad, make sure to explicitly state that you're looking for a content writer.
Then, when looking for writers, you want to find someone that:
Has experience writing long-form blog posts. Think, long-authoritative guides. If the writer says they're an "SEO expert" but all they've done are 500-1000 word listicles, stay away.
Has SOME domain knowledge in your field. You shouldn't expect your writers to have a Ph.D. in nuclear science, but they should have a general understanding of your niche and the topics you need them to write about. Otherwise, be prepared to receive very low-quality articles (mainly fluff, no real practical value).
Has good research skills. At the end of the day, no writer knows everything. Whoever you'll hire will have to be able to do in-depth research.
Fluent English. The writer doesn't have to be a native speaker, but their English has to be very, very good.
Costs more than 5 cents per word. Anyone that charges 1 to 4 cents per word is, in most cases, either new (requires a lot of hand-holding) or incompetent.
Step #2 - Create Your SEO Content Writer Job Ad
The next step is to create the job ad itself.
We'd recommend using a Google Form (or any kind of form really; can be Typeform too) to process the writers, and creating a job ad that you can repost on different job boards.
For the form, we recommend including the following fields:
Name/Last Name
Email
Link to Portfolio
Specializations (checkboxes with options, or free form)
Average rate per word
Top 3 samples
To see this in action, you can check out our own job ad here.
As for the job ad descriptions, make sure to include:
What's your niche
Expectations from the writer (experience writing long-form content, level of English)
How much content do you need per month
(Optional) Average budget. E.g. "X USD for Y words"
Writer profile (good research skills, domain knowledge, etc.)
Step #3 - Promote Your Job Ad
Now, the next step is to promote the job ad.
Our favorite websites for sourcing writers are as follows:
Step #4 - Filter Your Applicants
If you post your job ad in more than 2 job boards, you'll soon get overwhelmed by the number of applicants.
It's reasonable (and even expected) to see around ~300 applicants for a single job ad.
Don't feel too overwhelmed, though, we're going to teach you how to filter through all the "meh" writers and get straight to the good ones.
First, cut anyone that charges 1 to 3 cents per word. They're most likely too new to content writing, or just not that good at writing in English.
Then, cut any visible outlier who overcharges. If anyone inputted a cost/word of 30 cents, you should expect their writing to be amazing. If it's anything short of that, drop the writer.
Cut anyone that submitted short-form samples (<500 words). In 2021, to stand a chance at SEO, you need to create long-form, authoritative content.
Also cut anyone that has very glaringly obvious grammar or style mistakes. Pro tip - Install the Grammarly Chrome extension and it will highlight all grammar errors for you.
Finally, cut anyone that doesn't have relevant niche samples. If you're looking for a business writer, and the applicant only has samples in skincare, they're not going to make the cut.
And voila! If you followed all the 5 steps above, you'll likely end up with a handful of qualified candidates to choose from.
But you're not done yet...
Step #5 - Give a Trial Task & Pick Your SEO Content Writer
Finally, it's time to vet the writers.
We recommend picking one topic for each writer you're going to test. Don't make this too simple OR too complicated.
For each topic, we also recommend creating an outline. An outline, in a nutshell, is a list of all the topics your writer needs to cover in the article. For example: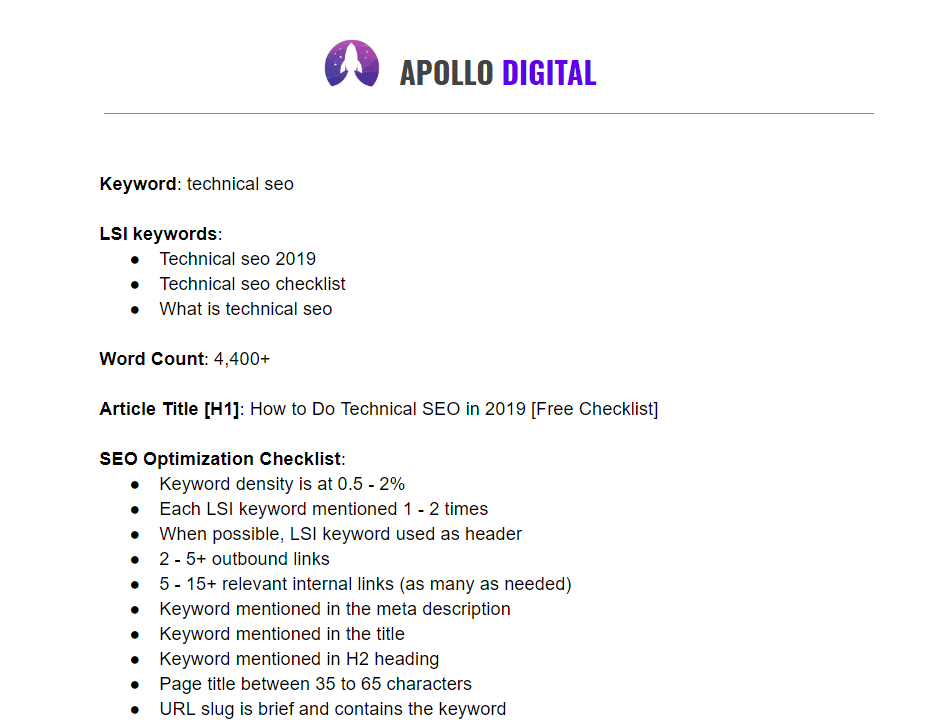 This way, the writer knows EXACTLY what they need to write in the article.
You avoid awkward situations where the writer thought the main point of the article was one thing, and you thought it was something completely different.
PRO TIP
Limit the work the writer has to do for the trial run to 1,000 words. This way, you'll know if the writer is a good fit without spending too much of either party's time.
As a given, we also recommend you to pay any writer whose work you'll end up using for your blog, even if they're not the best fit.
Conclusion
And there you have it - a simple and straightforward methodology for hiring SEO content writers.
Working with the right writer, however, isn't guaranteed to get you the SEO results you need.
After all, there's a lot more to SEO than just the content.
Apollo Digital (that's us) is a full-stack digital marketing agency with a focus on SEO and content marketing.
We've helped several companies grow from 0 to 200,000 monthly organic traffic (and beyond), and we're confident we can do the same for you.
Not convinced? Check out the EXACT SEO process we use for our clients (and get them insane results)