LinkedIn is a massive platform for professionals – and it continues to grow.
LinkedIn has 760 million users worldwide and 97% of B2B marketers use it for sales and marketing efforts.
There's a wealth of opportunity on the platform for networking, building an audience, and sales.
Getting the most out of LinkedIn, though, can take you a lot of time.
On a daily basis, you'll have to:
Post engaging content
Connect with other professionals
Prospect potential clients
Reach out & reply to leads
Thankfully, though, there are plenty of top notch LinkedIn automation tools on the market that can help make this B2B marketing work a breeze!
11+ Best LinkedIn Automation Tools
There are lots of different tasks you perform on LinkedIn and plenty of different ways you can use the platform for growth. So naturally, there are a number of different types of LinkedIn automation tools on the market.
Some of these tools are made for automated sales outreach and lead generation. They can help you:
Find your target audience with advanced search and filtering
Automatically reach out to prospects & follow-up
Organize leads and prospects with tagging and light CRMs
Other tools can automatically improve content engagement on your posts. These tools:
Boost likes and comments for increased visibility on your network's feeds
Have other users share your posts for greater reach
Get you relevant engagement from your target audience.
And some of these tools automate your content posting and management by letting you:
Bulk schedule LinkedIn posts in advance
Create LinkedIn content calendars and collaborate with your team
See analytics for in-depth content insights
In this article, we're going to cover all 3 types of such tools.
Looking for a specific type of tool? Use our smart content filter to find the tools you're looking for!
Note
Some of these tools go against LinkedIn's terms of service, so use them at your own risk.
#1. LemPod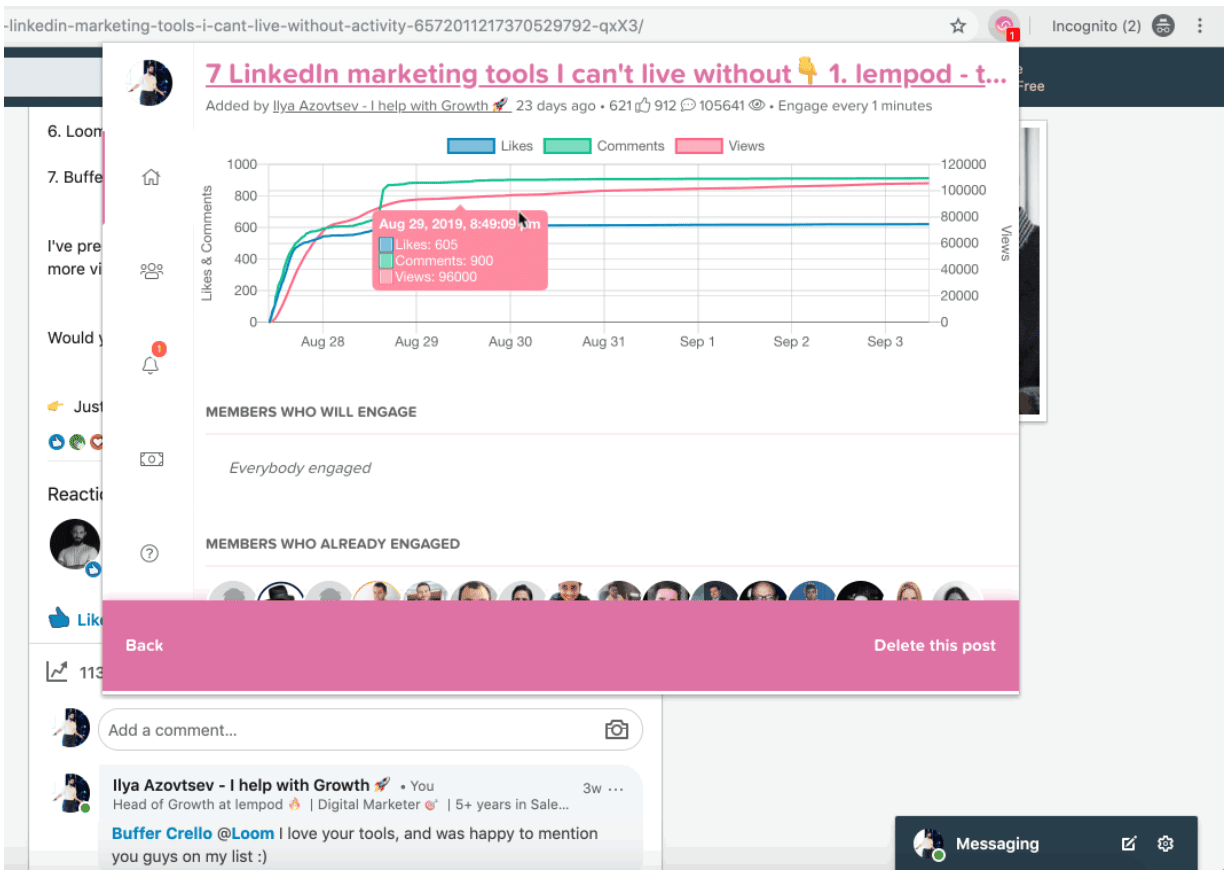 Pricing: Starting at $5/mo
Pros:
Receive automated likes and comments through a pod system (a group of people committed to liking and commenting on each other's content).
You increase the chances of reaching your audience with content through increased engagement (i.e. the more likes and comments your posts get, the more people in your network get to see them).
The tool comes with a number of features to ensure pod safety and anonymity.
Great customer support compared to similar "pod" tools.
Cons:
There is very little pod safety or engagement training for new members.
You run the risk of being banned by LinkedIn if your pod is found out.
You run the risk of getting grouped into a pod where the other members' content is off-topic, low quality, or unprofessional – but you're required to engage with it.
There are no incentives for keeping pod quality high.
Use-Case: Content Engagement
LemPod is all about getting your content seen by your audience through engagement from other members of your pod. You pay $5 per pod in exchange for all members of the pod commenting and liking one of your posts per day. Pods are made up of anywhere from a handful to 50 members.
LemPod does a great job of ensuring pods remain undercover by only limiting to one post per member each day and limiting total members in each pod.
Despite a few safety concerns and not offering a free version, it's one of the best LinkedIn pod tools on the market. If you're leaning into B2B content marketing, it's a great tool to get more of your content seen.
Pro Tip
If you're using LemPod for engagement boosts, we recommend adding the people in your pod as connections.
This allows you to get more reach (because the people liking your posts are first connections), and at the same time, lowers the risk of getting banned by LinkedIn (having 2nd or 3rd connections liking your post is a bit suspicious).
#2. Expandi
Pricing: $99/mo
Pros:
Expandi easily integrates with other marketing tools like your CRM or email marketing platform.
It allows for dynamic personalization, which lets you personalize your outreach messages with name, company, and more.
Their dedicated local IP addresses reduce the risk of being found out and banned.
Cons:
Their customer support can be slow.
The monthly price tag is a little steep.
Use Case: Outreach and Lead Generation
Expandi is no doubt one of the best LinkedIn automation tools on the market. It helps you automate outreach and sales prospecting with ease.
Features like dynamic personalization, a smart inbox with tons of filters, and webhooks to help you connect with other tools make it a powerful software for lead generation.
Expandi goes to great lengths to keep their platform safe and low risk by using dedicated IP addresses, random messaging delays, and limits on message frequencies.
#3. LinkedIn Sales Navigator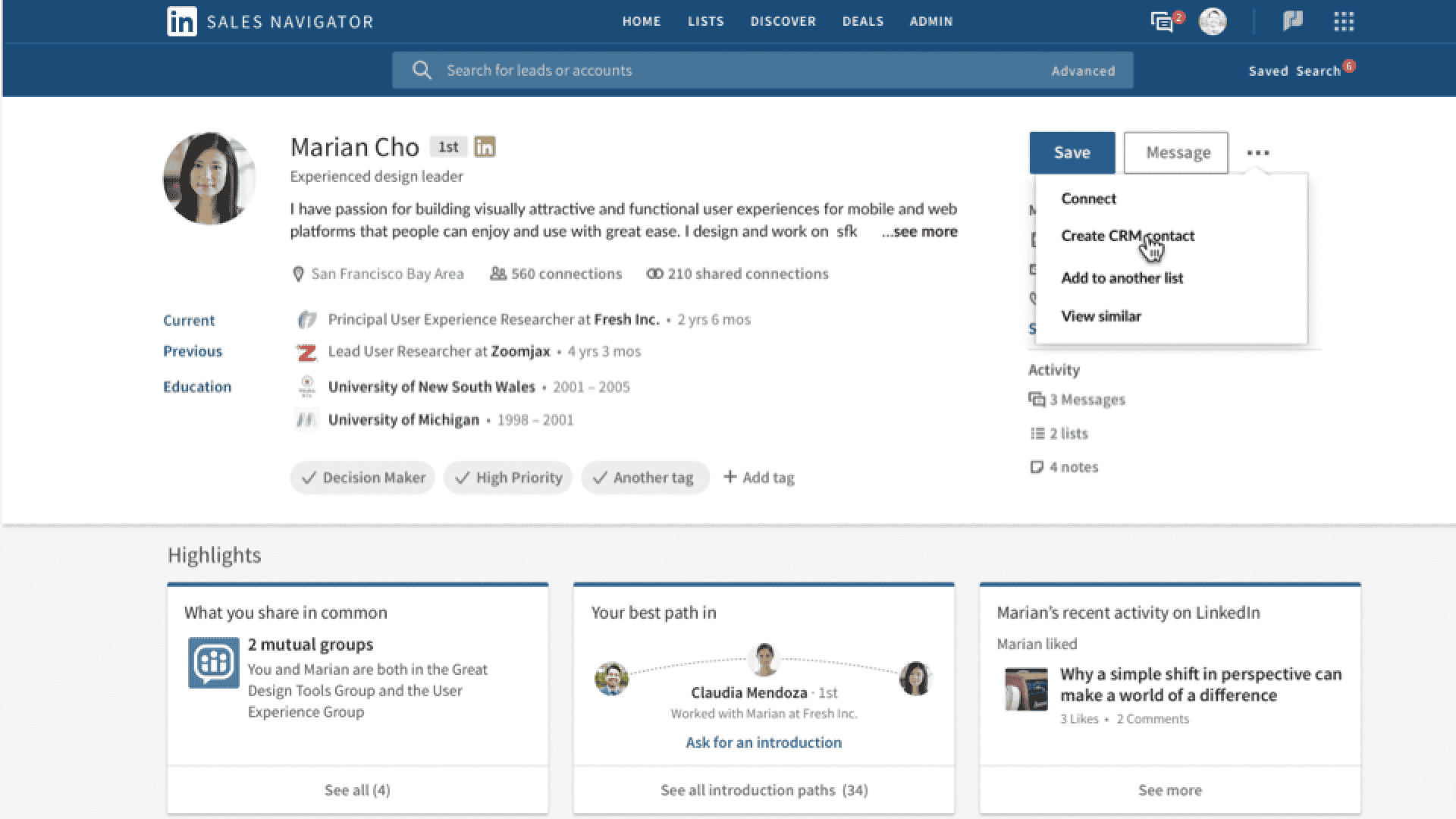 Pricing: Starts at $64.99/mo
Pros:
Helps you track down relevant leads and companies with ease.
Shows you detailed insight about who has viewed your profile.
Allows you to set up lead workflows and connect leads with your CRM.
Cons:
You have a limit on the number of InMail messages you can send per month.
InMail messages you get through Sales Navigator tend to have a lower response rate than a regular LinkedIn message.
The price is a little high for the features offered.
Use-Case: Outreach and Lead Generation
LinkedIn Sales Navigator is an incredibly helpful outreach, sales, and lead generation tool found directly in the LinkedIn platform.
Its best features are its ability to search and filter far more effectively than in the native LinkedIn platform, discover who is viewing your profile, and send messages to anyone despite your connection status.
These features are helpful, but fall short of the automation features third party tools offer.
On the other hand, because it's a LinkedIn tool, you run no risk of being flagged or banned for using third party automation tools.
#4. Dux-Soup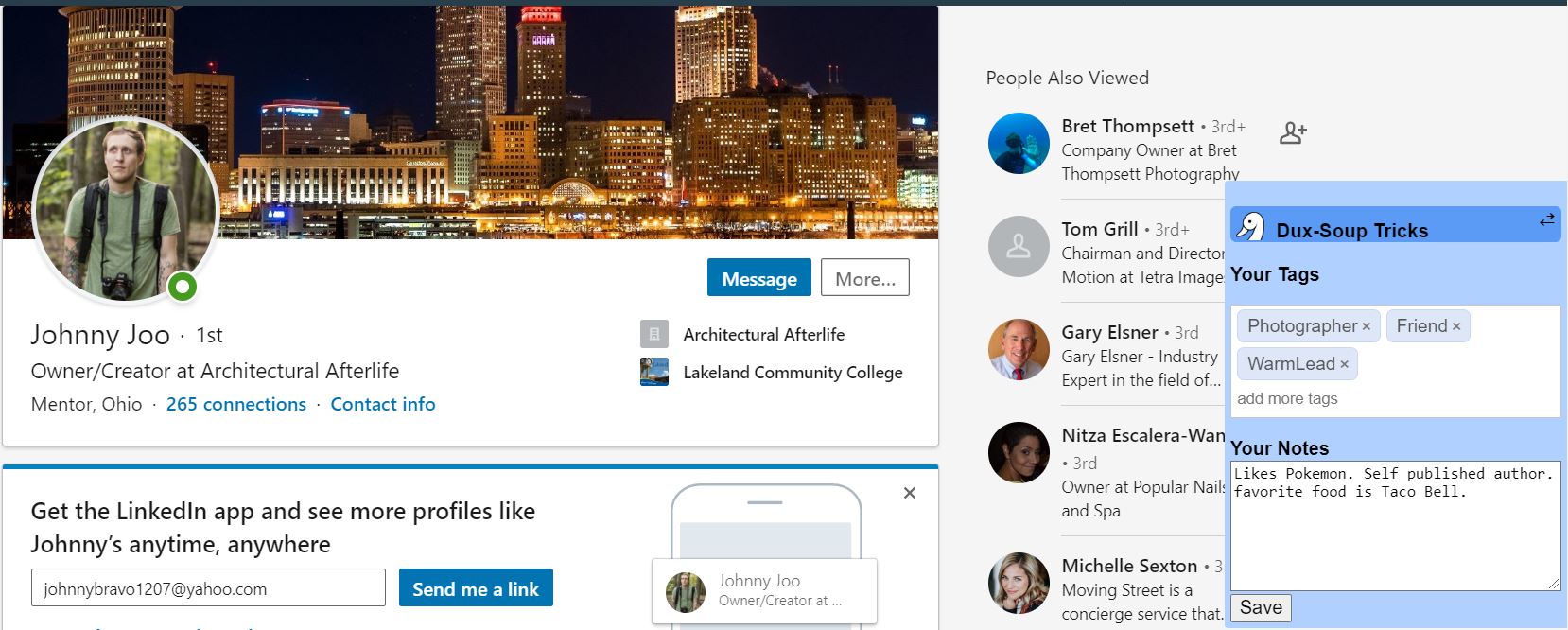 Pricing: Starts at $11.25/mo (freemium version with limited features)
Pros:
Being a Chrome extension, it's easy and quick to set up.
It allows you to scan and download profiles for easy lead management.
Strong automation features like automated profile visits and messaging.
More affordable than similar tools.
Cons:
Since it's a Chrome extension, you need LinkedIn open at all times in the background for it to run.
Somewhat difficult to switch between accounts.
The user interface isn't as clean as similar tools.
Use Case: Outreach and Lead Generation
Dux-Soup is a leading LinkedIn automation tool, and one of the only ones in the form of a Chrome extension. It allows you to automate prospect profile views, skill endorsements, and sends personalized messages on your behalf.
Its notes and tags also help you organize your prospects and leads, and uploading directly to CRM platforms makes for easy lead management.
Dux-Soup offers a free version with limited features, as well as an $11.25/mo plan with some nice management and organization tools. Their $41.25/mo plan is most comparable to similar automation tools, and a good bit more affordable than others.
The downside, though, is that the Chrome extension seems to be a little buggy at times with a less-than-stellar UI.
#5. Meet Alfred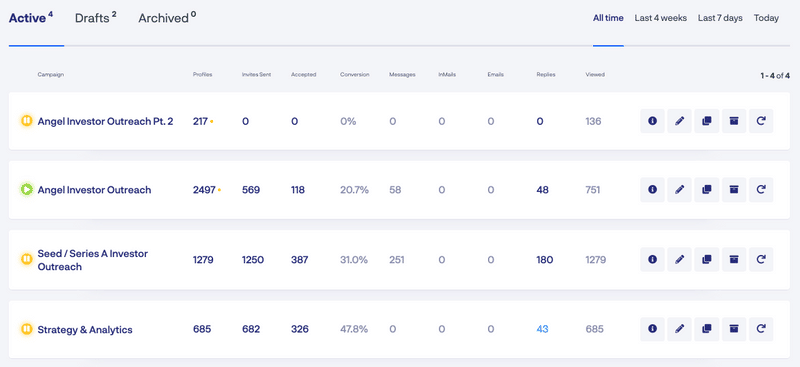 Pricing: Starts at $29/mo
Pros:
Alfred's campaign manager lets you set up automated messaging campaign sequences.
They offer their own CRM to manage leads and connections.
They offer multiple pricing options.
Cons:
Only the higher priced packages give you access to the full suite features.
Alfred doesn't utilize fixed IPs, which can be risky.
Use Case: Outreach and Lead Generation
Meet Alfred is a jack-of-all-trades LinkedIn selling solution.
The tool offers powerful outreach automation features, such as messaging campaign sequences and smart reply detection, which prevents you from sending a campaign message to someone you're already having a conversation with.
In addition, it also comes with strong lead management features, which include an in-built CRM and an analytics dashboard.
Their pricing starts at $29/mo, but some of the more robust features (like InMail automation and third party integrations) are only available on their $59/mo plan. Still more features are available for $99/mo.
They have a number of safety features such as messaging limits and Auto Captcha detection, but they don't use dedicated IP addresses or random messaging delays like some similar tools.
#6. PhantomBuster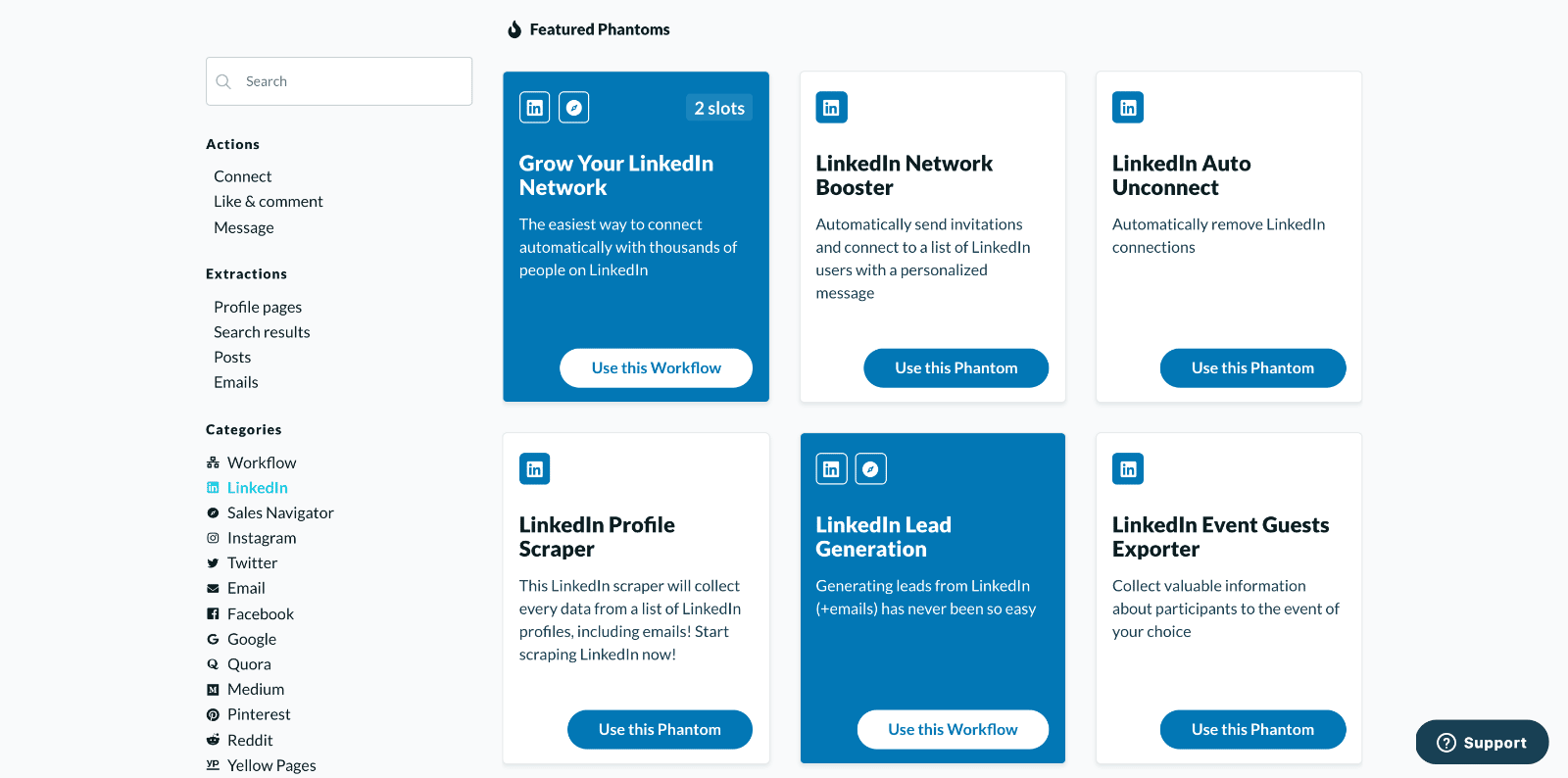 Pricing: Starts at $30/mo (freemium version with limited features)
Pros:
It let's you scrape LinkedIn data and easily export search results.
It offers a wide range of features and automations.
Works effectively alongside other automation tools.
Cons:
Automations appear to be one-click setups, but some can be difficult to configure.
You pay for each hour you're using the tool, which can really add up. The free version gives you 10 minutes per day while the $30/mo plan gives you 1hr of use per day.
Though they offer a free plan and one at $30/mo, it takes more time than either of these plans offer to really make progress with PhantomBuster.
Use Case: Outreach and Lead Generation
PhantomBuster offers workflows for automated messaging, connections, and outreach – but their best features have to do with scraping and extracting data.
You can easily collect and download LinkedIn profile data, filtered searches, activity, and messages. This data can then be uploaded to a CRM, lead management system, or prospect database. Depending on your marketing strategy, you can do a lot with this data.
A Phantom is a single automation that either extracts data for you or performs an action on LinkedIn. Each plan offers a daily time limit for your Phantom use and a total number of Phantom "slots" you can have access to. The $30/mo plan gives you 5 Phantom slots and 1 hour of daily usage.
For example, one Phantom is the "LinkedIn Network Booster," which sends invites with a personalized message to a list of LinkedIn users.
You might combine this with the "Message Sender" and "Auto Commenter" phantoms for your lead generation activities. If on the $30/mo plan, this would fill three of your five phantom slots, and the time used will vary based on the task. Learn more about their pricing here.
#7. LinkedHelper 2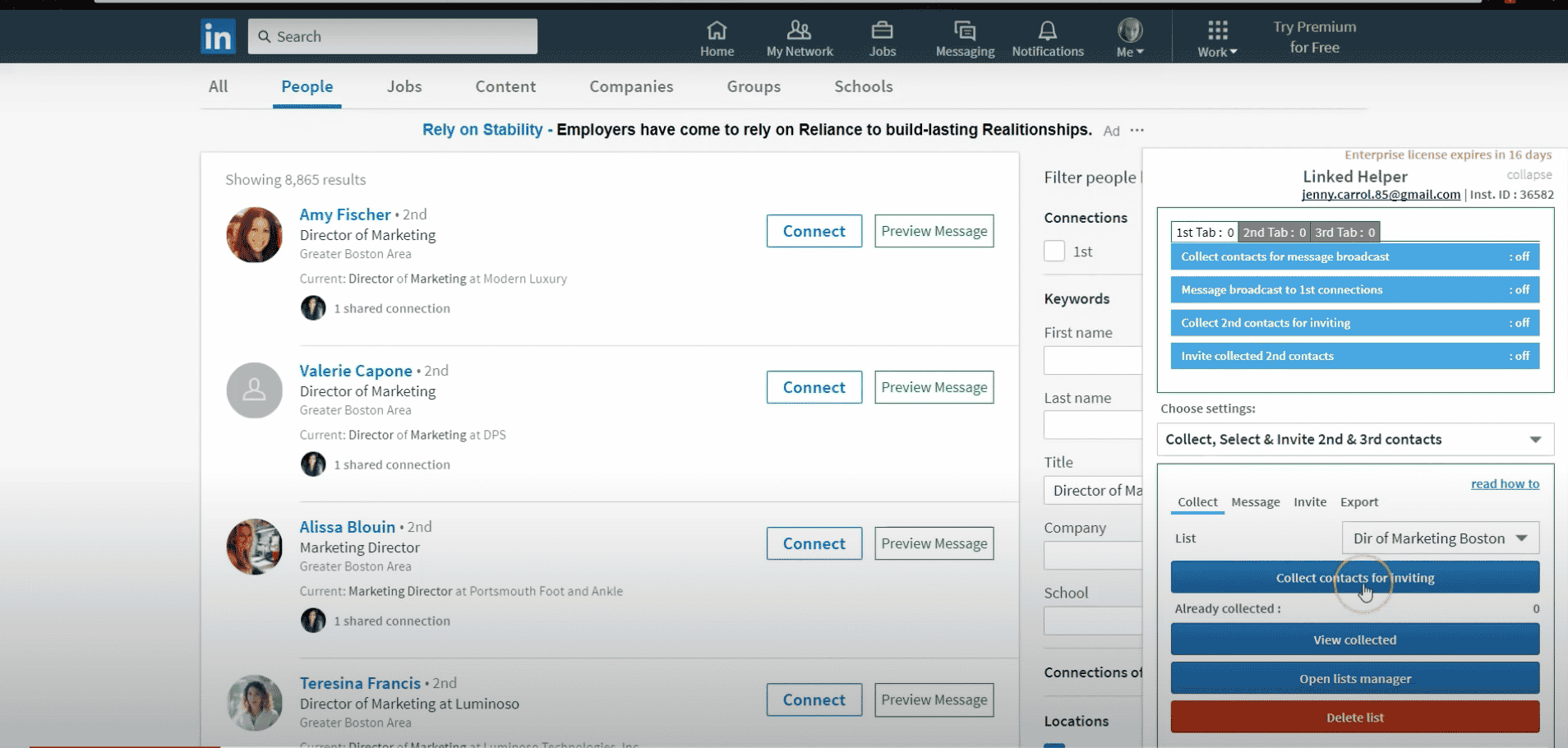 Pricing: Starts at $15/mo
Pros:
Offers a variety of templated outreach campaigns.
Allows you to message those you aren't directly connected with.
Features a simple CRM that lets you easily manage LinkedIn contacts.
Cons:
The first version of the tool was a Chrome extension, but was removed from the App Store for safety concerns.
Doesn't have the same level of safety features as similar tools.
Some users have complained about warnings and temporary bans.
Use-Case: Outreach and Lead Generation
LinkedHelper is an awesome tool that helps you automatically expand your network, prospect leads, and organize contacts.
It features many capabilities like automated messaging, invites, tagging, and profile visits – and operates similarly to other automation tools.
If you're looking for a LinkedIn outreach & lead generation tool, though, we'd recommend some of the other tools, as some LI helper users have complained about getting banned or warned by LinkedIn.
#8. Podawaa
Pricing: Starts at $13.84/mo (freemium version with limited "credits")
Pros:
Receive likes and comments on your content for increased visibility.
Personalized audiences make for more qualified engagement.
You can earn likes and comments as you engage with others in your pods.
Cons:
It lacks the safety features of similar tools.
The automated comments are sometimes irrelevant.
The product is fairly new, so some bugs are still being worked out.
Use-Case: Content Engagement
Podawaa is a new auto-engagement tool with a "pod" model. You join a relevant pod and receive likes and comments on your posts, boosting their visibility among your network.
Unlike other pod-driven tools, Podawaa seeks to place you in industry-relevant pods, so you're receiving and giving likes and comments with people you might actually be connected with. This helps prevent detection of your pod and makes your profile appear more legitimate.
That said, the tool has been around for less than a year, so they are still working out early software bugs. They also don't have quite the number of features as other LinkedIn pod tools, but their public roadmap shows that they're quickly catching up.
#9. Buffer
Pricing: Starts at $15/mo (freemium version with limited features)
Pros:
Buffer is beautifully designed and very easy to use.
Awesome content management features that allow you to categorize and tag your content for specific audiences and campaigns.
If you're only posting to LinkedIn (opposed to Facebook and Instagram), the free version's 10 scheduled posts may be enough for you.
Cons:
Occasionally scheduled posts won't actually be published.
Detailed Analytics comes at an additional monthly price.
Use Case: Content Publishing and Management
Buffer is one of the market leaders when it comes to social media content management and scheduling – for LinkedIn as well as Instagram, Facebook, and Pinterest. Its platform is beautiful and intuitive, even for those who have never used similar platforms.
Their social media calendar and collaboration tools are their best features, letting you create workflows for edits and approvals.
The only downside is that posts will occasionally file to properly publish, meaning you have to log in and make them manually. But it seems these glitches are occurring less and less.

Grab our FREE checklist and discover why!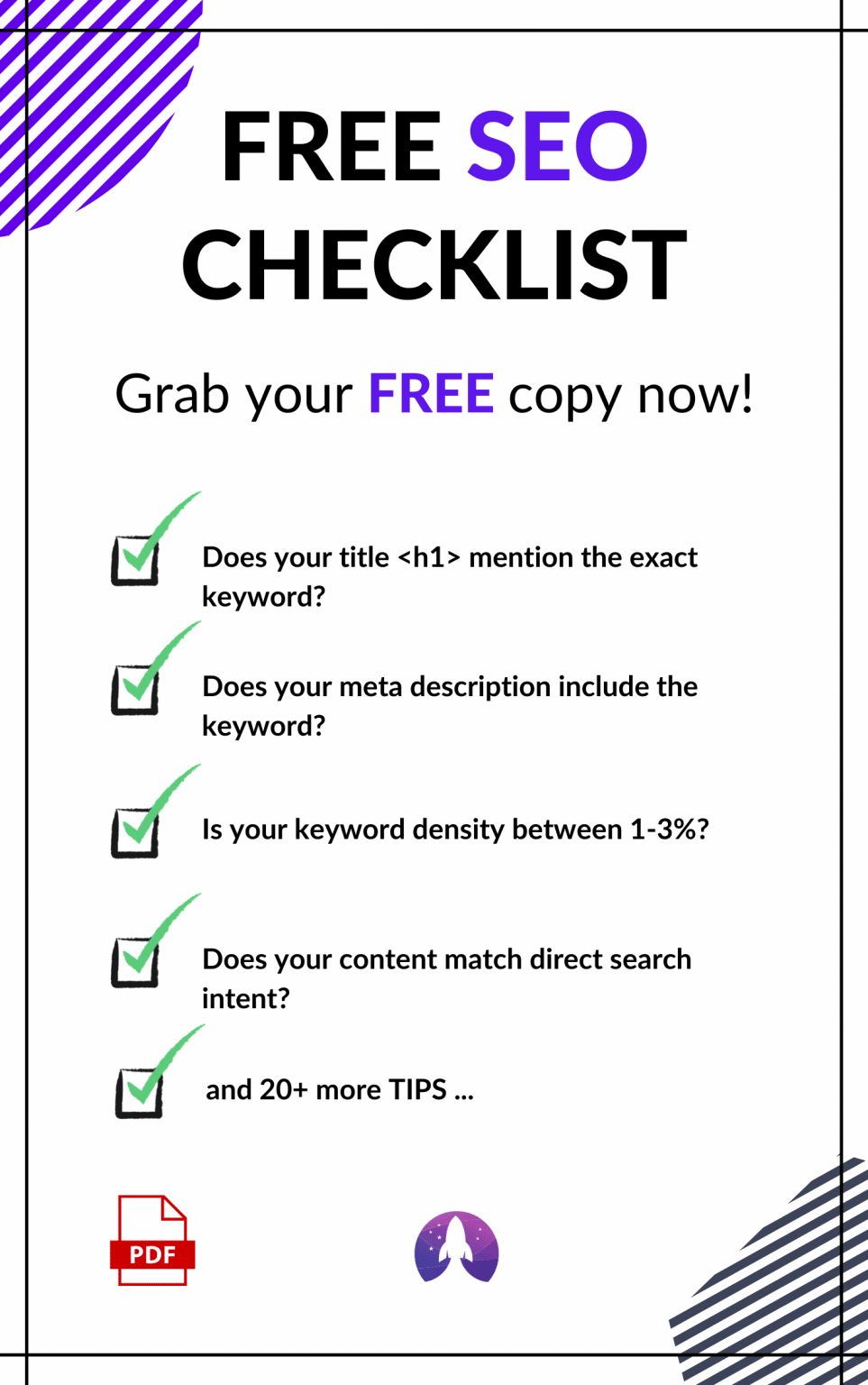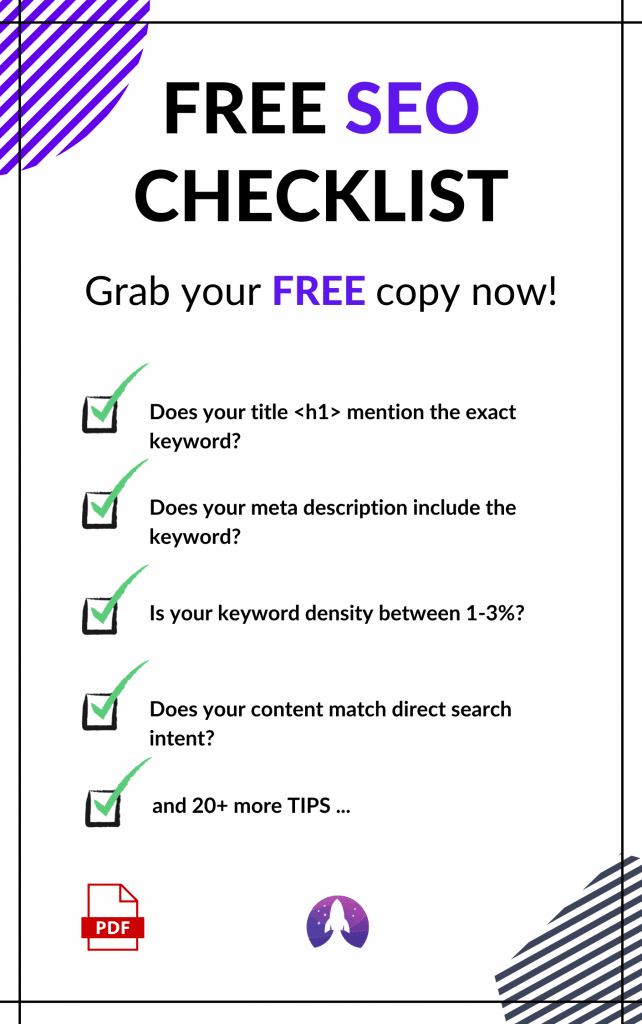 #10. Social Pilot
Pricing: Starts at $25.50/mo
Pros:
Automate and schedule your LinkedIn posting.
You can create a LinkedIn content calendar and share with the whole team for easy collaboration.
Includes intelligent reporting for in-depth analysis and uncovering trends.
Cons:
There's a limit on how much you can post daily.
If you're only using it for LinkedIn publishing, the price might not be worth it for you.
The UI isn't quite as intuitive or clean as similar social media posting platforms.
Use-Case: Content Publishing and Management
SocialPilot is a fantastic social media management tool.
It helps you quickly and easily schedule bulk LinkedIn posts, which allows you to write your content for the week or month, schedule it, and not have to think about it again until your next batch of writing. You can also manage posts for eight other social platforms.
Its bulk scheduler is a strong feature than can save you a ton of time.
It's not as easy to use as competing tools, but the product is still relatively new and it looks like big updates are coming soon!
#11. Crystal
Pricing: Starts at $40/mo
Pros:
Unique tool that assesses personality traits of prospects based on LinkedIn profiles and activity.
It gives advice during conversations in messages based on personality.
Saves you tons of time that you might spend digging into a prospect's profile.
Cons:
Personality profiles aren't always 100% spot on.
It lacks some integrations with email and other communication software you may use for prospecting.
It's a relatively new tool, so some of their resources and product documentation are weak.
Use-Case: Outreach and Lead Generation
Crystal is a unique LinkedIn automation tool that helps you better understand your prospects. It scans a LinkedIn profile, gives you the prospect's personality type, and then gives advice on how to best connect with them.
It can be used for outreach and sales, but it can also come in handy when trying to form any kind of relationship – whether looking for a business partner, potential prospects, or new recruits to your team.
It's probably no surprise that the personality profiles aren't always perfect. And if someone has minimal information on their LinkedIn profile, Crystal can't give you a whole lot of data.
Nonetheless, it's often spot on and can be the difference between a closed deal and a complete miss.
Choose Your LinkedIn Automation Tool
LinkedIn is the perfect platform for sales outreach and prospecting, but staying active, prospecting, and performing outreach for successful B2B marketing can take up far too much time.
These tools we've covered can take a lot of the work off your plate – for a small price tag.
Give a few of these tools a try, check out their reviews on G2 or Capterra, and work one or two of them into your LinkedIn workflow. Trust us, you won't regret it!