Looking for a SaaS marketing agency to help you skyrocket your growth?
The right agency isn't all that easy to find.
After all, there are thousands of digital marketing agencies out there, all of which claim to be able to get you amazing results.
How can you know which ones are up to the task?
To help you find the best SaaS marketing agencies for your business, we compiled this listicle.
Here's what we're going to cover:
9+ Best SaaS Marketing Agencies in 2021
How to Pick The Right SaaS Marketing Agency
SaaS Consulting VS SaaS Marketing - What's the Difference?
To make this list as helpful as possible, we vetted all of the digital marketing agencies included in the article. We specifically picked agencies that have:
🔥 Proven case studies with significant results
💻 Worked with SaaS clients in the past
🌐 A strong web presence and a good reputation
9+ Best SaaS Marketing Agencies in 2021
#1. Apollo Digital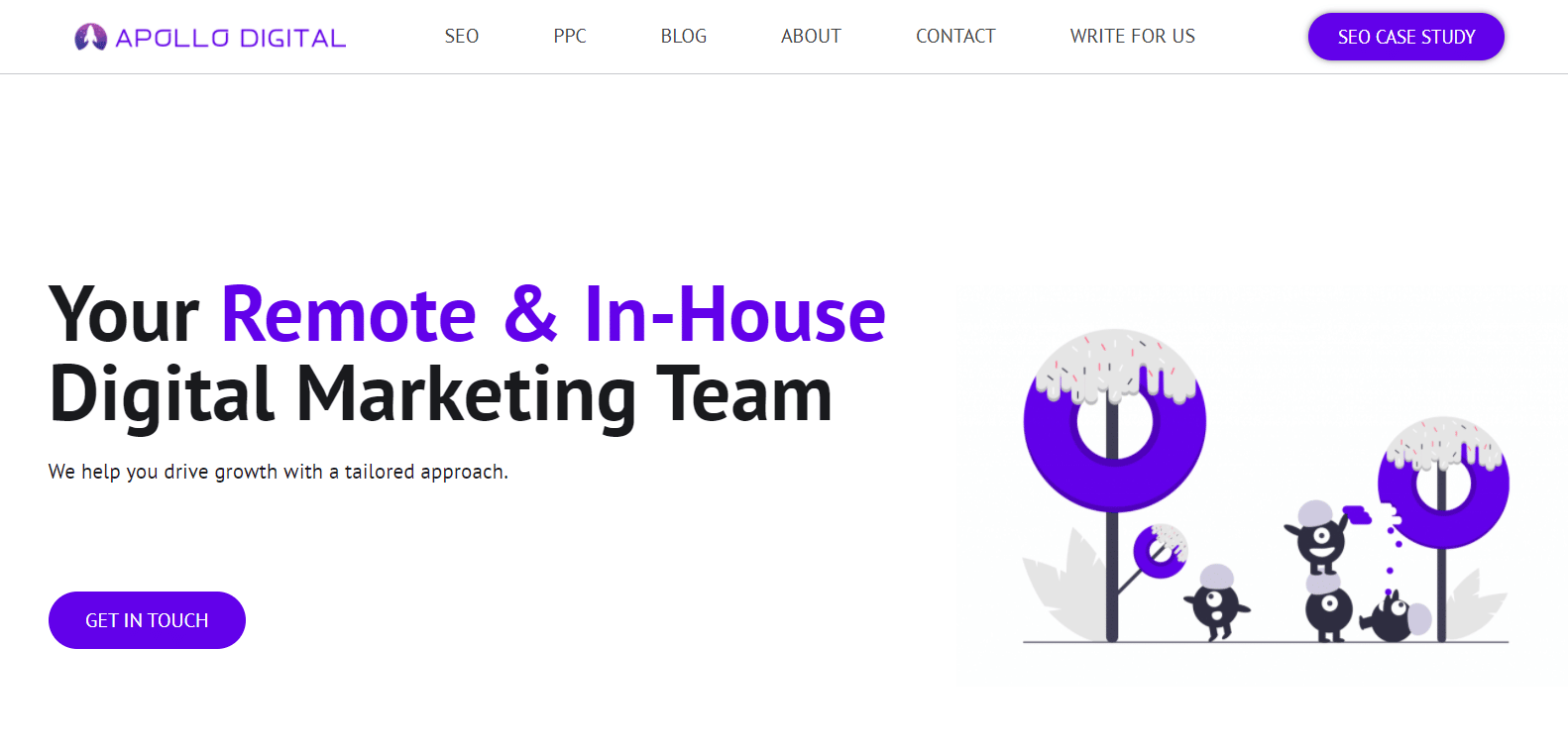 Let's start with us - hi!
We're Apollo Digital, a full-service SaaS marketing agency. Here's what makes us stand out:
We put our money where our mouth is - the way we market ourselves is a very good indication of what we can do. We:
And are starting to get some SEO results, even though we started doing SEO for our blog only in February 2020!
We've helped grow a BPM SaaS from 0 to 200,000 monthly organic traffic in 2 years:
You can check out the SEO case study here.
We've also helped several other SaaS companies get amazing results with SEO, including taking an HR tech company from 1 million to 1.8 million monthly organic traffic within a year.
Finally, we've also had strong successes with PPC advertising. For example, we've managed to generate a 20% increase in MRR for a dedicated server hosting provider using SEM (and that's after 5 years of growth stagnation!).
Some of our SaaS marketing clients include:
Want to work with us? Get in touch here!
#2. Bounty Hunter
Bounty Hunter is a team of 6 fully dedicated creative people doing performance marketing.
Their expertise includes executing data-driven user acquisition and user activation campaigns for early-stage and mid-sized B2B SaaS products.
Bounty Hunter provides PPC, Link Building, Product Marketing, Content Marketing, Marketing Automation services. They work in 2 different ways:
As an outsourced marketing team, owning an entire project
Or as an extension of the client's marketing team
They've worked with several SaaS clients, including IdeaBuddy, ActiveCollab, Vacation Tracker, and more.
#3. Flying Cat Marketing
Flying Cat Marketing is a content marketing agency for SaaS companies with a focus on the hospitality industry. They help growth-stage startups launch revenue-driving content marketing strategies from start to finish.
They help their clients reach business objectives with content. For instance, they got tye (venture-backed data cleaning software) page 1 on several high-competition topics and doubled traffic for Host Tools (Austin-based channel manager and automated messaging tool for Airbnb hosts), increasing trial to paid conversion by 46%.
Flying Cat handles the content marketing strategy from start to finish, including:
Customer & topic research
Content strategy & editorial calendar creation
Content creation
Link building & content distribution
Their KPIs are leads, qualified traffic, and conversions, not just blog posts delivered.
#4. Fame
In 2021, podcasts are bigger than ever - and B2B SaaS companies are taking advantage of that.
Fame is a B2B content marketing agency with a focus on podcasting. They help start and grow profitable podcasts for B2B SaaS businesses.
Fame helps their clients with every step of the podcasting process, which includes:
Defining the strategy
Finding and booking guests
Training the host
Promoting the podcast
...And more!
They've worked with several clients in the SaaS niche, including Document360, a knowledge-base platform.
#5. Content Distribution
Content Distribution is an SEO and content marketing agency working with SaaS and e-commerce companies.
They've taken several websites from 0 to 100,000+ organic searches per month. The fastest, going from 0 to 273,000 in 14 months.
They've worked with several high-profile SaaS brands, including DoNotPay, a B2C SaaS, backed by Peter Thiel and Andreessen Horowitz.
#6. Fullfunnel.io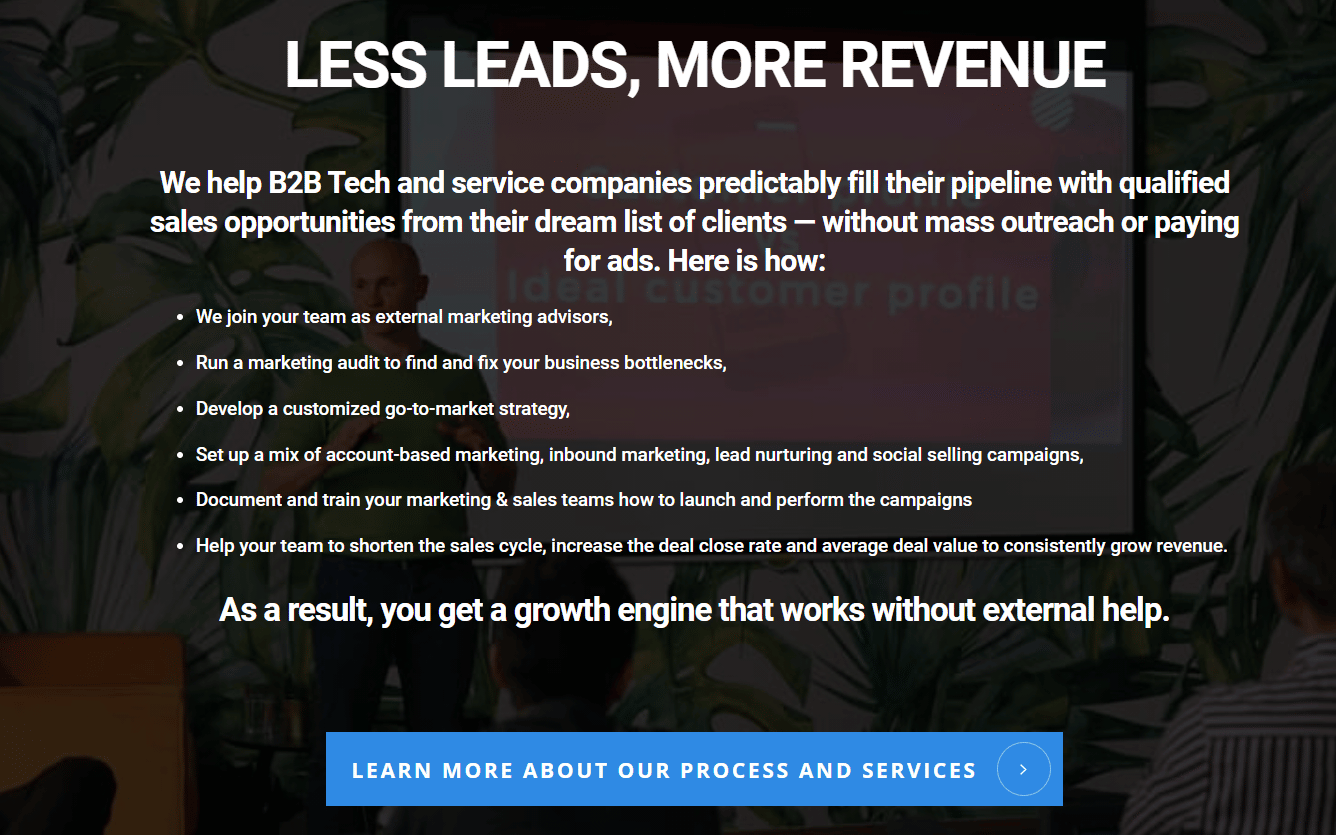 Fullfunnel.io (formerly Getleado) is a B2B SaaS marketing agency. They help their clients by:
Joining their team as external marketing advisors.
Developing a customized go-to-market strategy.
Setting up a mix of inbound lead generation campaigns.
Training marketing and sales teams.
They offer 2 types of service:
Managed B2B marketing services - Helping B2B Tech and service-based companies growing revenue via customized go-to-market strategy and managed marketing sprints.
Full-Funnel academy - Full-funnel B2B marketing academy and training programs to teach marketers on how to grow B2B businesses with complex sales cycles.
Fullfunnel.io has been nominated as one of the best-integrated marketing agencies by DesignRush in 2019 and 2020.
#7. Brainy Bees
Brainy Bees is a content & PR marketing agency working for SaaS businesses all over the world. They support SaaS companies in global expansion through content marketing, SEO copywriting, Quora marketing, non-standard PR activities, high-quality link building, wise content distribution and out-of-the-box social media strategy and outreach.
Currently, they work for 10+ SaaS companies from all over the world, many of which are recognized as some of the fastest-growing companies on the SaaS market.
Some of the clients they've worked with include CloudTalk, Kontentino and LiveWebinar.
#8. Horse Shoe + Co.
While not exactly a traditional SaaS marketing agency, Horse Shoe + Co. still deserves a mention on this list.
Chances are, you're using HubSpot for your SaaS marketing - it's one of the most powerful sales & marketing tools out there.
It comes with dozens of amazing features, everything from sales pipelines to workflow management…
...But with this many features, it can be really hard to get the most out of HubSpot.
And that's where Horse Shoe + Co. comes in - they help you with all things HubSpot, ensuring that your SaaS marketing operations are as efficient as they can be.
Some of the companies they've worked with include:
Trainual
Time Doctor
Flex
#9. Quoleady
Quoleady is a content marketing agency for SaaS companies. They help with every stage of the content marketing process, including strategy, writing, promotion, and more.
They've worked with Expandi, Monday.com, Chanty, GetVoIP and many more SaaS companies.
Quoleady also helped generate tens of thousands of leads for their clients, in addition to getting them featured on big media such as Forbes, American Express, HubSpot, and others.
#10. Insightcraft
Insightcraft is a sales-as-a-service agency focused on making sales work for SaaS companies.
The value proposition that Insightcraft drives is the waiver of overhead - of screening, of hiring, of coaching, of managing and of growing a Sales function within an organization. Their client portfolio includes both small and large B2B tech companies, with a special focus towards growth stage companies.
Insightcraft founders have first hand experience in growing startups to multi-million dollar businesses with global footprint. Their in-house team of vetted professionals is distributed across multiple countries, providing clients a local presence in a global expansion strategy.
With the rich experience of the team and their tried & tested methodology, their clients are able to see positive results, fast. Translated into numbers, their results include 300+ meetings, $9M+ in pipeline generation, $5M+ in booked revenue and more.
Owing to increasing demand, they have also recently added "customer success as a service" and "managed product development" services to their portfolio
How to Pick The Right SaaS Marketing Agency
First, check if the agency is legitimate:
Do they have proven case studies?
Have they been around for a while?
Have they worked with SaaS customers in the past? Keep in mind that SaaS marketing can be significantly different than conventional marketing.
Do the founders have a background in working with SaaS companies in-house?
All the agencies we've mentioned in this article cover all those criteria, so you can skip this step.
Then, check if the agency is going to be particularly helpful with your niche and/or specific marketing channels.
Check if they have experience with a SaaS product in your niche.
Check if they have experience with the channel you need help with. E.g. a specific agency might have a stronger background in SEO than in PPC.
Ask the agency to give you a detailed roadmap for the work together, as well as possible results, timeline, etc.
If you want to learn more about choosing the right digital marketing agency, check out our guide.
SaaS Consulting VS SaaS Marketing
These 2 terms often get used interchangeably, but they're not necessarily the same.
A SaaS consultant is usually more product-oriented. They can help you find product-market fit, improve trial-to-paid conversions, find the right SaaS pricing model for your business, and so on.
A SaaS marketer, on the other hand, specifically focuses on helping SaaS businesses with a proven model to grow by using specific marketing channels - SEO, content marketing, PPC, etc.
Some of the best SaaS marketers also double as SaaS consultants, having experience with both product and marketing.
SaaS Marketing FAQ
#1. SaaS Marketing Agency VS Conventional Marketing Agency - What's The Difference?
It's very important that you find a marketing agency that has worked with (and gotten significant results for) SaaS companies.
See, conventional marketing doesn't work as well with SaaS. A corporate marketer that has gotten amazing results for a large brand might completely botch your marketing for a simple reason:
SaaS marketing is data-driven, practical marketing.
All your efforts and initiatives should be geared towards increasing your user-base.
Whereas with conventional marketing, you can afford to focus on branding, awareness, etc.
#2. Which Marketing Channels Should I Try For My SaaS?
There are dozens of marketing channels you could be using in 2021 - Facebook ads, content marketing, SEO, and the rest.
If you're new to SaaS marketing, you're probably wondering which one is the best for your business.
It really varies on your niche and industry, but here's some general advice:
SaaS Content marketing and/or B2B SEO is good if your ideal customers look up educational content around your product. E.g. If you're selling a resume builder SaaS, the customer might want to know how to make a resume, write a cover letter, etc.
If you're doing B2B SaaS marketing, you can try doing cold outreach via email, LinkedIn, or phone.
Google Search Ads can work if your ideal users are looking for your software, and your industry isn't too competitive.
LinkedIn ads are perfect if you're an HR tech startup (sourcing specific types of talent) or B2B SaaS looking to target decision-makers in companies.
Facebook ads are more useful for B2C SaaS companies, as you can mainly target by demographics and interests.
Want to learn more about each of these channels? Check out our guide on how to learn digital marketing or our run-down of the best digital marketing courses in 2021. 
#3. How Much Does a SaaS Marketing Agency Cost?
SaaS marketing services can cost anything from $1,000 to $50,000 monthly, depending on:
Type of services offered.
Scope of services offered.
The reputation of the SaaS marketing agency offering the services.
Further Readings on SaaS Marketing
Thanks for the read, and hopefully, we managed to help you find the right SaaS marketing agency for your business.
Before you go, make sure to read some of our other top content on SaaS marketing: