The internet is overflowing with SEO content.
You could read SEO articles nonstop for weeks and still have only scraped the surface.
And at the end of the day, you might still struggle with the implementation - taking all that theory, and putting it into practice to get results for your business or blog.
Which is why in this article, we're going to cover 11 practical SEO examples that you can implement immediately.
Read on to learn:
How HubSpot Uses SEO to Drive 5+ Million Monthly Organic Traffic
How Backlinko Builds 100+ Backlinks Per Post With the Skyscraper Technique
How NinjaOutreach Used Interlinking to Increase Organic Traffic by 40%
And more!
So, let's get started.
How to Do SEO?
SEO is a process.
Some people in our industry like to glamorize it and claim they have some kind of "secret sauce." Others promote short sighted "hacks" for growth.
But at the end of the day, successful SEO involves following the same process, day-in and day-out. It's a long term investment. And it usually involves the same steps every time.
Shortcuts and hacks might work for a short period of time, but if you want to see serious long term results, you've got to put in the work.
The exact SEO process you need to follow to net 100k+ monthly organic traffic is as follows:
Define Your SEO and Content Strategy. Diving into keyword research and content creation before defining your strategy can be costly. It can leave you unorganized and scrambling down the road. Make sure you have a crystal clear understanding of your goals, objectives, and process.
Ensure Your Site is Technically Optimized. Google must be able to easily crawl and index your pages if you want to rank. Implement technical SEO best practices to make sure this is the case.
Perform Keyword Research. Keyword research is the heart of your SEO process, and it can make or break your results. Decide what topics you'll cover, use reliable SEO software to find accurate data, and then prioritize your top keywords.
Create Quality Content. Once you have your target keywords well defined, start creating content for your highest priority keywords. Decide how you'll tackle each keyword, hire excellent writers, and provide them with detailed outlines.
Optimize Your Content with On-Page Best Practices. On-page optimization tactics make it crystal clear to search engines what topic and keywords your page is all about. You can use tools like Yoast or RankMath to help you lock-in your on-page optimization.
Earn Backlinks to Your Site. Backlinks (links from other sites pointing to yours) can really set your site apart and help you capture rankings for even the most competitive keywords. Some of our favorite strategies include the skyscraper technique (we'll cover a great example of this below), broken link building, and creating link magnet content.
Take Advantage of Internal Linking. Internal links (links between pages on your site) help distribute link equity throughout your site and can help search engines better crawl your pages. Just by optimizing their internal linking, Ninja Outreach managed to increase their organic traffic by 40%.
Maximize Your Click-Through Rates. Earning high rankings is only half the battle. The other half is getting searchers to click on your pages. The biggest factor influencing CTR are your headlines (the title tags that show in search results). Write titles that are enticing, actionable, and unique – and always be monitoring your CTRs.
Now, we're going to cover each step of this process, explain what they involve, and cover real-life examples.
11 SEO Examples (for 2021)
#1. SEO and Content Strategy Example
Clarifying your strategy for SEO and content upfront is vital to your success.
It starts with setting clear goals and key performance indicators so you can measure your progress.
Once you have clear goals set, you've got to determine what topics and keywords you'll be targeting, what the competition looks like, and your plan of attack.
Next comes content. Set clear objectives around how often you'll publish and how much content you aim to publish monthly. A good target is between 10k and 30k words per month. This ensures you're capitalizing on your keyword opportunities and keeping your audience engaged on a regular basis.
After you set content goals, you've got to source SEO writers. Nail down how many writers you'll hire, where you'll find them, and your process for managing them.
Lastly, you need a plan for link building. Maximize your time by setting your strategy upfront (we'll cover a great example of effective link building later on).
If you're looking for a great example of SEO strategy implementation, look no further than the inbound marketing giant Hubspot.
They set and committed to a clear SEO strategy as they began their rise, leading them to ranking for over one million keywords and driving over five million users to their site each month from search.
It's clear they went all-in on a content marketing strategy early on, starting by choosing topics relevant to their product and audience.
Beneath each topic, they cover a ton of subject matter with high quality content – everything from broad top-of-funnel questions like "what is sales" to hyper specific queries like "how to mail a large video file" and "brands doing personalization well."
They set in place an SEO and content strategy and followed through with it. There was no haphazard publishing here – and their $400 million in annual revenue proves it.
#2. Competitive Spying SEO Example
Competitive analysis is a crucial piece of successful SEO and content marketing for two reasons:
You need to know what you're getting into. Super competitive niches can be tough to break into. Familiarize yourself with the big players in the industry, what kind of content they're publishing, and how you can stand out.
You can use insights from your competitors to help you set your own strategy. Many of your competitors are much further along than you on their SEO journey, so it would be naive not to take note of what's working for them.
We're not encouraging you to copy their content, just to learn from their strategy. A competitor who has high rankings and traffic has clearly been doing something right. Find out what they've tapped into and use it for yourself.
To do this, navigate to "Organic Research'' in SEMRush or "Organic Keywords'' in Ahrefs and plug in a competitor to identify all their ranking keywords. If you don't use either of these paid tools, you can get similar insight from Ubersuggest's competitor reports.
Then, go through the competitor's top-ranking keywords, and extract the ones that are relevant for your business.
Pro Tip
Keep in mind that simply copying a competitor's approach won't do much for you. Instead, ask yourself how you can make your content better.
Here are some of our tips on creating compelling content (we'll get into more detail on this in a bit):
Use more examples and case studies.
Make your article more comprehensive. If your competitor wrote 2,000 words on the topic, you can probably do 2,500.
Use images and visuals when you can. This ensures that reading your content is an enjoyable experience.
#3. Keyword Research Example
Keyword research is the foundation of your SEO efforts.
If you go after keywords that are too competitive or have no search volume, you can publish all you want, but the traffic probably won't follow.
Instead, you have to target relevant keywords your audience is searching for, and ensure they're realistic to rank for.
To make this as practical as possible, here are the exact steps we take at Apollo Digital to do keyword research.
First, we build our keyword list.
There are plenty of tactics we use to get great keyword ideas. Here are the two we rely on most:
Get insight from your competitors. We discussed this above. The gist is that you use tools to find out what your top competitors are ranking for. Then, you go through their rankings and pull out relevant keywords for your own efforts.
Use tools for keyword ideas. SEMRush, Ahrefs, and Ubersuggest all have features that generate keyword ideas for you. Just insert a topic you want to cover or a seed keyword and get hundreds of ideas. Pull the most relevant for your list.
Once you have your list, we organize and prioritize our keywords. Make sure you have search volume and competitive data on your list. Depending on the tool you use, you'll have a different metric. Ubersuggest's is "SEO Difficulty" while SEMRush uses "Keyword Difficulty."
Then, prioritize each keyword as follows.
High Priority: Our high priority keywords are those with the highest search volume and the lowest competition (pages ranking for these keywords have low # of backlinks). We want to create content for these ASAP.
Medium Priority: Those with slightly less search volume and some competition are medium priority keywords.
Low Priority: And those who either have decent search volume and high competition or lower search volume are lowest priority. We still want to target them, but they're not nearly as important as the other 2 categories.
Once you've followed these steps, you should be left with a good looking keyword research sheet to guide your content creation.
Want to see what this looks like in practice? You can check out our very own keyword research sheet here.
#4. On-Page SEO Example
On-page optimization isn't the sexiest SEO tactic, but it's necessary if you want to see serious traffic.
On-Page best practices include:
Placing your target keyword in your URL (if possible)
Using your target keyword in your title tag
Working your target keyword into your meta description
Using your target keyword in your H1 heading
Working target keywords into other H2 and H3 headings
Using target keywords and semantically related phrases throughout your body copy
Optimizing images with ALT text
… and a lot more
Luckly, you don't have to necessarily memorize every single best practice and recall them from memory every time you publish content.
There are some awesome plugins on the market that can help you on the fly. RankMath, for example, gives you on-page insights right on the WordPress page you're seeking to optimize.
Just install it, enter your page's target keyword, and get your SEO recommendations.
If you don't use WordPress, Moz has a great On-Page Grader that gives a score and suggestions based on your URL.
We recommend optimizing all your content upon publishing, but also auditing your pages regularly.
A good example of on-page optimization in action comes from online finance community Wall Street Oasis. They audited their content and found opportunities for on-page improvements. They implemented just a few changes on the majority of their pages:
Lengthening content and using subheadings
Optimizing their H1 headings for the target keyword
Adding an image or video to each page
These subtle on-page optimizations resulted in an organic traffic increase of 32%. You can read about the full case study here.
#5. Technical SEO Example
Technical SEO is another crucial (but often overlooked) aspect of SEO.
There are a number of technical SEO aspects you'll want to be familiar with:
Robots.txt: Your robots.txt file tells search engines how to crawl your site. You don't necessarily have to have one, but if you do, you need to make sure it's set up correctly to avoid having huge portions of your site ignored. Learn more about robots.txt and find some examples in this post from Moz.
Sitemaps: Best practice is to generate a sitemap and submit it to search engines for optimized crawling. You can generate a sitemap through tools like Yoast or XML-Sitemaps and submit it to Google through Google Search Console.
Site Architecture: The way your site is structured has huge crawling implications. In short, sites that are closer to your homepage have the best chance of being crawled regularly. Make sure your highest priority pages are one or two clicks away from your homepage.
Site Speed: We'll talk more about site speed in the next section, but put simply, pages that load slowly suffer in search results.
Schema Markup: Schema markup helps search engines better understand your website. It can also be used to show rich snippets along with your search results. You can use schema markup to tell Google what kind of business you are, showcase reviews on certain products in results, and display FAQ in SERPs.
Brian Dean details a great example of technical SEO in his guide. Bill Widmer of The Wandering RV blog saw an opportunity to beat out competition with schema markup.
His pages on RV insurance were up against some serious competition like Geico and Progressive. To compete, he decided to implement FAQ schema markup (this article from Google will help you learn the basics of implementation – but you but you may need to involve a developer), earning him an FAQ rich snippet.
This technical optimization earned him an easy 15% increase in organic traffic to this page.
#6. Site Speed SEO Example
We briefly mentioned site speed in our technical SEO section, but it's so important it deserves its own example.
Not only does having a slow loading site hurt your user's experience, it can also crush your rankings. Google released a core update in 2018 making pagespeed an important ranking factor.
Pagespeed can be a bit complex, but some of the most important aspects are First Contentful Paint (FCP) (which refers to the first time a user sees some content on the page) and Time to Interactive (which refers to the first time a user can interact with your page).
The best resource for checking out your site speed is Google PageSpeed Insights. They give you a total score for desktop and mobile, break down some key metrics, and give you some suggestions for improvement.
Our team at Apollo made huge improvements to our site speed not too long ago.
Here are some of the biggest areas we implemented improvements and how we did it:
Image Size and Compression. Huge file sizes are one of the biggest hindrances of page speed. Not only are large images slow to load, they often have to be resized by CSS or JavaScript. Uploading images for the exact space they take up and compressing their size can give you huge speed improvements. If you're using WordPress, WPSmush is a fantastic plugin that will compress your images upon upload. If you don't use WordPress, TinyPNG is a great option for image compression.
Assets Being Loaded Too Early. Images or assets at the bottom of the page being loaded at the same time as the assets in the initial viewport can cause slow loading. You can solve this with lazy loading, meaning assets in view will be the first to load, and those below will wait. There are a number of ways to accomplish this. Our preferred method is through WP Rocket, another great WordPress plugin that helps with all things site speed. Once installed, you need to turn on the lazy loading option in the settings.
Large JS, CSS, and HTML Files. If you use any kind of template or theme for your website, there's a good chance you have a lot of big files that need to be loaded with each page. Minifying these files can save a ton of space and page load time. WP Rocket is our tool of choice for this as well. Once installed, you'll simply check that you want these files minified.
So the good news is even if you don't fully understand every aspect of site speed, you can still see massive improvements by installing a few plugins and configuring a few settings.
#7. SEO Content Creation Example
Don't take content creation lightly.
Lots of SEOs crush keyword research, have a great plan, optimize their site, but write really poor content. Bad content does occasionally find its way to the first page, but it rarely stays there.
Committing to creating high quality SEO content is worth the effort.
Here are some tips for creating killer SEO content:
Tip #1. Use Outlines
Whether you're writing yourself or outsourcing to a writer, outlines are critical to creating quality content. Outlines provide guidance, direction, and prevent you (or your writer) from getting off-track. Include what keywords to cover, headings, context for each section, and examples of similar pieces.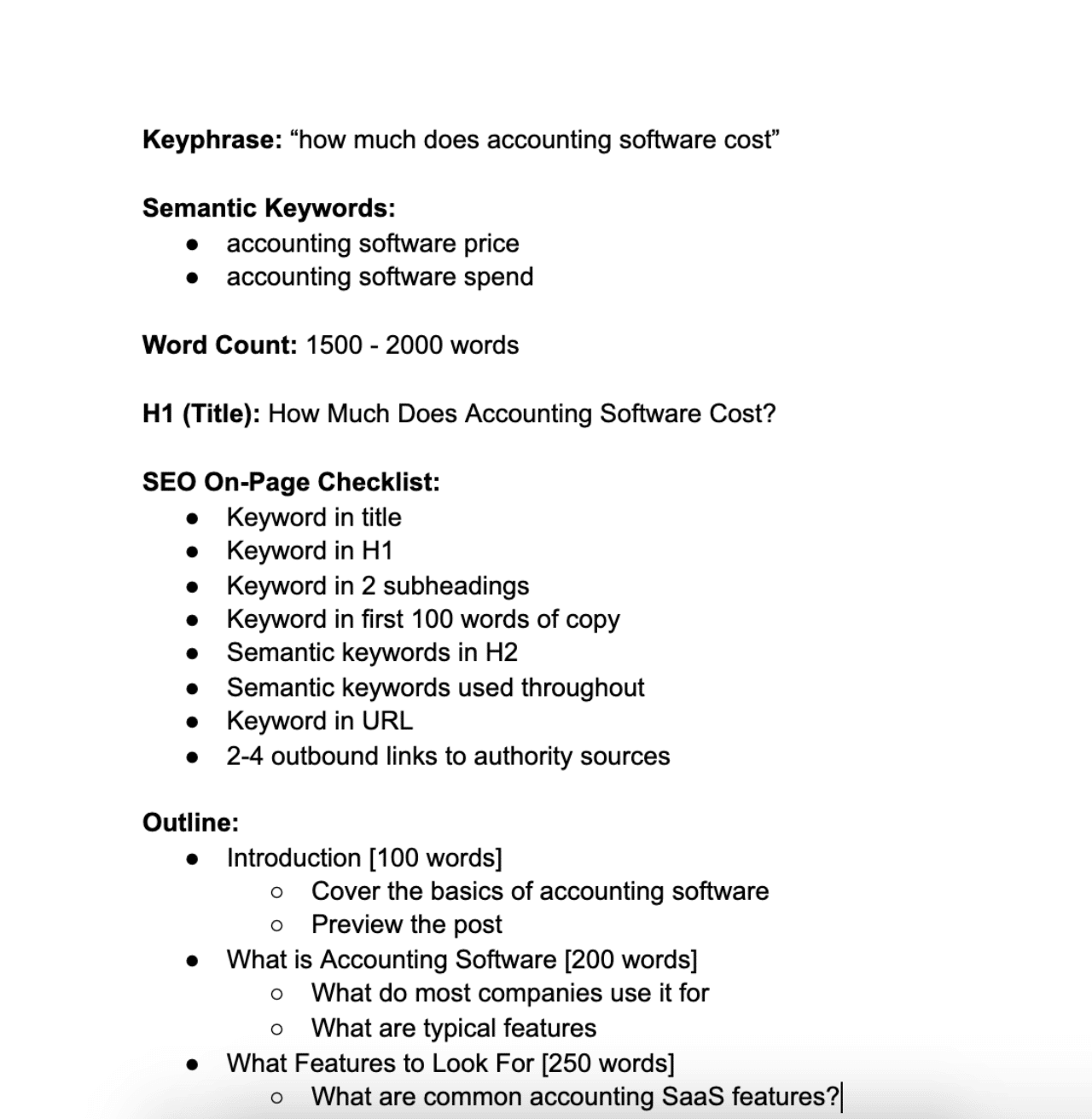 Tip #2. Write for Your User
This is basic information, but a good tip to make sure you're focused on your user is to visit Quora. Browse through the topic you're covering and find frequently asked questions. Mention these questions in your piece, and provide an answer.
Alternatively, you can also rely on Google's "People Also Ask" panel.
But writing for your user doesn't only mean answering their questions. It also means:
Giving relevant examples
Writing in a way that keeps their attention
Using helpful and enticing images
Designing and organizing the content well
Put together a piece of content that you would read every word of.
Tip #3. Include Semantically Related Keywords
Using your target keyword throughout your content is great, but go a step further by using related keywords. You want to find other phrases and terms Google associates with the topic you're covering.
Wikipedia is a decent source for finding related topics and terms, but you can also look at Google's Autosuggestions for more ideas.
So if you were writing a guide to email marketing, you may want to include "email marketing tools," "email marketing strategy," and "how to do email marketing."
One of our best performing pieces of content, and a great example of high quality SEO content, is our SaaS Marketing Bible [41+ Tactics & Case-Studies].
It got 11,000 pageviews in the first month, and is still generating traffic. And more than traffic – it has resulted in leads and revenue as well ($50,000+ to date)!
This piece has performed really well for a number of reasons.
First, it's comprehensive, coming in at over 14k words. But its length isn't what makes it great. It's great because it covers nearly every facet of SaaS marketing you could want to know about.
Second, it's really well-designed and catered to the user. In fact, the user can select which kinds of examples they'd like to see.
Third, it includes over 40 relevant examples and case studies. It's not full of fluff, but useful and actionable strategies readers can replicate.
Grab our FREE checklist and discover why!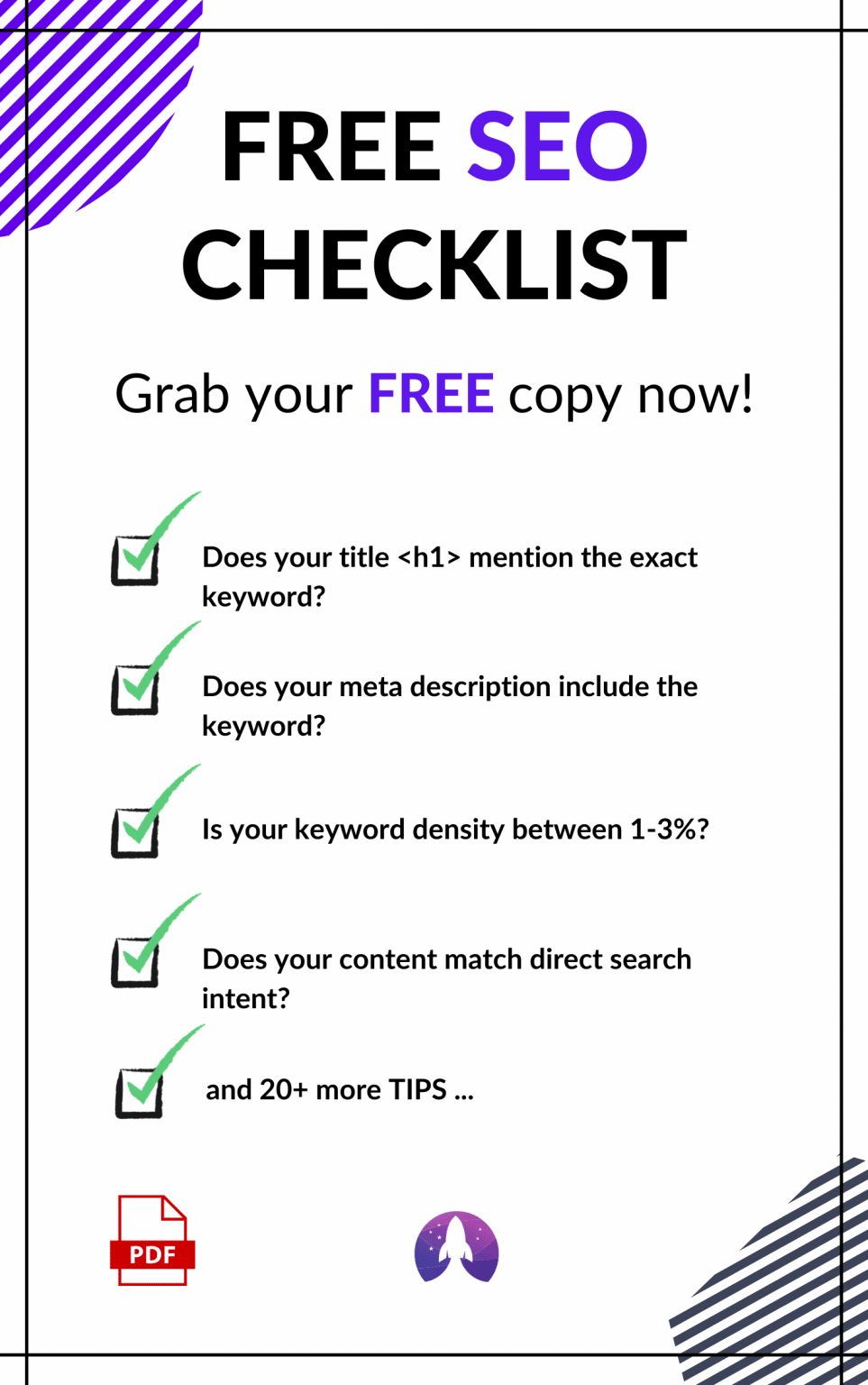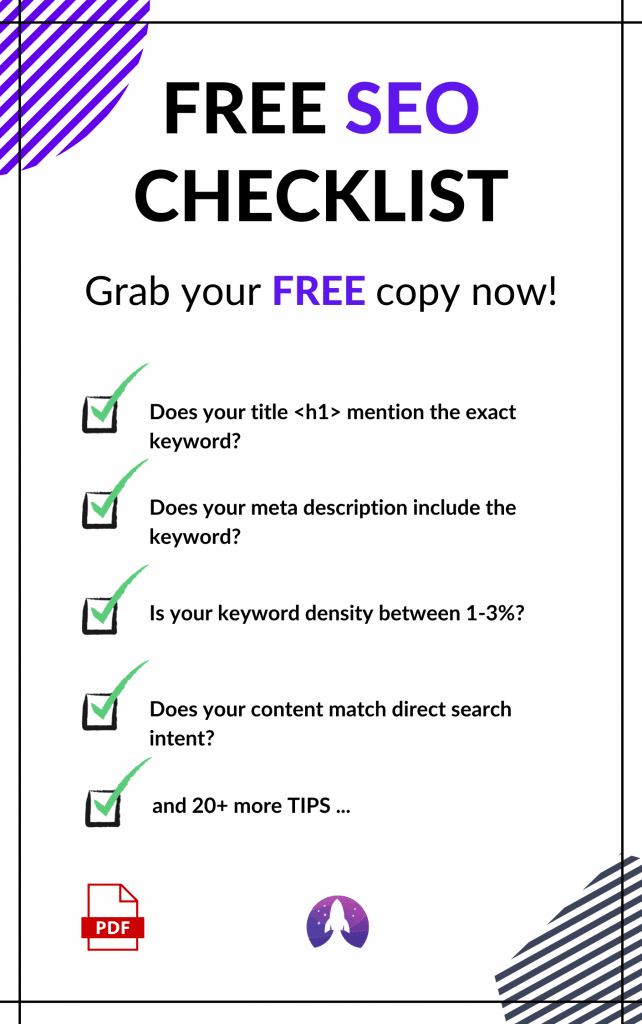 #8. SEO Landing Page Example
Some target keywords don't work as blog content. If the intent behind the search is to buy a product or service, you need a landing page instead of a blog post.
For example, if you're a workflow management software, the search phrase "how to effectively manage my team" would make more sense as an educational blog post. But "workflow management software" has a bit more purchase intent, and makes much more sense as a landing page.
Great SEO landing pages have a few things in common:
They're well-optimized for search engines. This is a given, but don't neglect on-page optimization with your landing pages. Use RankMath or Yoast to ensure you're targeting your keyword as well as you possibly can.
They convert users. If someone is searching for a keyword like "workflow management software," there's a good chance they're far along in their buyer's journey. Don't miss the opportunity to convert them.
Shopify provides us a great example of awesome SEO landing pages. Shopify is an eCommerce website platform that prioritizes SEO.
Shopify ranks #2 for the keyphrase "online store," which generates over 22,000 searches each month.
Their landing page does a great job of both targeting the keyword and also writing in a way that converts users.
It targets the keyword "online store," so that the page ranks and entices users to convert. To ensure conversions, the page also presents ample opportunities to start a free trial.
The page is also comprehensive, covering many of their features and giving users plenty of opportunities to learn more about each one.
#9. Link Building Example
Link building is often the factor that leads to serious organic traffic growth.
Search engines rely on backlinks to gauge a website's authority, expertise, and trustworthiness.
While it is possible to rank well without any link-building, it can definitely speed up the process.
SEOs have long believed backlinks to be one of the most important ranking factors, and recent study from Eric Enge shows there's still a direct correlation between ranking and authoritative backlinks.
But how do you build backlinks?
Brian Dean of Backlinko coined the phrase "Skyscraper Technique" a few years ago. This is a popular link building technique that (when done well) has stood the test of time.
Here's the technique in short:
Determine your topic and keyword(s)
Research the current top ranking results
Create a piece of content that's far better
Promote the content and perform outreach in order to earn links
Brian himself gives us a great example of his very own technique.
In 2018, he published a fantastic piece on Google ranking factors. He made it longer, more thorough, more up-to-date, and designed it better than anything else that ranked at the time. He covered 200 ranking factors in this monster article.
Then, he began outreach – not by sending an email to everyone he'd ever met, but by targeting the right people who would find the piece interesting.
His method was to reach out to those who had already linked to similar content. He used Ahrefs to find 160 solid prospects and sent them the following personalized email.
This outreach resulted in 17 authoritative links that catapulted his ranking, ultimately resulting in a 110% increase in search traffic and far more links down the road.
#10. Content Interlinking Example
Internal linking (i.e. linking between your web pages when relevant) is important for a few reasons:
They help search engines crawl your site. Links are the way search engines crawl the web. Interlinking relevant content to each other helps search engines crawl through your site and establish connections between topics.
They help users navigate your site. Users use links to move through your site as well. When you give them opportunities to dig further into topics by interlinking relevant posts together, you can keep them on your site longer (which leads to better rankings).
They pass link equity through your site. Sometimes earning backlinks on landing pages can be tough. But if you earn links to blog content, you can pass some of the link equity through to your higher priority pages.
Ninja Outreach provides us a great practical example. Not long ago, they optimized their internal linking strategy by rearranging their site architecture and saw a 40% increase in organic traffic because of it.
They started by prioritizing all their pages by those that performed best. They used three tiers where tier 1 contained pages that were built for their highest priority keywords and drive the most relevant traffic.
Tier 2 pages brought some relevant traffic, while tier 3 pages got very little traffic or engagement.
To categorize their pages, they created a Google Sheet that pulled data from Analytics.
Once categorized, they made sure their tier 1 articles were linked from the homepage and all other prominent pages. Tier 2 articles were only linked to from tier 1 articles, and tier 3 articles only linked from tier 2.
This strategy prioritized their top pages for search engines, improving ranking and sitewide traffic.
If you want to try a similar implementation, you can borrow their spreadsheet and VLOOKUP formula here.
Let's skyrocket your traffic together!
#11. SEO CTR Optimization Example
Earning high rankings is only half the battle for organic traffic.
You've got to also earn clicks.
When it comes to CTR optimization, your focus should be on your headline (or title tag) that shows up in search results. Great headlines should have:
A Hook: use some emotion in your headlines to grab the attention of your searcher. Consider using strong, emotional words like amazing, unbelievable, or inspiring.
A Preview: give your searcher some context around what type of content you will be covering and what to expect. Is it a case study, a list, quotes, a story, etc…
A Promise: what will your reader gain from reading the content? Will it help them execute on the topic, make them smarter, help them solve a problem, etc…
Expert Larry Kim discusses this and more in his post from Moz on earning higher organic CTRs.
To optimize your headlines on a regular basis you need to be disciplined in monitoring them and smart in how you test.
Don't just find a low CTR and change a word or two willy nilly. Develop a hypothesis, implement, evaluate, and then optimize further.
A good practical example of this comes from TrustRadius, a software review site.
They ran a sitewide experiment to improve their CTRs for their review pages by updating their title tags. Here's how the experiment broke down:
They left 1 control group of 20 URLs with original title tags unchanged
They updated 1 test group of 20 URLs to the headline format of "Best [category name] [current year]",
They updated 1 test group of 20 URLs to the headline of "List of Top [category name] [current year]"
They tracked their results in Search Console by filtering by titles that included "best" and titles that included "list."
Once it was clear that the title tags using "List of" were outperforming the others, they implemented it sitewide and saw a 22% increase in sitewide traffic.
Key Takeaways
At the end of the day, knowing about SEO principles and successfully putting them into practice can be two entirely different things.
We hope these practical SEO examples have given you tangible steps to take on your own site.
If you still find yourself unsure of how to take action, search around for case studies or examples of other marketers implementing a tactic you're struggling with – this is one of the best ways to get actionable ideas on implementation.
And if you're still unsure what steps to take to see growth, consider working with us. We're a full-service marketing company specializing in organic SEO and content marketing.
We've helped many businesses implement SEO strategies that have taken their traffic to the next level, including an HR tech company who grew from 1 million to 1.8 million monthly organic traffic.
Interested in working with us? Reach out here!