One of the most effective marketing channels for interior designers is SEO.
After all, who's a more qualified lead than a person Googling for "interior designers?"
Unless you're a seasoned digital marketer, though, interior design SEO can seem very daunting.
You read up a blog post about SEO and you get hit with all these complicated terminologies like technical SEO, on-page SEO, link-building, and so on.
Fortunately, though, you just landed on the most practical guide to interior design SEO!
Read on to learn our exact process for ranking an interior designer client #1 for the term "interior designer" in locations like Amenia, Bozeman, Salt Lake City, and more!
What is SEO (For Interior Design Firms)
SEO, or search engine optimization, is the process of optimizing your website for search engines.
For an interior design firm, this means optimizing your website in such a way that when people Google something like "interior design Boston," your website pops up on the first page: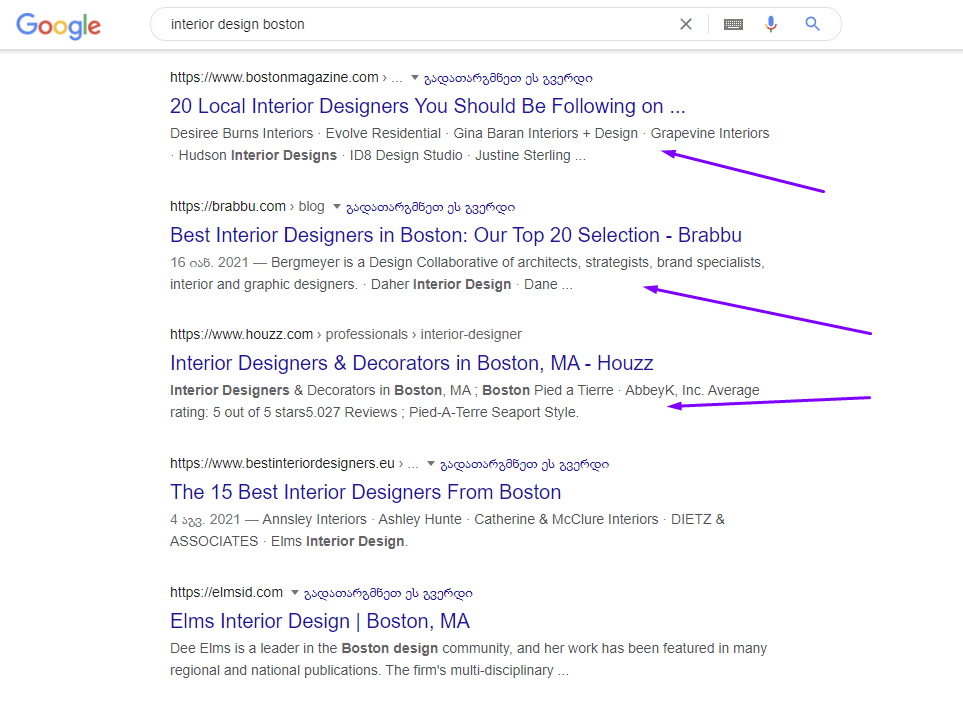 SEO for interior designers (and SEO in general) is a long process. It can take anything from 6 months to 2 years to rank at the top 3 queries on Google.
The timeframe generally depends on how competitive your area is. E.g. ranking #1 in, say, Idaho Falls is going to be much easier than ranking in New York City.
That said, once your website does rank on Google, it will be bringing in a lot of potential customers for a very long time.
For example, in Chicago, there are around 1,900 search queries for "interior designer" every month.

If you manage to rank top 3 on this single keyword and convert just 0.5% of all that search volume, you'll be driving 9+ new clients every month with no active marketing work from your end.
How Does Interior Design SEO Optimization Work?
Before we jump into the nits and grits of how interior design SEO works, let's talk basics.
What's a well-optimized web page, and what's not? Here are the factors you need to consider when optimizing your web pages:
#1. Page URL - The URL for any given page should have the keyword you're targeting included. E.g. If you want a page to rank on "interior design firm," the URL slug should be:
"www.website.com/interior-design-firm/"
#2. Title - The title of your webpage should include your target keyword. For example, your homepage title can be:
"John Doe | NYC Interior Designer | Interior Design Firm"
#3. Meta Description - A meta description is the tiny blub under your page title when people Google the respective keyword. The best practice is for your meta description to include your target keyword. For example:
Looking to upgrade your home or commercial building? John Doe is the #1 interior designer in Boston, Massachusetts!
#4. Headings & Sub-Headings - You should use headings to separate chunks of your web pages. The best practice is for one of your H2 headers to include the keyword you're targeting for the given page.
#5. Text Body - You should include your target keyword wherever relevant on your web page. Bonus points if you include different variations of the same keyword. Some examples of keyword variations are:
Interior designer
Interior design specialist
Interior design expert
If your website is built on WordPress, you can use the tool RankMath to help make on-page optimization much easier.
Beyond Optimization - What's There to SEO?
Other than simple page optimization, there are other factors that Google keeps in mind when deciding how to rank your website.
Namely, these are:
Website user-friendliness. Does your website load fast? Is it mobile-friendly?
Backlinks. A "backlink" is a link to your website from another site. The more websites link to yours, the more trustworthy Google will think your website is.
Citations. A "citation" is an online reference to your interior design business that includes your business name, address, and phone number. The more citations with the same information you have, the more trustworthy you look in front of Google.
Positive reviews. The more positive reviews your Google Maps entry has, the higher it's going to rank (we'll cover this in more detail a bit down the line).
SEO for Interior Design Firms - 5 Tips on How to Do it Right
Now that we've covered the elements Google factors in when evaluating your website's rankings, let's talk about the exact things you can do to get your website to rank, starting with:
Tip #1. Start With The Strategy
So first things first - you need to decide which of your web pages you want to rank on Google.
When it comes to interior design SEO, you'd generally want to rank your homepage for "interior designer [location]."
So, follow this SEO checklist and optimize your homepage for the respective keyword:
Include the target keyword in the headline.
Include the target keyword in the page title and meta description.
Include variations of the keyword throughout the page. E.g. "interior designer" and "interior design agency" are examples of such variations.
Mention the target keyword multiple times throughout the web page copy.
If you operate in several areas, then you need to create a separate location page for each area you want to rank in.
Create an index page for all your locations, and include URLs to all your locations there. For example:
/locations/interior-designer-boston/
These pages should be optimized based on the same principles we mentioned above.
Tip #2. Optimize Your Google My Business
When someone looks up a local keyword on Google (e.g. "interior designer Boston") the first result that pops up in Google Maps: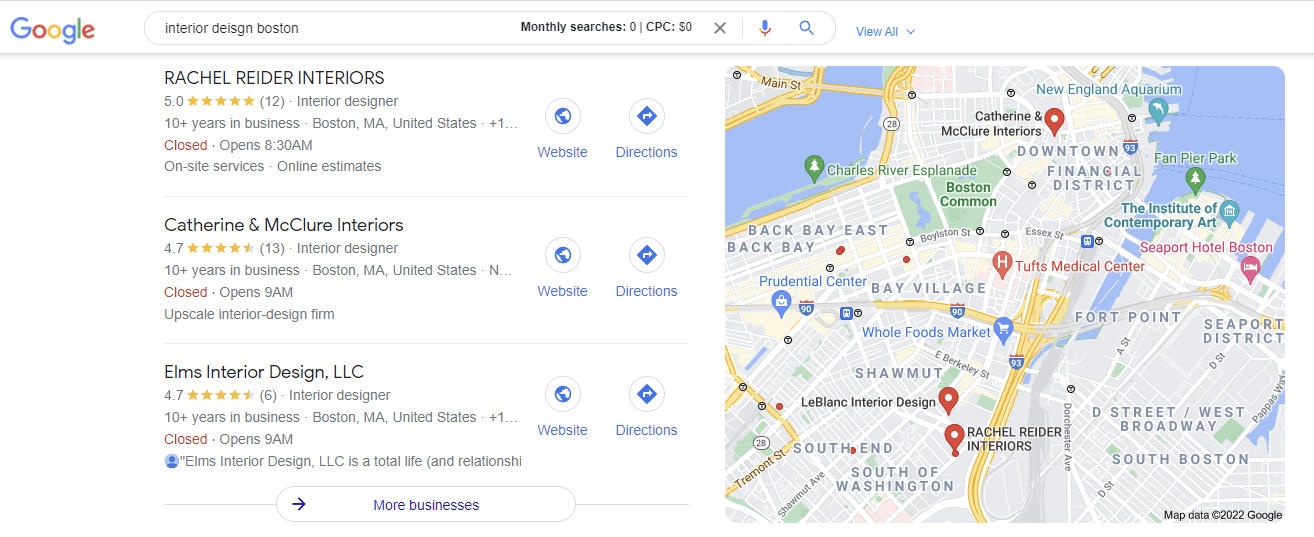 If you want your interior design firm to be included in the listings, you should create a Google My Business page.
Make sure your profile has all the important information about your business, including:
Business name
Category ("Interior Designer")
Business address
Business phone number
Website URL
If you have offices in multiple locations, you should create a GMB profile for each of them.
Want to learn more about Google My Business optimization? Check out our local SEO checklist.
Tip #3. Submit Your Website to Directories
Online directories are perfect for creating citation links to your website.
A citation, as we mentioned before, is an online reference that includes your business name, address, and phone number. It acts as a "trust factor" for Google - the more websites include your business's address/name, the more likely it is that you're a real business (and hence, more likely to rank much higher on Google).
Some popular website directories where you can submit your website to include:
Yahoo Maps
Yellow Pages
Local.com
Elocal.com
Yelp.com
Need help building your citations at scale? We can help! Get in touch with us here!
Tip #4. Encourage Positive Reviews
Reviews are a big ranking factor on Google Maps. Pages with more reviews (consistently) rank higher than those with fewer.
So, how can you encourage your customers to leave positive reviews?
Here are some ideas:
After you finish work with a satisfied customer, ask them to leave you a review.
Send reminders to past customers (if they haven't left reviews).
When asking for reviews, include a URL to your GMB profile. You're much more likely to get people engaged this way.
Reply to people who do review your page with a kind word or two.
On the other hand, if someone leaves a negative review, reply to them and address their concerns.
Tip #5. Make Your Website Fast/Mobile-Friendly
How fast/smoothly your website runs for its users DOES have an impact on your rankings.
If your website takes 2 minutes to load, for example, chances are that your customers will drop off and simply go to your competition (which will harm your rankings).
Here are some tips to make your website more SEO-friendly:
Work with a professional developer. If you DIY'd the site, chances are, it won't be too optimal and will require a coder to jump in and make some improvements.
Make sure your website is mobile-friendly. Google prioritizes websites that load on mobile over the ones that don't.
Optimize your website for speed. It doesn't need to be lightning-fast, but a website that loads in 5 seconds will always beat the one that loads in 30.
If you're using WordPress, you can use WP Rocket to boost your website speed within minutes.
Compress all images on your website to improve its loading speed.
Key Takeaways
And that sums about all you need to know about interior design SEO!
You should have all the tools you need to get started working on improving your website's rankings.
Before you go, though, here's a quick recap of the most important points we covered for effectively doing interior design SEO:
Optimize your homepage for your main target keyword, which should be "interior designer [location]."
Create a Google My Business page and make sure it's as optimized as it can be.
Build citations to your website by listing it in online directories.
Encourage your customers to leave positive reviews on your Google My Business page.
Make your website both fast and mobile-friendly.