SEO is an amazing marketing channel for most businesses.
But what about for enterprise SaaS companies?
Is SEO a viable marketing channel?
Is it worth investing in it, in 2021?
And what, exactly, does "doing SEO" for an enterprise SaaS involve?
Whatever questions you might have related to SEO, we're going to cover them in this guide.
Read on to learn…
What is enterprise SaaS SEO (and how is it different from conventional SEO)
Should you invest in SEO in 2021, and what kind of ROI you can expect
How to do enterprise SaaS SEO, and what you need to know
SEO frequently asked questions (and answers)
So, let's get started.
What Is Enterprise SaaS SEO
In terms of work that needs to be done, enterprise SaaS SEO is just about the same thing as conventional SEO.
It involves 4 main pillars:
Strategy. Doing keyword research and finding keywords you find to rank for
Speed Optimization. Optimizing your web pages according to Google best practices
Content Creation. Creating high-quality SEO content
Link-Building. Trying to get backlinks organically, or through direct outreach, guest posting, etc.
In terms of strategy, though, there are some differences with Enterprise SaaS SEO:
As a start, you'll be dealing with significantly lower search volume (and that's OK!). You'll find that for most enterprise software tools, there's a pretty low search volume (compared to B2C keywords).
This is relatively normal - you have significantly fewer people looking for enterprise software.
However, as an enterprise company, you're going to be earning a lot more for every single lead driven through SEO. In some cases, if you manage to land a single client every month from SEO, you'll see a huge ROI from your SEO spend.
And finally, you'll also see that there's less competition in enterprise SaaS SEO. From our personal experience doing SEO for enterprise companies, we've seen several niches where there's basically non-existent SEO competition.
This is usually because:
SEO is generally hard to learn (it's easy in theory, but when it comes to practice…), so companies attempting to do this in-house without experienced staff tend to fail
Enterprise companies don't understand SEO, and hence, avoid investing in it
Should You Invest in Enterprise SaaS SEO?
As long as there's search volume for keywords people use to look up your business, the answer is a clear "yes."
Let's take a hypothetical scenario and say you're selling enterprise SaaS Business Process Management (BPM) software.
You can head over to Google Keyword Planner, and look up search volume for keywords in your niche.
For the sake of the example, let's say the keywords you want to target include:
BPM tools
BPM software
BPM solutions
All of these keywords are direct intent. Meaning, anyone Googling for these keywords is looking for software such as yours.
If you run these keywords through Keyword Planner, you'll get the following results:
That's a world-wide total monthly search volume of 13,790.
Now, let's take a pessimistic scenario where you manage to drive 10% of that traffic to your website, which would be 1379 traffic per month. (keep in mind that ranking in top 3 will grant you at least 20-60% of the clicks, so 10% is quite pessimistic)
Now, let's say that only 1% of that traffic converts because some of the Googlers might not be looking for enterprise BPM.
That is still around 13 new clients every month.
If you make a very pessimistic profit of $10,000 per client acquired, this means that you make $130,000 dollars per month JUST from SEO - and that's the worst-case scenario.
This makes enterprise SaaS SEO a very worthwhile investment, even if you're spending over $50,000 on your SEO initiatives per month.
How to Do Enterprise SaaS SEO
The "how" of SEO isn't too simple.
If we wanted to teach you everything there is to know about the topic, we'd have to publish a 20,000-word ebook.
So, instead, we're going to mainly stick with teaching you how to do the SEO strategy, and give you resources on each separate topic in case you want to learn more.
Starting with keyword research.
Step #1 - Keyword Research
The foundation of any SEO strategy is keyword research.
This is where you look up the keywords you want to rank for and create a Google Sheet to keep track of your SEO & Content efforts.
Here's what the end-result usually looks like: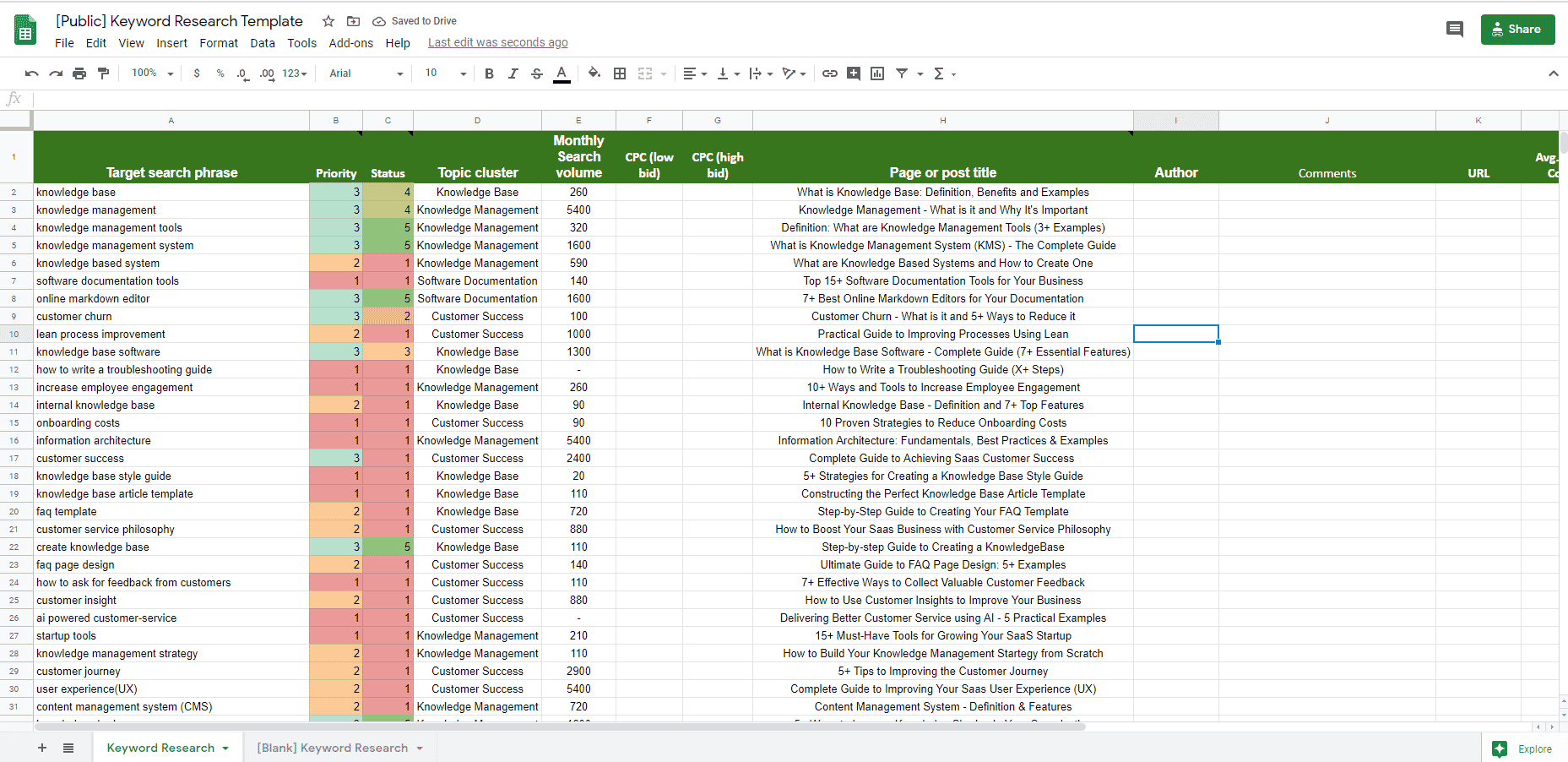 To do keyword research, there are 2 popular and practical ways:
Brainstorm & Research
Competitive Analysis
Brainstorm & Research
The first tactic is to sit down with your team and do some brainstorming.
Come up with keywords your target audience uses to:
Search for your software directly
Search for information surrounding topics around your software
An example of the 1st type, are keywords like:
Best BPM software
BPM tools
Workflow software
These are called direct buyer intent keywords. Anyone Googling for them has the intent to buy/use your product.
Now, an example for the 2nd type of keywords (topics around your software) would be:
What is a workflow
Workflow management
Process mapping
These keywords don't have direct buyer intent, but they're Googled by people who fit in your target audience. They're less likely to convert, but these keywords tend to have a higher search volume, which makes up for it.
Once you have an initial list of ideas, run them through Google Planner (max 10 keywords at a time) and it's going to give you further suggestions based on your seed keywords:
Go through this list, extract keywords you want to target and add them to your keyword sheet.
Competitive Analysis
Now, the second method for doing keyword research is the following:
Buy a subscription to an SEO tool like SEMRush, and run your competitors through "Organic Research:"
This is going to give you a complete list of the keywords your competitor ranks for, usually ranked by the % of traffic they get from each keyword: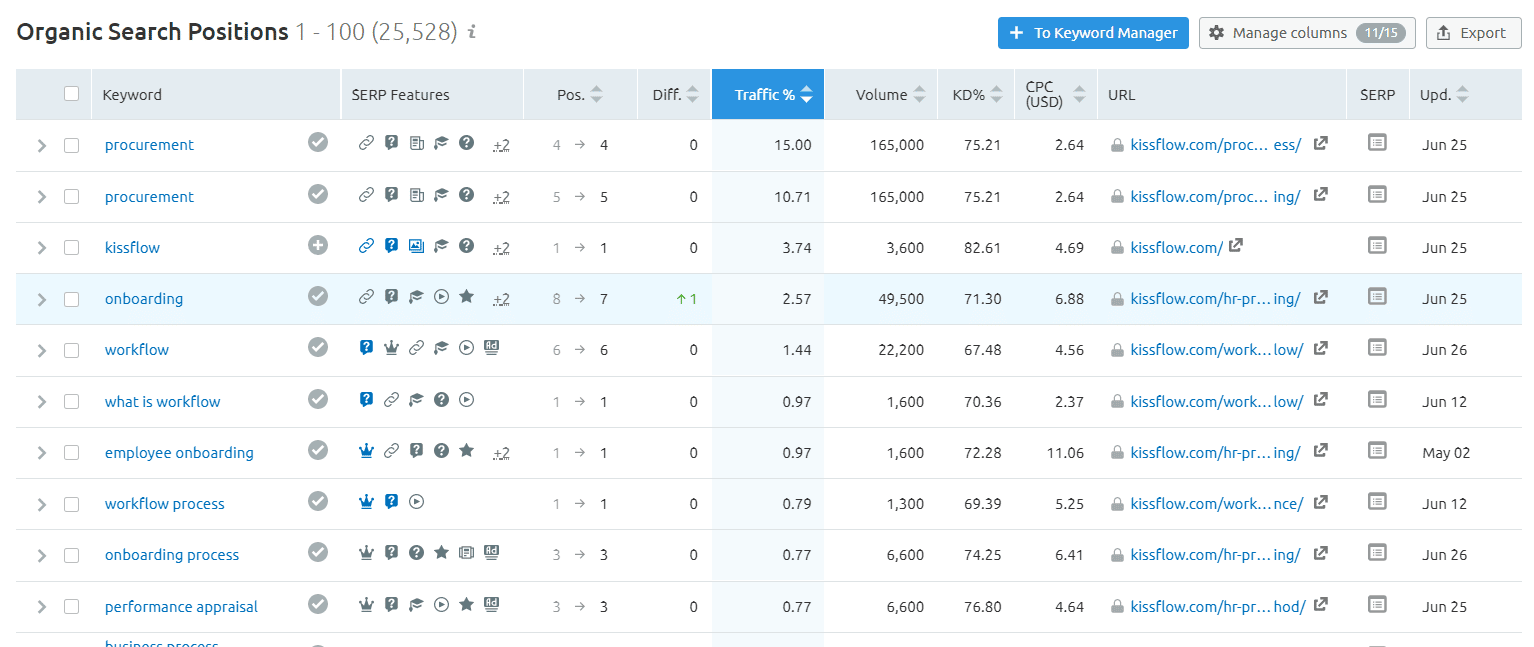 If you extract the most relevant keywords your top 5 competitors rank for, you'll get a very comprehensive list of keywords you'll want to target.
Want to learn more about keyword research? Here are some of our favorite guides:
Step #2 - On-Page SEO
All your web pages should be optimized for Google's Webmaster Guidelines (i.e. their best practices).
This is relatively straightforward. If you're using WordPress as a CMS, just install RankMath, and follow it's optimization tips on each page.
If you have a custom CMS, though, here's a checklist for each of your web pages:
Maintain a keyword density of 0.5% to 2%
Include 2 - 10 outbound links
Include 2 - 10 inbound links
Use the keyword as a URL (e.g. /workflow-software/ and not /best-workflow-software-top-features/)
Keep your article content long-form (1k - 5k words)
Include the keyword in your meta description
Include alt tags for each image you include on the page
For 1-2 of the images, make sure the keyword is in the alt tag
Want to learn more about on-page SEO? Here are some of our top resource picks:
Step #3 - Technical SEO
Technical SEO refers to the process of improving your website for crawlability and indexability.
What does that mean?
It means, you should be making it as easy as possible for Google to crawl and index your site.
How do you do that?
In simple terms, you need to optimize your website so that it loads blazing fast.
As of May of 2020, Google rolled out its newest ranking algorithm update (which will take ~1 year to take effect). This Core Update introduces 3 new "website health" metrics, called the Core Web Vitals.
Because this might sound like gibberish to some people, we made a simple table to explain what each metric represents.
| | | | |
| --- | --- | --- | --- |
| Metric | Name | GOOD results | Layman terms |
| LCP | Largest Contentful Paint | < 2.5s | Measures loading performance |
| FID | First Input Delay | < 100ms | Measures page interactivity |
| CLS | Cumulative Layout Shift | < 0.1 | Measures page visual stability |
While we can't teach you everything that needs to be optimized in order to achieve the above GOOD results, we've compiled a general checklist of technical SEO guidelines for Enterprise SaaS companies to follow.
Note: If this doesn't make any sense to you, you can just forward this to your developer directly.
Use GTMetrix & Pagespeed Insights to test your website loading performance.
Make sure ALL requests are sent via HTTPS.
Host your website on a dedicated server (SSD).
Use a CDN. We recommend using either Google's Cloud CDN (pay-as-you-go), BunnyCDN (cheapest), or Amazon Cloudfront.
Serve all static files either from a static subdomain or through a CDN
Your website MUST be Mobile-friendly. It's 2021, Google won't let you get away with it.
Get rid of ALL unnecessary redirects. Redirect chains impact performance.
Get rid of unused CSS. You can use the Chrome Dev Tools - Coverage Tab to find this.
Minify HTML, CSS and JS. There are several open-source tools available for this:

Minify HTML with HTMLMinifier
Minify JavaScript with UglifyJS or Closure Compiler

Enable Gzip/Brotli file compression to reduce file sizes.
Properly size all images before uploading, instead of using HTML & CSS to resizes them
Don't over complicate your site architecture. Google crawlers should be able to find every single one of your web pages in 3 clicks max.
If your website is running on WordPress, most of the above can be optimized by installing relevant plugins.
Step #4 - Content Creation
To rank for 99% of the keywords out there, you'll need to create quality SEO content.
Let's say, for example, you want to rank for "BPM tools."
First, you Google the keyword, and see what kind of results you get: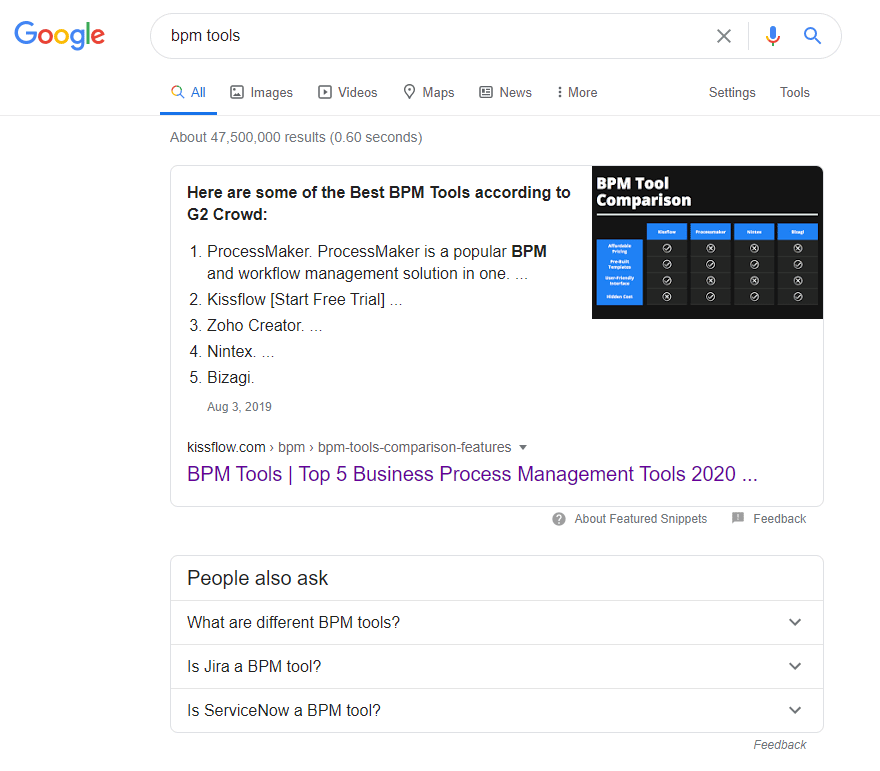 You'll see that the #1 result is a comparison guide of the top 5 BPM tools.
So, in order to outrank that, you'll need to create something similar, but even better.
If you go through the article, you'll find that:
It's quite short (~1,000 words), covering only 5 tools
The information provided is very limited, the article is basically an ad for the company
The article fails to make a proper comparison between the different tools (doesn't compare on price, features, etc...)
So, what you need to do to outrank them is to create content that's even better.
You'll need to write something that's:
Long-form (2k - 5k words), covering 10+ tools
A lot more comprehensive, and include more competing tools
Making a proper comparison between different tools to help the reader make an educated decision on which software they want to buy
Want to learn more about SEO content creation? Here are some of our favorite guides:
Step #5 - Ongoing link-Building
Publishing content is not enough to get you rankings - you also need to get some backlinks.
Backlinks are, in a nutshell, links pointed towards your website.
They're one of Google's most important ranking factors. Think, if a competitor has 100 links, and you have 0, you're not going to rank even if your content is amazing.
There are a ton of link-building tactics you can use, including:
Reaching out to people who linked to your competitors and asking for a link
Publishing guest posts on other blogs
Looking for broken links on topics around your niche, and asking the site owner to change the broken link to yours
To learn more about these tactics, or link-building in general, check out the following resources:
Work With a SaaS SEO Agency
Feeling stuck with your SEO?
We can help.
Apollo Digital is a full-stack SaaS marketing agency.
We help SaaS companies take charge of their digital marketing initiatives - SEO, PPC, content, and just about any other marketing channel under the sun.
Get in touch with us for a free 1-hour consultation.
Not convinced? Check out our SEO case study - Growing an enterprise BPM SaaS from 0 to 200,000 monthly organic traffic in 2 years.

Enterprise SaaS SEO FAQ
Q: How long does SEO take to kick in?
A: SEO is a long-term strategy. If you know what you're doing, you can expect to get rankings within 6 months to a year. Think of SEO like red wine, the more time passes, the better the results.
Q: Should I work with an agency, or create my own SEO team?
A: Unless you already have a staff of experienced SEO professionals, it makes more sense to work with an agency.
Most SEO agencies have the infrastructure and team to kick-off and scale SEO initiatives at a lower cost than hiring an in-house team (without the hassle of onboarding and training).
Q: Is SEO the right choice for my business?
A: For most businesses, yes. The only cases where SEO does NOT work are:
If you're in an extremely competitive niche (unlikely for most companies)
Your product is something entirely new and no one's searching for it
If SaaS SEO doesn't work for your business, we recommend checking out these 41+ other SaaS marketing tactics.
Conclusion
Thanks for reading our mega-guide to enterprise SaaS SEO.
We hope you found it useful, and helpful to kick-start your own SEO initiatives.
If you really enjoyed the guide, we want to ask you for a small favor:
Scroll down a bit, and sign up for our newsletter. We only send you the very best of our published content once per month. We know you hate spam. We do too.
Head over to our blog and see if you enjoy some of our other content, too!